One of the most important decisions when it comes to your wedding is deciding what kind of ceremony you would like to have. After all, it's the main event! There are so many options to consider and if you are going with a non-religious service, it can be tricky to know what your off beat ceremony will consist of.
You understandably want it to have all the sentiment and romance of a church ceremony but without the religious element. It can be fun to do it differently and surprise your guests with something they've never seen before, not to mention unifying with your partner in a unique and unexpected way. Here are a few ideas that will not just give you inspiration, but will help you compile a unique and alternative guide to your unity ceremony.
This is a great idea if you are having an outdoors wedding, particularly in the forest or in a garden. It involves you and your partner adding soil to a pot, followed by planting a small tree to symbolise your growing love. It not only makes for quite the visual for your guests, but you can take the tree home afterwards and care for it, just like your marriage, watching it bloom year after year.
We also love the idea of planting on-trend succulents into a terrarium instead, for the more contemporary wedding. You can even get your friends and family involved by having them add a handful of soil each.
The sand ceremony expresses the coming together of two people, and two families, forming one new family. The bride and groom each have different coloured sand, and they take it in turns to add a layer to a clear bottle or vase. At the end you can either leave the vessel with distinct layers, or shake it so the colours merge and combine. This is another element your guests can be involved with. It's lovely to include parents or children, which adds to the colours and symbolises the harmony of the entire family.
Much like the sand ceremony, the unity candle signifies the joining of two people to form a single unit. Both partners each light their own smaller candles before using the flame from a tapered candle to light a larger unity candle. It denotes being stronger as a unit, and the ending of your lives as single people.
Something to consider with the unity candle: if you are having an outdoors wedding, it might not be very practical since even a light breeze could blow the candles out. This may work better indoors, or if you're set on the idea, you could use clear glass hurricane lamps to protect the flames.
For the romantics amongst you, this could be just what you're looking for. In advance of the big day, you and your partner will write a letter to one another, talking about things like; how you felt when you met, what you are looking forward to as a married couple, your promise to each other, and your excitement for the wedding day. You can even ask your parents to write letters to you to include as well.
Once you have exchanged vows and rings on the day, you will close the letters into a special box (an opportunity to personalise!) and take it in turns to hammer it closed with tiny nails or secure with a padlock. Don't forget to set a date to open the box (typically the first anniversary) and then all you need to do is keep the box in a safe place and look forward to opening it. This ceremony is a wonderful way to continue the magic of your wedding and bring back those memories and all the feels long after the day is over.
This ceremony has roots in both Pagan and Celtic wedding traditions and the beauty of it is there are a variety of ways you can go about it to make it truly personal. One option is to cross and join your hands with your partner's, forming a figure of eight. A long piece of fabric is then looped and wrapped round your hands and knotted to signify your unity. Another idea is to pass a long length of rope or ribbon around your congregation and ask each person to tie a knot in it (if you're having a big wedding, you can ask your immediate family and wedding party). At the end, you and your partner tie the final knot as a promise to bind your lives together.
We hope you have been really inspired by these ceremony ideas and are already dreaming of ways you can incorporate them into your day. Your guests will revel watching a ceremony that's distinctive and personal to the people they're there to celebrate with. Make the most of the opportunity to use your imagination and add a special element unique to the pair of you.  Looking for more ways to bend the rules on your big day? Here are 4 wedding traditions you can do differently.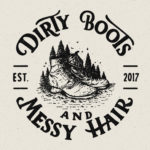 Written by:
Dirty Boots & Messy Hair Team
Connection is what it's all about. Feel free to reach out to us with any comments or questions you might have, even if it's only to say hello. If it wasn't for our beautiful community, this place just wouldn't feel the same.
Wedding Planning
29 Jan 2019