Being paid to do what you love as a wedding photographer is a dream come true; who doesn't want to wake up every day, excited for the working hours ahead?
But even with the dreamiest of careers, such as wedding photography, comes stresses and strains.
Especially if you're self employed as a freelance wedding photographer, the pressure of finding, securing, managing and completing your own photography projects can easily pile up.
Looking for ways to handle the demands and stress of life as a wedding photographer? Then look no further. Here are a few techniques to combat the demands of life as a wedding photographer.
Find a style that's comfortable for you
When you're operating in your flow, everything feels much more smooth sailing. Whilst it's good — and important for your creative development — to push yourself out of your comfort zone every now and then, spending too much time in the deep end can quickly leave you feeling fraught and anxious.
Make sure you book projects which allow you to flourish in your natural ability, as well as the odd job which pushes you as an artist.
Not sure what your style is? No worries. Try experimenting with a range of different photography approaches and techniques — are you more of a black and white, or colour photographer? — until you find yourself entirely lost in your work, with the hours flying by. Then, you've found your flow.
Don't overfill your plate
As a self-employed photographer, particularly when you're just starting out, the temptation to organise work for every day is overwhelming; it'll help you build up your portfolio, establish a name for yourself, and bring in more money every month, right? Well, yes. But it's also a supercharged, one-way street to burnout.
A more sustainable approach to project planning is to only take on what you can realistically manage. Consider travel time between bookings; can you really fit two gigs in on one day? If they are only a few miles apart, then perhaps. But if you're looking at spending more time on the road than behind the lens, you're probably stretching yourself too thin.
One the most important professional skills you'll need to develop is the ability to say "no": to briefs that don't suit your needs, to clients who are offering to pay too little, to work that comes along requiring time you can't squeeze in.
You may even find that saying no to a project here and there actually strengthens your reputation as a wedding photographer; scarcity is a powerful demand driver, after all!
Remember the busy times do slow down
There comes a time in every professional's calendar where the work seems to pick up, to an almost unmanageable level. For retail workers, it'll be the holiday period, and for hospitality workers, the balmy, summer months.
Wedding season seems to be all year round these days, which is great for business of course. Nevertheless, you will find that peaks and troughs occur throughout the year anyway.
What's the lesson here? Well, try to bear in mind when you're running around like crazy, juggling projects, that you'll be due a break soon. Try to ride the ebbs and flows of wedding season, and if it doesn't look like work is slowing down any time soon, remember to book yourself some vacation time, to guarantee you a chance to put down tools and kick back.
Put yourself in your client's shoes
Everyone has, at some point, had to deal with a nightmare client; you find them in every industry, and the impact they can have on your job satisfaction and stress levels can be equally debilitating. The trick is, learning how to empathise with their situation.
Working in weddings, you're more likely than most to come across stressed subjects, who are looking for ways to release some tension. After all, it's probably the most important day of their lives so far… they want it all to go perfectly, just as you would if the wedding shoe was on the other foot.
So next time you feel the brunt of a client's intensity, do your best to breathe deep and smile through it, rather than letting it affect you emotionally. They don't mean to be mean.
Make time to get photographs for fun
Lastly — and perhaps most importantly — don't lose touch of why you picked up a camera in the first place: you love taking photos.
Just because you're now getting paid to be a photographer, doesn't mean you should forgo capturing images just for the fun of it too. Find time to shoot and develop, totally on your own terms.
The more you stay in touch with your raw passion, the better wedding photographer you'll be.
Hopefully these tips will help you on your path to a stress-free life. If you still need a little guidance, here are some simple tricks to make your life as a wedding photographer easier.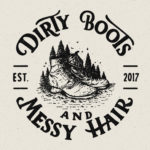 Written by:
Dirty Boots & Messy Hair Team
Connection is what it's all about. Feel free to reach out to us with any comments or questions you might have, even if it's only to say hello. If it wasn't for our beautiful community, this place just wouldn't feel the same.
Photographer Tips
27 Jan 2019