All mountain elopements start with a fantasy of those epic photography shots, dramatic landscapes and ethereal brides strolling atop a rocky outcrop. It's a dreamy prospect. Just you and your partner and the nature that surrounds you, it couldn't be any more private or heavenly.
But there are things you need to consider in order to pull off the perfect day. There's a reason not everyone gets married on a cliff edge but by having a read through our tips below, and ensuring you have a few key elements in place, you're sure to have a day that will take your breath away. So, here are four things you need to consider when planning your mountain elopement.
Getting the dress right for a mountain elopement
Let's face it, dragging a five-foot train along the rough ground, bringing with it twigs, pebbles and dirt is no one's idea of fun. The good news is that you can still have your dream gown; there are just a few things you need to consider in order to find the perfect one for your setting.
– Think about the temperature. It can often be chilly on a mountain, especially at sunrise or sunset, so wearing a dress with a sleeve would be ideal. Alternatively, a personalised leather jacket would look incredible and keep out the cold.
– Don't choose anything too restrictive. No matter how beautiful the gown, if you can't lift your arms or stride easily, it's not going to work when you get to the great outdoors. If you've found your dress but it's not the most practical, speak to your seamstress about adapting it. For example, they may be able to cut a slit up the leg or loosen the armholes to allow more movement.
– Consider the material. If you're planning your ceremony or photo shoot far away from civilisation, it's likely you'll be doing a fair amount of walking.
– Unglamorous topic alert: Fabrics like silk and satin show sweat patches far quicker than flowing chiffon or organza. Speak to your bridal assistant about the best fabrics and gowns for your unique situation.
Putting your best foot forward for a mountain elopement
This is not the moment for Manolo's. You will likely be trekking through grasses, over rocks and negotiating uneven or unstable ground so it's important to get your footwear right. If you know the weather will be good, and earth dry, a fresh pair of white or metallic sneakers would look amazing.
If the weather is unpredictable, you're better off fully embracing the outdoors and investing in some lace up boots (after all, you can wear them tons after the big day). You can even customise them with the initials of you and your partner, and keep them – mud and all – as the perfect memento of your adventurous day. The juxtaposition between your elegant bridal gown and the utilitarian boots are a real statement and will look great in photos. Plus, you'll feel comfortable and amazing on the day.
When it comes to planning a mountain elopement, you always need a back up plan.
If you wake up on the morning of your wedding day and it's raining profusely, consider wearing a big rain mac or poncho to protect your outfit until you reach your destination. This also applies to your partner!
If you had ideas of loose waves in your hair, you might want to have a second option with your hair slicked back so that any high winds or humidity mean you don't end up feeling anything other than utterly gorgeous on your day.
You will also want to speak to your photographer about having several shoot locations dependent on weather. If your perfect lakeside spot has flooded overnight, you need to have another option that will be just as beautiful. Trust us, it's really not something you want to have to scrabble together at the last minute.
Make sure you have an honest conversation with all the people that will be there on the day, be that your celebrant, photographer or videographer. Ensure they fully understand your vision so that they can plan accordingly.
For example, if you're planning to be out for several hours your photographer may need extra batteries, and everyone will want to bring plenty of water. You could also ask one of them to carry an emergency first aid kit in case of any trips or scratches. At the end of the day, trust your vendors. They will have lots of experience in similar situations and can likely give you advice on how to get the most out of the surroundings.
We hope this has given you some food for thought when planning your mountain elopement. Enjoy the journey, but remember there is a lot of work behind those ethereal shots! With some careful planning and tons of inspiration, you'll be able to pull it off and will look back at the photos in wonder.
If you're a photographer looking for more inspiration, have a look at our mountaintop wedding destination bucket list and some of our favourite ever mountain shots.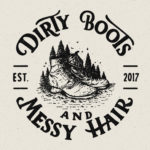 Written by:
Dirty Boots & Messy Hair Team
Connection is what it's all about. Feel free to reach out to us with any comments or questions you might have, even if it's only to say hello. If it wasn't for our beautiful community, this place just wouldn't feel the same.
Wedding Planning
25 Jan 2019