This week, DBMH is excited to have Josh Durham as our photographer crush! Josh is a an intimate couples photographer based out of Atlanta, GA. We sat down with Josh and listened to what he had to say about his photography journey. Take a look at what he has to say! 
Where are you sitting as you are writing this right now? How's your day going? How are you feeling?
I'm currently chilling on the couch, feeling super accomplished after a long weekend of photos, food and happy tears. I shot my first wedding of 2019 yesterday and I'm PUMPED about this year.
To those that might not know you just yet, please introduce yourself – Who are you? Cat or dog person? What's your photography style?
I'm Josh! A cat dad living in middle Georgia just south of the big ATL. I currently work full time as an accountant through the week… boooorrrring, and when I'm not crunching numbers you can find me exploring new places with awesome couples. I enjoy hanging around the house with my beautifully perfect wife Kristin and our two cats Luna and Stella. I'll never turn down an adventure, but not many things beat a good pair of sweatpants, coffee and some movies. Total introvert over here haha. I love implementing those warm homey vibes into my photos. My style is more of a "hands off" documentary style. I live for those few raw seconds in between a pose or a location change, that one second the couple forgets I'm there. Those moments are why I do what I do.
Can you show us 1 or 2 photographs that are particularly meaningful to you and share the story behind them?
This photo represents the journey of finding each other and becoming one on their wedding day.
My love language is affection, this photo represents just that, and reminds me of my wife and our journey together. She's been my backbone learning photography, shooting weddings and working full time.
What role does Instagram play for you as a photographer? Is it important for your business?
Instagram started as a business tool for me. I never knew about the communities, creatives and awesome people I would meet on this platform. Over the past year Instagram has inspired me in so many different ways. From meeting new people, building a business and having constant inspiration from so many other amazingly talented creatives. It can be the exact opposite for me some, including myself when I first started. If I could give one piece of advice regarding those feelings it would be, don't compare your beginning to someone else's middle. Learn from others, reach out and make friends and just be yourself. We all go through it and we should all be here for each other!
If you had to pick just one thing, what would you say you love the most about being a wedding photographer?
If I could choose one thing I love most about being a wedding photographer it would be the love. Photographing that love between two people as they become one together. The good vibes and happy tears that make their day so special. It's the best feeling in the world being able to take a couple back to those same feelings by looking at my photos, it's a gift I am so thankful for.
What's the biggest challenge you've faced that could be a helpful lesson for other photographers?
As a wedding photographer, I've faced my fair share of challenges. Whether it's a camera breaking as couple enters their reception (yikes).. or a crazy aunt that distracts you from why you're even there to begin with. One of the most important things I've come to learn on this journey is balance. Having a full time job and being a wedding photographer isn't easy. Taking time for yourself, letting yourself rest and listening to what your mind and body are telling you. It's okay to take a break when you're behind, close the laptop and spend some time doing something you enjoy. Whether that is diving three hours into Fortnite or watching your favorite show with your favorite person. Learn your balance, take care of yourself and your business will thrive.
Who or what inspires you?
I'm inspired by those serene afternoons when the sun starts to set and that soft light falls just right on everything. A couple having a moment together and forgetting I'm there. Foggy morning coffees with my wife. I'm also constantly inspired by people I follow on Instagram, looking at you @henrysdiary and @indieefox.
What are your dreams for the future of your career?
It would be a dream come true to photograph weddings full time! Quitting my day job and travailing to places I've never been, like Utah or Washington. There are still so many places I want shoot and see. I would love to eventually branch off into education and help other photographers learn their way, but I myself still have a lot of learning to do!
Major thanks to Josh for taking the time to answer all of our questions! Head on over to the gram to check out more of his rad work!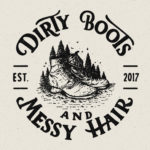 Written by:
Dirty Boots & Messy Hair Team
Connection is what it's all about. Feel free to reach out to us with any comments or questions you might have, even if it's only to say hello. If it wasn't for our beautiful community, this place just wouldn't feel the same.
Photographer Tips
23 Jan 2019