As your wedding planning swings into motion, you'll be faced with a hundred different decisions about your day. One of the key things you'll undoubtedly consider early on is the perfect photographer to capture your day. 
But wait – do you need a videographer at your wedding too? 
Choosing whether or not to have a videographer film your wedding is an important decision for your day. So in this post we pull together our advice to help you decide.
What will a videographer bring to your day?
Take it from us, no matter how hard you try to be present on your day, it will pass by in the blink of an eye. 
With all the emotions and momentum of the day, there will be so much that not even the most eagle eyed photographer will be able to capture. From that 'first look' between bride and groom, to the laughter and radiance from your guests. A videographer will help to capture all those emotional nuances that you'll miss on the day. 
A talented videographer will blend into your guests, giving you a glimpse of the day as it unfolds. You'll see you through your guests eyes, and from dozens of different angles. Your videographer will create something that will allow you to experience your wedding, not just in snapshots, but in real-time.
Whilst most couples won't sit down and watch the video from their wedding very often, it will become an important family record that you can share with generations to come. When you're old and grey, still in love with the weight of a lifetime together behind you, you'll always have your wedding video as a lasting memory of your special day. 
Is it expensive to hire a videographer?
Just as with photographers, most videographers will have various packages to suit your budget. If you're on a tighter squeeze, you can usually negotiate with videographers to only film certain parts of the day. So you might, for example, hire someone to film only a few hours during the ceremony and speeches, or perhaps later on at night when the party gets into full swing. 
As with anything, you get what you pay for. 
Scrimping on quality to have a mediocre photographer and videographer might leave you with both photos and video that you're unhappy with. If your budget can't stretch to good quality vendors, then perhaps opt just for one or the other to make sure you love the final result.
So, to sum up…for many couples, photographs may well be enough. These extra details might not feel like necessary additions to your day. If, however, you want to be sure that every moment is captured fully in a way that you can enjoy over and over again, then a videographer is for you.
What will a videographer do that a photographer can't?
A photographer will produce emotive snapshots of your day. They'll capture moments in time, both spontaneous and planned. The work that your photographer creates on the day will most likely be the work you get to enjoy most frequently after the wedding has been and gone. You'll hang some pictures on your walls, send others to guests. Photographs are therefore an important aspect of the wedding, and the images you get will be relics you treasure for a lifetime.
The work your videographer produces, on the other hand, will probably get less airtime after the wedding. The video file may only get played a handful of times. It will, however, allow you to not just remember moments of your day, but to relive it. This makes them so much more affecting than photos.
Videographers will create a sensory overload for you to experience every moment and emotion as it unfolded in the day. These are subtleties that will be captured to an extent in photographs, but not as fully as through video.
Imagine being able to hear the voices and sounds from your day? From the birdsong outside, to the words of love and admiration your guests say among themselves. 
One of the great things about videography is that your guests can record you private messages for you to enjoy along with the memories of your day. Depending on how many guests you will have, you may only get a short while with each person there. This means you might not get enough time with your guests to tell you how they feel. Hiring a videographer solves this issue by giving your guests the perfect way to capture their heartfelt emotions about the day and your future lives together. You can watch back heartfelt messages along with beautiful footage, gifting you with a gorgeous, emotional montage to enjoy over and over again.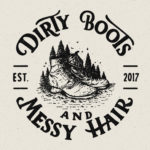 Written by:
Dirty Boots & Messy Hair Team
Connection is what it's all about. Feel free to reach out to us with any comments or questions you might have, even if it's only to say hello. If it wasn't for our beautiful community, this place just wouldn't feel the same.
Wedding Planning
13 Oct 2018