One of the best things about being a wild wedding photographer is pushing the boundaries of where it's possible to shoot. In fact, every wedding photographer should have a bucket list of places to explore throughout their career – each a little more beautiful and challenging than the last.
Over the next few months we'll be compiling our favorite spots on earth that you should definitely have on your location-shoot bucket list. To kick things off, we've pulled together 5 utterly spectacular places mountain destinations. Each place requires a little bravery, a lotta adventure, and a healthy sprinkling of talent and ingenuity to do it justice…So, without further ado, let's check it out!
Shooting anywhere with mountains as your backdrop is a magical experience. Depending on what time of day you decide to shoot, the landscape changes completely. From when the sun rises to when it sets, the space changes from green, to gold, to pink and back again. No two mountain shoots are therefore ever the same – making them a once-in-a-lifetime experience for the intrepid photographer.
We've added the Sierra Nevada to our list as it offers an almost unparalleled array of terrain for you to explore. From alpine lakes, to towering sequoias, to glacier covered peaks, to meadows, waterfalls and canyons – this unique location will challenge and inspire even the most experienced wedding photographer.
Best of all, with so much unspoilt land to explore, you're guaranteed a secluded spot to let your clients play, roam free, and create a mesmerising shoot! 
Baton Valley, New Zealand
Every photographer should aim to shoot somewhere that's been untouched and unspoilt by human interference. That's why this next mountain destination hit our bucket list.
Well off the beaten track, in the Tasman District of the South Island of New Zealand, lies the little known Baton Valley. This untamed backountry offers a spectacular landscape for your next location shoot. A heady mix of wild rivers, high plateaux and alpine herb fields, and coastal forests, this destination really does have it all. 
So few photographers have ever shot here that you have a fresh canvas to play around with, to create a work that reflects your unique style. Could this be the destination that spawns your signature piece? We reckon so…
Something that never fails to inspire incredible photography is scale. When faced with a location that gives you scope to play with perspective and capture the immense expanse of nature – you're almost guaranteed to create a photographic masterpiece. Our next mountain location made the bucket list for that precise reason.
Stretching some 3,000 miles from the northernmost part of British Columbia in western Canada, right down to New Mexico in Southwestern US lies the Rocky Mountain Range, also known as The Rockies. 
This geographically spectacular region is defined by adventure. Vast mountain ranges remain relatively untouched by civilisation, offering an almost limitless space for you to creatively explore. From the lush nature and wildlife of Yellowstone Park, through to the snowcapped peaks of Aspen, the Rockies will no doubt push you to create your finest and most beautiful work yet.
Most famous for being one of the locations of The Hobbit and Lord of the Rings, no mountain bucket list would be complete without NZ's Lake Pukaki.  Running along the northern edge of the Mackenzie Basin, this alpine lake is an absolute feast for the eyes.
This the distinct blue color of this remarkable lake (caused by the glacial feed from nearby mountains) is a sight to behold. The ribbon-like stream of turquoise flows across the valley, creating the perfect playground for any adventurous wedding photographer. The endless backdrop offers a wild expanse, virtually untouched by human population, and is a one-of-a-kind natural jewel that'll offset your subjects perfectly.
Lake Louise is all about sunshine, mountain adventures, and moments full of vibrant beauty. Set in the Banff National Park, the spectacular beauty of this place is unrivalled anywhere else on earth. The serene, impossible turquoise lake is an utterly breathtaking backdrop for any location shoot. Flanked on all sides by chiseled mountains, this location is a wanderluster's paradise.
Take your shoot from day to night  beside a campfire and capture your clients under the endless starry sky. 
And there you have it – the mountain edition of our wedding photography bucket list. This is only the tip of the snow capped mountain, there are limitless places for you to explore and create works of beauty. Let us know what's on your bucket list and let the adventure commence!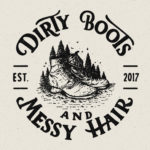 Written by:
Dirty Boots & Messy Hair Team
Connection is what it's all about. Feel free to reach out to us with any comments or questions you might have, even if it's only to say hello. If it wasn't for our beautiful community, this place just wouldn't feel the same.
Photographer Tips
15 Oct 2018