Cincinatti-based Hannah is the photographer behind Hearts & Color. A self-proclaimed introvert, Hannah focuses on building deep, meaningful relationships with those she photographs, and the results speak for themselves. Her work is an endless reel of gorgeous, understated images, where her subjects and the landscape take centre-stage to tell moving stories of live and love.
Hey Hannah, where are you sitting as you are writing this right now? How's your day going? How are you feeling?
I'm currently sitting at my desk in my office while typing away! It's been a rainy, autumn afternoon – my absolute FAV. There's nothing better than pouring a cup of tea or coffee and working the day away in those comfy clothes, am I right? No complaints here.
To those that might not know you just yet, please introduce yourself – Who are you? Cat or dog person? What's your photography style?
For those that may not now me, ayeee! I'm Hannah. I'm a lover of dogs, obvi. I'm an INFP and bagel lovin' gal currently living in Cincinnati, Ohio. My style of photography is definitely not traditional. It's candid and moment-based. My job is the most extroverted side of me, but even then I tend to be a fly-on-the-wall capturing and waiting for moments to unfold on wedding days.
I love anticipating moments and telling stories through photos. I know everyone says that, but it's TRUE! I went to school for English and Photography and I feel like my work now is a perfect mix of what I love and studied in college.
What role does Instagram play for you as a photographer? Is it important for your business?
Instagram has played a big part in the growth of my 'lil business. Most of the couples who reach out find me through Instagram. It's a creative outlet for me as an artist and conveniently a freaking awesome marketing tool. It's become an extension of my website, but a more personal and vulnerable version that people can relate to on a deeper level.
Can you show us 1 or 2 photographs that are particularly meaningful to you and share the story behind them?
Oh gosh, only one to two?! The first image of Kata and Dan  was taken in Oconomowoc, Wisconsin in my great aunt's backyard of her summer home on the lake. It was a place I frequented as a kid and there are so many memories tied to that spot. To have Kata and Dan getting married just a mile down the road from my great aunt's house was the craziest happenstance. I had to take them to that beautiful spot for portraits and it meant so much to combine two of my worlds into one.
The second, close-up image is of a couple, Marissa and Kees. We met through a mutual friend in college and when they reached out about taking their engagement and wedding photos, I was thrilled. Their wedding was one of the first where I truly felt like I was finding my voice and honing my style. When I look back at this image, it brings up all sorts of emotion and creativity in my heart. It's a special one for sure.
If you had to pick just one thing, what do you love most about being a wedding photographer?
There are so many amazing things that come with being a wedding photographer. What I love most is the getting to witness such special moments for each of my couples every weekend. It's seriously the coolest job to make new friends all the time and experience new places along the way. I feel like I've grown and learned so much as a person since starting my business and I wouldn't trade it for anything.
What's the biggest challenge you've faced that you could have a helpful lesson for other photographers?
I think one of the biggest blessings and curses as a wedding photographer is being able to work for yourself and in turn, having the ability to always work. It's different from working a corporate job, where you can leave your work at work mostly.
I struggle with working too much and finding a balance between my career and personal life. It's something I'm still figuring out to this day. It's so important to craft time for yourself in order to be the best photographer for your clients and person in general. Sometimes it's hard to see the value in taking a day off, but trust me, it's so important to create balance.
Who or what inspires you?
This sounds so cheesy, but everything around me inspires me in some shape or form. Whether it's triumphs, struggles, my family, the couples I get to work with, the weather, traveling, books. Literally everything. I'm such a curious and introverted soul, so the world and people around me are what fuel my create heart.
What are your dreams for the future of your career?
I hope to sustain my career as a wedding photographer for as long as possible. I know it's not something I can't do forever, but it's my passion for now. I started school as pre-med major, so my interests range quiiiite a bit. I'm also slightly obsessed with all dogs, so I'd be lying if I said I haven't thought about converting my home into an animal rescue, hehe.
Thanks for taking time Hannah.
If you're looking for someone who'll take the time to really get to know you, and translate that into a work of art – then look no further than Hannah.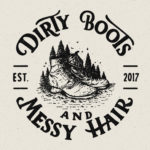 Written by:
Dirty Boots & Messy Hair Team
Connection is what it's all about. Feel free to reach out to us with any comments or questions you might have, even if it's only to say hello. If it wasn't for our beautiful community, this place just wouldn't feel the same.
Photographer Tips
16 Oct 2018