Having a long-distance relationship (LDR) is becoming more and more common – and why not? After all, love can overcome the greatest of obstacles.
In 2019 (almost 2020 now!) technology is making it easier than ever to maintain meaningful relationships and friendships when we're not in the same place. Social media, video chats, instant messaging and a million other things can help you make sure you're still an active part of your special someone's life… even when you're not physically in it, at the moment!
Perhaps that's why more and more people are now open to trying a long distance relationship? According to OKCupid, almost half of all daters would be open to starting a long-distance relationship — and more than half of these LDRs will actually survive in the long run!
That's not bad, at all!
So, how do you make sure your own long-distance relationship makes the cut? It's not just the daily chit chat that keeps you together: you also need to show your love in more meaningful ways, especially as the distance makes physical intimacy a challenge.
Whether you met someone amazing during the summer and decided to turn your summer fling into a fully-fledged relationship, or you simply had to move to a different city from your boo for work or study – start with these 5 simple ways to emotionally enrich your long distance relationship today!
Be There for Them in Cute, Unexpected Ways
Maintaining frequent communication when in a long-distance relationship is crucial. But communication can take so many different forms!
And while making small, romantic gestures to show your special someone you love them is easier up close, that doesn't mean your long-distance relationship should be any less romantic!
For one, you could tag your lover in a cute Instagram pic you took or send them an unexpected care package by snail mail. Who wouldn't smile receiving a heart-felt Insta update, or a few little treats which you've handpicked to brighten their mood?
After all, making small loving gestures often and unexpectedly is more meaningful than telling them "I love you" every day, on your scheduled phone call/video chat.
That way, they know you're not taking them for granted — and that they're always on your mind.
But Remember to Also Give Them Their Space
Unfortunately, there's something to be said about technology bringing us too close…
Sometimes – especially when you're in a long-distance relationship – you feel you have to overcompensate for your lack of physical presence.
And it's easy to overdo it!
You know: chatting all day long, tagging them in every picture all the time, constantly asking them what are they up to, freaking out if they don't respond right away…
We've all been guilty of it.
But the time you spend apart can actually be very important to both of you: as a couple, and as individuals. This "alone time" should be time to grow, to learn about yourself (and about the other person) and to become okay with not being together all the time.
It's the only way to make sure your long-distance relationship actually goes the distance!
So, instead of making your significant other the center of your universe, it's better to acknowledge that they will need, and want, to spend some time on their own and not have to report back to you every five minutes.
Trust is not built on frequency of communication, but on the ability to let go a bit and know everything will be alright.
Why don't you take advantage of this precious time apart and show yourself some love instead? Taking a solo trip, for instance, will not only ground you as a human being but will give you so many more things to talk about with your special someone when you meet again!
Don't Skimp on the (Much Needed) Intimacy
Sharing social media updates, thoughts and daily news is great… but it's also what friends do.
If you don't want your long-distance relationship to slowly slide into the friend zone, you also need to keep the spark alive. So how do you do that, short of filming a NSFW film with your phone? (Not that's anything wrong with that, of course, if that's what you wanna do!)
Why not experiment with sending them a spicy photo, now and then. Not necessarily nudes, but intimate: you could take a snap while you're in the shower (covered by the steam and bubbles), while in bed (even if you're under the duvet) or while trying out a new dress at the dressing room of a shop.
Remember, it's not only skin that equals sex appeal. If you and your lover are more pjs-and-Netflix-on-the-couch kinda people, then send them a snap of you curled up and missing them.
Intimacy is about much more than just arousal: it's about granting intimate access to the part of your life that no one else gets to see.
(And if selfies are still really not your thing, these proven self-confidence tricks may help!)
Sometimes, what you miss the most in a long-distance relationship are the mundane, everyday moments – making a pot of coffee together in the morning, bickering over who does the dishes, or binging on a boxset at the end of a long working day.
And whilst there's no technology to help you share out the dishes (just yet!) it is super easy to sit down and watch a TV show together.
Either using a software like Kast (formerly known as Rabbit) or just your FaceApp on your phone, maintaining a stable video connection so you can comment on real time while streaming together is nowadays a simple thing.
The fact that you're dedicating the time to relax with one another will not only bring you closer together but give you something to look forward to – as your new, quality time.
The more complicated question is, what are you going to watch? Thankfully, we got your back. Take a look at our suggestions for all your Netflix and chill moments!
In an LDR, it's not always easy to meet as often as you would like to. Whether you've gotta fly, drive or catch a train – the distance is sometimes costly and too much to squeeze into a weekend.
That's why you need to make each visit count! And not just in terms of spending all your time together wrapped up together (although that is, of course, very important too).
For starters, make sure you have enough time off work when you visit them — so that your S.O. sees you and not just your forehead while you're typing away at your laptop.
Meet each other's friends and go out in their favorite haunts.
Plan ahead, so that you can also explore each other's neighborhoods; schedule mini trips and excursions to places you as a local haven't had the chance to visit yet.
This way, you'll never stop creating new memories together!
Long Distance Relationships Aren't Easy, But They Are Often Worth It
Every now and then, you'll fall for someone and be willing to go any distance to make the relationship work.
And – at the end of the day – a long distance relationship is like any other. The same rules apply: love, support and respect each other… and everything else should fall into place.
Need more inspiration? These 6 mantras to keep your relationship happy will help!
Good luck, long distance lovers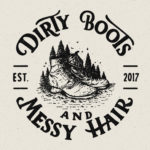 Written by:
Dirty Boots & Messy Hair Team
Connection is what it's all about. Feel free to reach out to us with any comments or questions you might have, even if it's only to say hello. If it wasn't for our beautiful community, this place just wouldn't feel the same.