If you are planning an elopement, then you are one of a growing number of couples who are choosing to rip up the rule book and have a wedding that's uniquely yours. In our eyes, that makes you nothing short of awesome.
But, whilst elopements have the potential to be relaxed than traditional weddings, it's definitely not a given. So, to help you avoid any potential pitfalls, we've compiled some tips to help you plan a stress free elopement.
One of the biggest causes of stress for many couples who chose to elope is the fear of their family's reaction. Many parents dream of their child's wedding day, and so it's normal that you are nervous about telling them that you're planning to do it solo.
The trick to avoiding any upset is clear communication. There are countless reasons why you might pick an elopement over a traditional wedding. Maybe you are doing it for financial reasons. Or perhaps you simple want something totally intimate. Whatever your personal reasons, communicate them to those you love and they are sure to give you their full support.
Remember though, decisions about your wedding day are yours and yours alone to make. Invite your family and friends into your thought process – perhaps even get them involved in the organisation of the day – but accept that it's also ok that not everyone will be ok with your decision to elope.
Your wedding day should be a personal, intimate expression of the wonderfulness that you and your partner have built together. However you chose to celebrate your day is a-ok, even if not everyone agrees with it.
And so, with that in mind, do what you gotta do to get your loved ones on board, and then let it go. It's your day, so don't worry about anyone else.
You're deciding to elope, which presumably means you want a day that is entirely focused on the beautiful commitment you are about to make to one another. When you elope, however, all the details will fall on your shoulders – you'll have noone there on the day to help you make sure things run smoothly. This can very quickly become stressful, and distract you from the day. To avoid running into any unnecessary stress, consider getting a wedding planner to help you get things organised and make the day run smoothly.
A good elopement planner will be your sounding board and champion throughout the whole process. They'll listen to your goals for the day, and then work with you to create something magical.
Want to experience your wedding meal on the rooftop terrace of that historic building whilst being serenaded by a mariachi band? Your wedding guide will work all their experience and local contacts to make that vision come true.
Simples.
It might seem counter intuitive, but you'd be surprised just how often people think there's a certain way you're supposed to "do" elopements. To hell with that. You're already kicking tradition to the curb by deciding to elope, to take that bravery and run with it the whole way.
You might spend 70% on your budget on a wedding photographer and then decide to buy some donuts from a local store instead of a wedding cake. You know what? Good for you! If you love donuts then you should damn well eat all the cheap donuts you want on your wedding day. We salute you!
Don't get caught up in thoughts of how your day should be. You've already come this far – so do whatever feels right for the two of you.
This is particularly true if you're deciding to elope somewhere wild. The weather might be crappy, your dress might get dirty, and that view you were counting on might be shrouded in fog… embrace it.
This attitude of embracing the day is what we love most about elopements. It allows couples to be totally present and to let go of the things they can't control, simply giving in to the unplannable magic of the day.
All those things that went wrong will be the stories you tell your grandkids, so just roll with it and have fun, whatever comes your way.
When you elope, you can choose almost anywhere on Earth to get married. After all, your day, your rules. Take your vows at the top of a mountain? No problem. Declare your love under a thousand stars in the desert? Why not. Say "I do" on a deserted island? If you can find one, do it.
If you and your partner are wild, adventurous souls, then your wedding should reflect that. By eloping, you can transform this important day into a reflection of your traveling souls. Go where the wind takes you, and declare your love there. If you do this, there's no way you will end up feeling stressed on the day.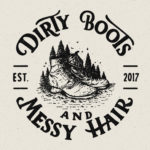 Written by:
Dirty Boots & Messy Hair Team
Connection is what it's all about. Feel free to reach out to us with any comments or questions you might have, even if it's only to say hello. If it wasn't for our beautiful community, this place just wouldn't feel the same.
Wedding Planning
09 Jun 2018