Wedding photography is a partnership. For you to be your best, most creative self you need photography clients who you gel with. People who get your style and inspire you to push it further. But, when you're running a business as a solo creative it can be easy just to say yes to any project. After all, money's money… right? Wrong.
For you to do great work you need to have the bravery to only say yes to couples that are right for you. So, how should you attract the ideal photography clients? In this article we take you through our 5 top tips to do just that.
You should be selective when it comes to showing your work. Even if you love the end result of a particular shoot, if it doesn't reflect the kind of photography you love to do, then don't show it. If you want to make a career out of shooting wild, outdoor weddings, then don't showcase more traditional wedding shoots in your online portfolio.
Potential photography clients will only have your online portfolio to gauge what kind of photographer you are, so you should craft it carefully to tell a very specific story.
Your couples are going to need to be comfortable spending one of the most important and intimate days of their life with you. So it's really important that they get a feel for whether you're on the same wave length or not. This is just as important for you as it is for them.
Social media is perfect to give clients a glimpse into your personality. So make the most of all your social channels to show your clients the person behind the lens. Instagram stories are particularly great ways of showing your potential photography clients your lifestyle, hobbies and sense of humour. Produce regular content that not only shows off your amazing work, but that also helps to attract the right kind of future client. There's no right or wrong way to do this, just be true to yourself. If you post a whole story from a beef steak convention, it might put off a vegan couple who previously loved your style. But you know what, that's ok! Those tensions would have only surfaced at a later (and probably much more awkward) stage anyway.
If you're not a huge social media user, then at the very least you need to make sure you have a solid About Me page on your website. This should reflect everything from your photography style, your inspiration, your aspirations for the future and – yes – even a clear description of the ideal people you'd like to work with.
First impressions count, and the visual look and feel of your site will tell so much about who you are an artist. It's therefore really important that you choose a theme that fits your artistic style.
Do you err towards a moody, intense vibe in your photography? Then choose a dark site theme to demonstrates this. Are you at your happiest shooting colorful, lighthearted weddings? In which case, why not include some fun illustrations into your site design? Whatever you go for, be sure to use your website to clearly show who you are.
The same is true for the written communication on your site. Craft your copy to accurately reflect not just the story you want to tell, but the way you want to interact with the world. Write the way you speak, and express yourself the way you feel most comfortable doing so. Don't try to filter yourself to be more marketable. Be true to yourself and your ideal photography clients will follow.
If a couple gets in touch to request your pricing, use this as the first opportunity to build a relationship with them. Most couples are in the middle of a stressful planning frenzy at this point, and probably have sent the minimum amount of information necessary for the inquiry. Ask them for more, and make it clear that this is the most important aspect to booking the right photographer. There's no substitute for a mutual fit.
By this point the couple have already seen a spark of something that's gotten them excited. So use your follow on email communication to take this a step further. Be professional, yes, but don't be afraid to speak to your photography clients as though they were your friends.
Give them a glimpse right away how it would be to work with you. Are you serious? Funny? Sarcastic? Interested in the long lost art of cave painting? Whatever it might be, share pieces of yourself with your potential clients to make sure you only proceed with those you gel best with.
If you only listen to one piece of advice in this post, let it be this: meet your couple before you accept a booking.
This is so important to make sure you're a good fit. Talk about their plans and what they like most about your work. Ask them about their likes, dislikes, and their hopes for the day. If it vibes with your style – perfect. If not, then the best thing to do for both them and you is to walk away from the project. It's much better to figure this out right at the beginning of your relationship rather than at a later stage.
Et voilà! Our golden tips to help you attract the perfect clients. It takes a little bravery to be selective, but your business and your artistry will flourish if you have the courage to stay true to yourself.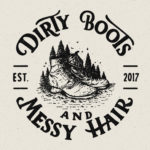 Written by:
Dirty Boots & Messy Hair Team
Connection is what it's all about. Feel free to reach out to us with any comments or questions you might have, even if it's only to say hello. If it wasn't for our beautiful community, this place just wouldn't feel the same.
Photographer Tips
13 Jun 2018