Browse through Berlin-based photographer, Gaja's, feed and you might think you've stumbled across an editorial magazine shoot. Gaja has an incredible talent for transforming her couples into high-fashion models, without losing their emotion or rawness. Her warm, cinematic tones give us all the good feels – especially her urban shots. Who knew cities could be so dang romantic? 
Hey Gaja, where are you sitting as you are writing this right now? How's your day going? How are you feeling?
It's late Friday morning and I am sitting at a cafe from where I usually answer emails and organise my week. I cannot believe how beautiful this late fall is, so I am enjoying the sun and trying not to get too stressed by wrapping up the season and preparing for upcoming projects. 
To those that might not know you just yet, please introduce yourself – Who are you? Cat or dog person? What's your photography style?
If I say to people; 'If I was Wendy, I would never leave Neverland nor Peter' they kind of understand what kind of a person I am. But long story short: I grew up in Slovenia, spending most my time barefoot and climbing trees. I am homesick for all the places I've visited, although I believe home is a feeling and people and not a place. I am a quiet, nostalgic, melancholic romantic at the same time I am extremely open and extroverted. I love to laugh till my tears run down my face. I have a great fear of loss, of any kind, especially people. I am that person who says 'Hi' to dogs and when I close my eyes I usually imagine I am on a roof top with a beer in my hand surrounded with people I love. I am still a sucker for the great outdoors, adventure, getting dirty and sleeping under the stars, but at the moment the crazy, busy and loud Berlin is my home and I love it.
I haven't been a wedding photographer for so long, so I've noticed my style drastically evolved in the last season. I shifted to calm moments, elegant environment and timeless vibes – I think. Emotions are the ones that move me and inspire, so everything that is intimate, up close is how I like to capture people. 
What role does Instagram play for you as a photographer? Is it important for your business?
Instagram proved itself to be extremely helpful for me. I just wrapped up my second year, so referrals are not the main way of how I get work. As a 'young' photographer or 'young' business Instagram gave me the possibility to be out there and present my work. A lot of couples found me over that social media and also very important it connected me with many fellow photographers. I am always blown away how beautiful this wedding community can be and how supportive and collegial the environment. At the same time, it can be quite discouraging seeing so much talent. I try to distance myself from social media form time to time.
Can you show us 1 or 2 photographs that are particularly meaningful to you and share the story behind them?
This portrait of my parents sums up why I do what I do. My father once said "I wish I had more pictures from when I was young". The need of remembering and reminiscing is so important. Photographs are so special, they really do take us back to a particular moment, they even evoke memory and feelings we though were lost or forgotten. Its magical. I wish I had more photographs with people that are no longer with us, this is why this smile, that moment means the world to me.
If you had to pick just one thing, what do you love most about being a wedding photographer?
There is so much to love a bout being a wedding photographer. But the appreciation that comes from the newly weds, the trust they have in you is a feeling that feeds my soul. The ability to capture memories for someone and realising how crucial it is for the whole family that they can relive such important event in their life and the possibility to pass these memories to future generations. Epic. Our jobs rock.
What's the biggest challenge you've faced that you could have a helpful lesson for other photographers?
Starting out, I was pretty insecure and shy, which resulted in giving control over the shoot to the couple. In worst cases that meant not getting a shot I really wanted – I disappointed myself which made me feel I failed my couple. Don't be afraid to ask to do one more shot, stay three minutes longer or do something they never would, don't be afraid to do a step closer – they trust you and they will 100% appreciate the result at the end.
Who or what inspires you?
 I try to get inspired by other art forms outside of weddings. I love to go to museums or art galleries, old movies have such poetic frames. Oh and I always love to peek into my grandmothers shoebox filled with photographs.
What are your dreams for the future of your career?
I love capturing weddings, so I definitely cannot wait to see my work, my way of negative and storytelling naturally evolve. I do believe sooner or later my career will shift a bit away from wedding photography, for now it is a bit soon to put a finger on where, but follow along to see where the stream of life will take me.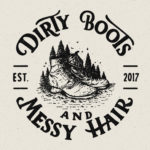 Written by:
Dirty Boots & Messy Hair Team
Connection is what it's all about. Feel free to reach out to us with any comments or questions you might have, even if it's only to say hello. If it wasn't for our beautiful community, this place just wouldn't feel the same.
Photographer Tips
23 Oct 2018