The wedding photography industry is in a state of constant innovation. Each year, creativity is pushed another rung up the ladder as work becomes even more sophisticated, challenging and inspiring.
One of the ways this has been explored by many photographers in recent years is through the trend of styled shoots. But could this trend of ultra polished and artificial wedding shoots actually be hurting the wedding industry, rather than pushing it forward?
In this article, we take a look at some of the criticisms of styled shoots, and what you shout do as a photographer to mitigate those risks.
First up, what is a styled shoot?
Styled shoots are a collaboration between a photographer and multiple other suppliers – such as florists, designers, hairdressers etc – to create a super editorial and slick photo shoot. They mimic a real wedding (or engagement), and are usually done as a way to build a portfolio with work that expresses a specific creative style, and are often geared towards getting published on a big name platform.  
Sounds great, right? So what are the criticisms? Let's take a look.
Criticism #1: They don't prepare photographers for real weddings
Styled shoots are often done by relatively new wedding photographers as a way of building a portfolio from the ground up. One of the main criticisms of this is that aspiring photographers don't learn how to navigate the challenges of a real wedding in this controlled set up. They don't learn how to deal with emotional couples, difficult guests, unpredictable weather or last minute changes. Some are questioning: when those less experienced photographers hit their first real wedding, will they be able to do it justice?
What to do to counteract this risk
If you're turning to styled shoots to build out your portfolio, always be sure to get additional experience as a second shooter. Nothing compares to that real-life experience of assisting on the real thing. You'll not only learn from someone with tons of experience, but you'll also get invaluable insights into how to practically go about translating your creative vision in a less controlled environment.
Criticism #2: Styled sessions prevent real weddings from being published
There's no two ways about it: styled shoots are gorgeous. They are replete with the most intricate and ornate detail, and the combined result of multiple talented vendors is often nothing short of mesmerizing. It's no wonder, then, that wedding publications love to publish them. 
Trouble is, this can make it difficult for photographers with real weddings to get showcased, because – as we all know – real weddings have less scope to capture so many gorgeous details. 
What to do to counteract this risk
Every photographer wants to get showcased on a prominent wedding platform. There's no reason you can't be featured with a real wedding shoot, but you perhaps need to be more selective with where you send your submissions. Look for publications that make a distinction between real weddings and styled shoots, and target those. Be sure to highlight the unique elements of your real wedding shoot in your submission, and include as many details about it as possible to maximize your chances of being published. 
Criticism #3: Styled shoots give couples unrealistic expectations
Whilst styled shoots are an amazing source of inspiration for brides and grooms to be, they are often a little misleading too. Many vendors will loan all of the beautiful details as a way of marketing their best products. But the realty is that most couple's budgets simply will not be able to stretch to re-create the gorgeousness that's depicted in these styled shoots. This can leave couples feeling dejected and stressed about their day.
The risk of unrealistic expectations can have an effect on you as a wedding photographer. If couples are getting their wedding inspo from these styled shoots, then they may have unrealistic expectations about what you will be able to achieve for their real wedding shoot. 
What to do to counteract this risk
You should be sure to over-communicate with your couple to set clear expectations. Before the wedding day, they should be totally clear on exactly what you can and can't do, and what you'll deliver. It's far better to go into too much detail rather than not enough – that way you eliminate any risk of an unhappy client who didn't get what they were expecting.
Whatever your opinion on styled shoots, there's no doubt that they are the reason behind some absolutely sensational work. Let us know your thoughts in the comments below.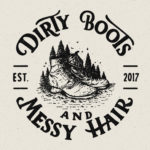 Written by:
Dirty Boots & Messy Hair Team
Connection is what it's all about. Feel free to reach out to us with any comments or questions you might have, even if it's only to say hello. If it wasn't for our beautiful community, this place just wouldn't feel the same.
Photographer Tips
22 Oct 2018