Making decisions about wedding attire for men can be confusing even for a traditional day. Throw in the adventure elements of an unconventional day and the stakes are even higher.
The most important thing to remember is that your wedding attire should not only leave you feeling ultra fly on your big day, but it should also give you the comfort and freedom you need to enjoy your wild wedding to the full. We've pulled together a simple guide to help you pick the perfect outfit for your adventurous celebration. Button up boys, let's begin.
Dressing for a beach wedding
If you're planning to get hitched on a beach someplace beautiful, then your outfit needs to match the natural, carefree vibe of your day. 
Dress-down a smart suit with a simple tee and rolled up trousers for an alternative take on the classic wedding look. Go for a linen blend to keep you nice and cool throughout the day.
If you want to go a little smarter for the ceremony itself then pair your outfit up with some leather espadrilles, and then let your feet go free for the rest of the day. This look gives you all the freedom you need to wade in the ocean and feel the sand between your toes.
Round your look off with a colorful boutonnière for a little impact and drama.
Dressing for a mountain wedding
Planning to say "I do" in the mountains is an amazing choice. What could be better than taking your vows with the immense backdrop of a snow capped mountain as your witness? That said, dressing for a mountain wedding requires a little extra consideration. 
You need an an outfit that will not only have you looking smart, but also free to explore the wild terrain. This doesn't mean you need to wear hiking gear, it simply means you need more robust clothing and footwear to keep you going, whatever the weather.
Opt for an elegant three piece suit for warmth. If you're hitting the mountains in winter, or heading to lofty heights, then go for a wool-blend to keep you from freezing. Pair your suit with durable rubber soled shoes that'll protect your feet over rough terrain. Doc Martins are a great choice for hard-wearing footwear that'll keep you dry even in wet weather .
Your outfit doesn't have to be fully-functional. Give it a little personality with a vibrant pop of color, either in the boutonnière or your tie. 
Dressing for a desert wedding
Dressing for a desert wedding comes with a number of challenges. You need an outfit that will keep you cool during the day, whilst also being versatile enough to keep you warm when the sun goes down and temperatures plummet. 
The trick to dressing for a desert wedding is layers. Make your base a cotton suit that will be just as suitable in warm temperatures as it will when the sun sets. For the day time, forgo a tie and opt instead for a Western-style leather chord. As the temperatures get cooler, you can layer up with a waistcoat or a bold overcoat. 
Keep your boutonniere simple. Chose simple (or even dried) wild flowers that evoke the spirit of the desert. You could even play around with creating a boutonniere made from succulents and cacti, if you're feeling adventurous! 
Dressing for a forest wedding
Your outfit for a forest wedding should reflect the soul of the wild nature around you. Thankfully you don't need to consider too many practical elements to your outfit (unless of course you're getting married somewhere particularly hot or cold). This frees you up to find a unique outfit that evokes your unique personality and style!
Why not opt not to suit it up for your forect wedding? Instead go for a laid back tweed, open waist coat coupled with a relaxed stand-collar neckline. Team it up with a hat, and have your boutonniére adorn your hat, rather than your chest.
Keep your footwear simple, and durable enough for you to roam free through the forest terrain. We're a big fan of a suede desert boot for a forest wedding, but opt for a treated leather if you're headed somewhere muddy or wet!
Good luck finding the perfect outfit for your wild day – we hope these tips help get your styling process started!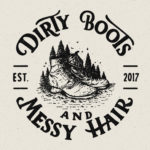 Written by:
Dirty Boots & Messy Hair Team
Connection is what it's all about. Feel free to reach out to us with any comments or questions you might have, even if it's only to say hello. If it wasn't for our beautiful community, this place just wouldn't feel the same.
Wedding Planning
20 Oct 2018