We get it: going on a traveling adventure alone can be scary, which is why we've came up with 8 solo travel tips to help ease your worry.
How will you get by without a travel buddy to talk to? Will it be safe to travel on your own? And who will take your photo for you, if you're exploring by yourself?
These are all totally understandable questions and worries to have. But, rest assured, millions of people embark on solo trips every day. And they love them.
It may seem intimidating right now but trust us: once you throw yourself into the challenge of solo traveling, you'll never look back.
Do Your Homework Before You Set Off on A Solo Travel Adventure
As with a lot of things in life, preparation is everything! And the more research you do into your solo travels, the more ready you'll feel to take it on!
Craft yourself a rough itinerary, even if you're more of a spontaneous person who prefers to fly by the seat of their pants.
You needn't plan out each and every day of your trip but getting your head around what you'll do and when will help you feel more on top of the challenge of solo traveling.
Remember to share with others when you have come up with a vague solo travel route. If you give your friends and family an outline of your itinerary, they'll know where to find you if they need to.
Check out this guide if you need a little guidance for solo traveler friendly destinations.
Set Yourself A Solo Traveling Budget
Another element of planning and preparation is setting yourself a budget.
'Budget' can be a nasty word: it implies keeping your purse-strings tight, or limiting your experiences based on the cash you've got available.
Yet, budgeting can actually help you make the most of your solo traveling.
If you have a daily figure in mind — based on how cheap or expensive your destination is — you'll never end up in a tricky situation, running out of funds along the way.
We love this free budgeting tool, which lists average daily costs for destinations around the world – as described by real travelers.
Seek Out Solo Travel and Accommodation Options That Make You Feel Comfortable
Are you more of a morning person? Or a night owl? Do you consider yourself more introverted? Or do you thrive in the company of others?
When you're traveling solo, you should travel at a time that makes you feel comfortable and stay in accommodation types which suit your personality.
Cheap hotels and hostels with open, social areas can either be perfect for solo traveling. They can also make you feel more reclusive under the pressure of socializing with strangers.
You call the shots — do what works for you.
If you're planning bus, boat, or even air journey, at night — because that's when you prefer — just be careful.
No matter where you are in the world, everything feels a little scarier in the dark. If you do want to travel in the middle of the night, try to do so with a tour company.
Respect Local Customs and Immerse Yourself in Your Surroundings While Solo Traveling
One of the best things about travel is exploring new cultures and customs.
And part of immersing yourself in a new way of life is respecting how things are done.
Try to blend in with the clothes you wear and attempt to pick up at least a little conversational language. This'll help you connect with locals and make the most of your time.
Stay Positive Throughout Your Solo Travels!
Things may — and probably will — veer off course at some point.
That's part of the fun of travel!
And it's how you deal with those hiccups that will impact your solo travel experience, more than the actual obstacles you encounter.
Try to remain positive, even in the face of adversity.  You can always call home if you need some support. And if you need a little positivity boost, check out this killer motivational playlist.
Remind Yourself of Why You Chose to Go Alone
Yes, it can be difficult. But flying solo is so rewarding, if you lean into it.
In his book, The Art of Travel, Alain de Botton says:
"It seemed an advantage to be traveling alone. Our responses to the world are crucially molded by whom we are with, we temper our curiosity to fit in with the expectations of others… Being closely observed by a companion can inhibit us from observing others; we become taken up with adjusting ourselves to the companion's questions and remarks, we have to make ourselves seem more normal than is good for our curiosity."
If you want to really see the world through your own eyes — and challenge yourself to step out of your comfort zone — traveling solo is key.
Being 'Alone' Doesn't Mean You Have to Be Lonely
This is a really important distinction to make: just because you're traveling solo, doesn't mean you should feel lonely.
Pack a book. Be friendly to those you meet. Take yourself out for dinner. Go see a show. Book onto a tour.
Even when solo adventuring, you can avoid situations where you'll be truly alone if that's what scaring you right now
Join a Facebook Group for Solo Travelers
There's no shortage of solo traveler groups online, and the tips and tricks shared here are invaluable for every solo tripper!
Being part of this community also gives you the opportunity to meet up with other people — also traveling alone — if you get lonely whilst you're away.
… and Stay in Touch with Friends and Family
These days, WiFi and data coverage is so readily available — in almost all countries — that you don't need to drop off the radar… unless you want to!
Keep in touch with friends and family, at least every few days. And tell them if you plan to go off-grid for any longer than that.
This is two-fold in its benefits: it's easy to message friends and family if you get homesick but it's also an important safety precaution to keep you safe.
Take A Deep Breath and Do It!
Okay, that's it! That's what you need to know if you're planning a solo travel adventure.
Now: pay for those flights! Lock in that accommodation! Get yourself excited!
The biggest part of the challenge is getting yourself to the point of booking everything and committing to the adventure
… then all you've gotta do, is do it!
Watch out world: you're on our way!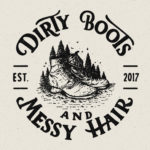 Written by:
Dirty Boots & Messy Hair Team
Connection is what it's all about. Feel free to reach out to us with any comments or questions you might have, even if it's only to say hello. If it wasn't for our beautiful community, this place just wouldn't feel the same.