Let's face it. As you approach your thirties, it's often much more difficult to find the time to schedule fun things to do with friends.
Work, family and other life commitments get in the way and before you know it, you haven't seen your friends for six months.
Gone are the days of being able to spontaneously meet up. Or let an afternoon coffee roll into a long, dinner date.
Need we mention the souvenir of a fuzzy head after one too many glasses of red wine? That doesn't mean your social life is doomed forever more. Oh no. Instead, you now need to find new fun things to do with friends that better fit your lifestyle.
In this post we've come up with some different ideas. All you have to do is get that catch up session in pronto!
Have Fun with Friends by Exploring Your Local Area
How often do you take advantage of your neighborhood?
Perhaps there is a great café with delicious homemade cakes, a cute shop with unique interiors or clothing, or maybe there's a tiny, independent bookshop. Take advantage of what's on your doorstep and support your community by exploring your local area.
Lots of places will also host regular free or low-cost events – it's worth getting on the mailing list so you know what's coming up.
One of our fave things to do if the sun is shining is to simply grab a coffeeand take a walk through your favorite streets. It's always fun to window shop for houses you can't afford, or to simply admire a beautiful front yard.
Go on A Friend-Date to Your Favorite Museum or Gallery
You might think you need an entire day to do this, but it's not true.
Choose one museumor gallery, and then target one room or exhibition to visit. You could squeeze it in over your lunch break if you work near your friend. Or on a weekend morning so it doesn't impede your plans for the rest of the day.
Of course, if you live in a city there are plenty of museums and galleries to peruse, but even small towns are likely to have a local museum, pop up gallery or passing exhibition. It's great if you actually enjoy the art or items on show, but you can still have a good time even if it's not your jam.
Use that time to stroll whilst chatting (quietly!) and take pleasure in the peaceful surroundings. This activity is ideal during the wintertime, or if you live somewhere with a colder climate.
Take A Fun Exercise Class with Your Friends
Okay, hear us out on this one. While the thought of hitting the gym might not soundlike something to do with friends, you'd be surprised how fun it can be. Moving and sweating together will not only release vital serotonin hormones, but also be a total laugh. Especially if you're anything like us and miss allllthe moves the instructor is directing. Damn you two left feet!
Find the most hilarious session you can (Beyonce Diva Dance class anyone?) and take a friend or two along to learn some new moves.
It doesn't matter if you're not sporty or "good" at exercise; it's just about letting loose and having a good time.
You'll be making memories and getting fit in tandem! If a group class is not your style, you could always grab your sneakers and take a hike together. It's the perfect time to breathe in some fresh air, discover a new trail and have a proper catch up.
Get Together with Your Friends and Watch Your Favorite TV Show
It can be slightly annoying when you miss your favorite show because you were out socializing. We say, combine the two!
Have a proper viewing party by ordering takeout, gathering some sweet treats or a drink or two, and snuggle down in your comfiest sweats with a blanket. It also means you have another interest in common.
For the rest of the season you can text each other whilst watching in separate locations to discuss what's happening. Another great reason to check in with your friend each week!
Head Out on A Fun Friend Day Trip
Got a little more time? A day trip can be a wonderful way to see your friend. If you have a partner/family/pets, choose a destination where everyone is welcome, and you can kick it as a larger group.
A forest, the country, a mountain or lake, the beach – we're sure you'll find one of these not far from where you live.
Book a nearby restaurantfor lunch or take a picnic with you but keep the rest of the arrangements more flexible. Take the opportunity to explore whilst chatting and let the day unfold organically.
You never know where you might end up or what you might discover!
Grab A Group of Friends and See A Show
Depending on your interests, this could be anything from a musical to a comedy night.
A tip for you: Often booking last minute can be really cost effective, as venues will have ticket returns or no-shows. If you're willing to be flexible on what you see on the night you can catch some incredible shows for a heavily discounted price.
One week it could be your pick, the next it's your friend's. You might discover a new band you've never heard of or end up downloading the soundtrack to the best musical you've ever seen.
Our advice is to say yes to anything your friend suggests. After all, even if you hate it, it will become a funny story for years to come.
Hopefully you've been inspired by some of our alternative social engagement ideas. It's not all about a fancy (and expensive!) dinner, you know. What's important is to get together and reconnect – that might actually be the funnest thing to do with friends.
Chat about your life, work, relationships, get things off your chest. Often another pair of ears can be just what you need to solve an issue you've been having. You're guaranteed to come away feeling reinvigorated and with a stronger friendship, having tried an activity you may never have done before.
Grab a friend and get out there!
No time for friends or dating? Don't do anything until you've read our tips on finding a better work/life balance.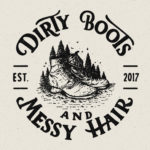 Written by:
Dirty Boots & Messy Hair Team
Connection is what it's all about. Feel free to reach out to us with any comments or questions you might have, even if it's only to say hello. If it wasn't for our beautiful community, this place just wouldn't feel the same.