So, you've said "Yes" to a lifetime with the person of your dreams, and now as you give a squeal of excitement it is time to start planning your big day. But before you begin making too many decisions, stop for a moment to take stock of the task ahead. 
We've pulled together an article on the key mistakes that couples make so that you can avoid falling into the same traps. Make your your big day amazing from start to finish by planning a little before you begin your wedding prep. That way when the time comes to say, "I do" you can focus on the celebration of your love and a lifetime of happiness, and avoid any unnecessary disappointments. 
You are surrounded by wedding magazines and there are wedding blogs pulled up on your laptop. Where do you begin? Wedding planners agree that the first thing you should do is create your guest list. Your guest list is used to help determine your budget, the venue, catering, and even the seating arrangement. So, before you say "yes" to the dress, create your guest list. You will definitely thank yourself later.
In wedding planning, there is a often rule of thumb thrown around that 10 percent of your guests will not come. Experts agree, that you shouldn't count on this. You don't want to choose a venue that holds 100 guests and you invited 120 guests.
We recommend that you stick to the number of invitees that you venue can hold. This simple planning trick can save you from a crisis down the road. 
A wedding should not feel like an awkward, crowded elevator. If your venue is cramped, then things like dancing, mingling, and even food service can be difficult.
Either pick a venue with plenty of space for your guests, or, if you've fallen in love with something that you're worried could be a little tight, then reduce the maximum number of guests your venue can hold by 10 percent. This will give everyone plenty of room to move and truly enjoy themselves, especially on the dance floor. 
The word budget can make us cringe with dread, but it doesn't have to. Take time to plan your budget. Anyone that has ever planned a wedding knows that expenses can quickly get out of control.
Sit down together and figure out how much you want to spend. Through some careful planning, you will quickly see how easy it is to make the wedding of your dreams come true. 
In a recent survey, couples who recently got married were asked what the number one mistake was that they made during the wedding planning experience. Most of them agreed that they wished they hired a Videographer.
Imagine an anniversary party, sitting there holding hands, and reliving your special day. A video journey of your wedding celebration is a timeless keepsake that you will treasure. 
Arrange a hair and make up trial
Your wedding day is one where you should be feeling your aboslute peak goddess level! To avoid any disappointments on the day, arrange a hair and make up trial beforehand. This gives you an opportunity to try out different styles. Find the style that you fall in love with.
Also, on your big day, make sure that you allow enough time for your hair and makeup to be done. This definitely allows you to have the "Wow" factor when walking down the aisle.
Don't sweat the small stuff
We have all heard of bridezillas. Remember that wedding planning and your wedding day should be an amazing, once-in-a lifetime experience. Have fun with it. Don't sweat the small stuff. Work out the details, but don't agonize over them. So many brides agonize over each small detail that they cannot wait for it all to be over. Your wedding day should be a joyous experience, from the planning to the reception.
Planning is great, but you don't need to have a "down to the minute" schedule. If things go wrong, let them. It won't matter!
Remember that this is a wonderful experience, from picking a venue to your first dance together. Enjoy it and embrace it. So many couples get caught up in all of the planning that they forget to enjoy themselves along the way. Take time to do your favorite things and to just be a couple, not wedding planners. 
A wedding is a joyous occasion. Have fun, laugh, enjoy yourselves and know that your wedding day will be great. The both of you are the centerpieces, so how could it not be amazing. Appreciate the adventure, the journey, and all of the little things along the way. 
Now, let's raise a glass and toast to your spectacular future wedding day….cheers!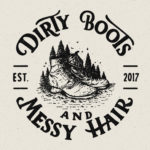 Written by:
Dirty Boots & Messy Hair Team
Connection is what it's all about. Feel free to reach out to us with any comments or questions you might have, even if it's only to say hello. If it wasn't for our beautiful community, this place just wouldn't feel the same.
Wedding Planning
17 Nov 2018