Email etiquette can be a tricky thing. Your portfolio, your Instagram account, your testimonials all speak for themselves, and you're adept at making connections, talking to prospective clients, and soliciting enquiries. The next step, however, is key – converting interest into a concrete booking – and in this respect, how you email is a hugely important factor.
Prospective clients can be a tough crowd to keep happy, interested and, ultimately, committed to your work, and couples planning a wedding will be busier, more demanding and more worried about getting things right than most.
With the margins of error being small, a poorly worded email, a long delay or an overly casual attitude can be the difference between success and failure in landing a plum job.
Horror stories from couples about not receiving their photos after the wedding, waiting weeks to hear back about queries beforehand, or off-hand, unprofessional or just plain rude responses from photographers are obviously the exception, but here are some tips for attracting clients and keeping couples happy throughout – remember, word of mouth is one of the most important ways of keeping your business on top!
The first, and most important thing is obviously communication. Be responsive! No one wants to wait and worry about an email they've sent or a query they've asked, and a prompt response is the best way to get your relationship with a client off to a good start.
Wedding planning in particular is a stressful business, and couples will often be trying to get chunks of admin done in one go, so getting a response quickly will be a big help.
It goes without saying that you may not be racing to your computer in quite the same way with a confirmed client as you would with a prospective one, but replying within a day or two will keep the relationship sweet and your chances of a great recommendation after the event higher.
All clients are busy, and engaged couples busier still. Reading through long, rambling emails and deciphering the key points is something no one wants or has the time to do.
While no one is suggesting a one-liner, making sure that you say what you need to clearly and concisely is a great help, and a shorter email is far more likely to be read and processed by the prospective client. Challenge yourself to define the aim of the email, get rid of anything not contributing to it, and then getting your points across in around five sentences.
Your personal style is immensely important to your prospective clients, and they will learn a lot about you (and you about them) by your tone, your manner, and your attitude.
A friendly voice, and a helpful attitude is a really positive way of gaining clients' respect and trust, and will go a long way towards sealing the deal. If you can, try and identify what kind of person your are writing to, and what they might like or want, so you can be proactive in making suggestions or offering advice right from the beginning.
You are far more likely to be hired, and to develop a good client relationship from the start, if your first interaction is helping to solve a problem they didn't even know they had!
The nightmare – pressing send, as you glance at the text and see a sudden, glaring, embarrassing typo. Or worse still, you've spelt the client's name wrong! It is always worth rereading an email before sending, and even when you are certain everything is fine, a last-minute sweep might pick up something you've skimmed over after reading it too many times.
Minor typos and grammatical errors might be no big deal, but misspelling a client's name or forgetting an attachment could spell disaster for your pitch.
Have a professional presentation
It might seem like a small thing, but for a professional in a visual industry, visual presentation is incredibly important. Clear and attractive fonts and formatting, and a good presentation of your contact details, website and portfolio, goes a long way to demonstrating your suitability for a job. A beautiful e-card in the body of the email is always a winner, and it (hopefully) goes without saying that Comic Sans should be avoided at all costs!
Some of these pointers might seem obvious, and sticking to them might make dashing off a response from your phone becomes less feasible. But showing prospective clients you've put time, thought and energy into your responses will help win work and build your reputation.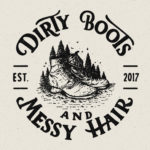 Written by:
Dirty Boots & Messy Hair Team
Connection is what it's all about. Feel free to reach out to us with any comments or questions you might have, even if it's only to say hello. If it wasn't for our beautiful community, this place just wouldn't feel the same.
Photographer Tips
19 Nov 2018