Swedish photographer Rebecka has the most gorgeous documentary style of wedding photography. She captures her couples as they are, unposed, at ease – and the result is magical. If you're looking for someone who'll transform your love story into a movie style love story, then look no further than this uber talented lady.
Hey Rebecka, where are you sitting as you are writing this right now? How's your day going? How are you feeling?
I'm sitting in my home office and drinking ginger tea by the window with knitted socks on. It's dark and cold up here in Scandinavia and as the leafs are falling we're longing for the snow to light up the streets again…
But wait, not just yet! I still haven't finished editing all the weddings of this season, someone stop the clock?! So… obviously I'm a bit stuck in my editing cave at the moment and can't wait to get out of here, even though I secretly enjoy it!
To those that might not know you just yet, please introduce yourself – Who are you? Cat or dog person? What's your photography style?
I'm a 28 year old portrait photographer from Sweden… nah, I'm a tiny gabber who feeds on licorice and loves to sing! I got married to my love Daniel in 2016 and now we're expecting a little one who's already taken us by storm! When I'm not shooting weddings I work with the best kids ever on a pre school, wondering what it feels like when your everyday struggle is to find the edge of a tape roll…
While shooting I've always been drawn to people (I don't have the patience nor length to shoot birds) and how to protect their beauty. I'm fusing the nordic moody palette with the southern vibrant warmth and letting the weather and scenes affect each session. Way up here I'm always chasing the perfect (or not perfect) light, striving to create a soulful, present and documentary photo art.
What role does Instagram play for you as a photographer? Is it important for your business?
I'm using my Instagram as a short cut to my portfolio for portraits (weddings and families). This is where I usually connect with potential local clients and photog's. I've noticed that the biggest part of my photo connections is through instagram, one way or another!Here's also where I get my daily inspiration and a valuable opportunity to exchange feedback with all the amazing, hardworking people our there!
Can you show us 1-2 photographs that are particularly meaningful to you and share the story behind them?
This is my little sister and her husband on their wedding day in 2015.
They were one of the first couples I shot by my self, and it was a nerve-racking and overwhelming experience for sure. We hardly got any shadow on this hot summer day, and suddenly she felt the urgent need to loosen her corset back to breath! I just saw an opportunity in the midst of it all, he held her hand so gently and I asked him to get even closer.
Unaware I was framing they're faces like this, they just looked at me with such gentle smiles. You don't see any fancy wedding details, nor the botanical garden we're in or the sunny sky. You can't really tell what was going on at that moment, but they knew – they were getting married! I just love how they complete each other so perfectly.
If you had to pick just one thing, what do you love most about being a wedding photographer?
Being a wedding photographer I have a great responsibility to creatively and honest document a whole new story, including new amazing people, each time! The challenge, the storytelling and the meeting with new people is the main reason(s) I fell in love with the mission.
What's the biggest challenge you've faced that you could have a helpful lesson for other photographers?
I've struggled with the fact that even if I love doing what I do, that should never reduce my products value. We're gonna stay enthusiastic about our work and believe that others will also encourage it to spire when we do so ourselves!
Who or what inspires you?
At golden hour this season, nature's truly a piece of art for my taste and I enjoying it both with and without my camera.
Music also inspires me a lot and whenever I'm in a good mood (according to my dear husband) I start to sing. Right now I have LÉON and Sister Sparrow on repeat in my speakers and I can't keep from singing along, so that's a good sign!
What are your dreams for the future of your career?
I'm not a loner so I cannot imagine being stuck in the editing cave all by myself for the rest of my career! Instead I dream of being a part of a drifty, creative society with our very own unique head quarter. From here we would travel the world with our cameras, host workshops and exhibitions, still our main goal would be to dare others and ourselves to do what we love!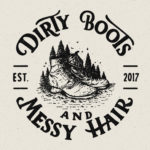 Written by:
Dirty Boots & Messy Hair Team
Connection is what it's all about. Feel free to reach out to us with any comments or questions you might have, even if it's only to say hello. If it wasn't for our beautiful community, this place just wouldn't feel the same.
Photographer Tips
19 Nov 2018