It is an easy thing to say, but the most amazing and memorable weddings usually come from a relaxed, happy bride who is having the time of her life. Two weeks after the wedding, very few people will remember the floral centerpieces you stressed about for months, the music, or even the food. Instead, your guests, and you, will be picturing the smiles of two people completely in love, or the moment he swept you off your feet on the dancefloor. 
If you are having a good time at your wedding, everyone else will be too.
However, it is natural to be nervous, even stressed on the morning of what might be the most important day of your life, and it's hard not to worry about a whole host of little details as you get ready. Here are a few tips for brides to keep your concern in check, and ensure you remain chilled and centered before taking the walk up the aisle…
A simple and obvious thing, perhaps, but if you make sure you've got everything prepped the night before, you'll have less to worry about in the morning! 
Lay out your clothes – dress, shoes, accessories, lingerie – and even go through a checklist to ensure everything you'll need for the big day is ready and waiting, so you can just throw everything on and concentrate on enjoying yourself. Don't leave things like putting together an emergency make-up clutch, or removing labels, to the last minute, as the last thing you want is for something to get forgotten in the excitement of the wedding morning.
It is a great idea to try and do something fun, but relaxing the night before, to take your mind off the next day. Go for dinner with your bridesmaids, have a gossip with your mum, even have a cocktail or two with your close friends, why not?
It doesn't really matter what you end up doing, as long as you are with people you love, and not worrying about unnecessary things. Don't forget to get an early night though, as you want to be well rested in the morning.
Don't forget to eat! 
You might not feel like it, with butterflies in residence in your tummy, and nerves taking control, but having a good breakfast is one of the most important things you can do to stay mentally, physically and emotionally sharp. 
It is going to be a long day, and you are going to need energy and enthusiasm, not hunger pangs or dizziness. Have something healthy and clean – granola, fruit, toast and so on, and avoid stodgy, greasy foods as they might make you feel bloated or queasy. Remember, there will be LONG gaps between meals during the day, and probably a drop or two of champagne, so start your day right!
Surround yourself with friends and family
Your wedding party are there to keep you calm, entertained, and most importantly to take care of the details. Surround yourself with your nearest and dearest (even your husband-to-be, if they are going to make you feel most comfortable, traditions be damned!) who can help you relax and enjoy the ride, while sorting out any 'surprises' that might crop up during the day. 
This might mean that you need to be a tiny bit ruthless, in ensuring people are respectful of any boundaries you choose to set, and by all means ask a bridesmaid or your maid of honor to be the 'point person' who can deal with any issues, taking the pressure off and leaving you to enjoy your day.
However well planned your wedding, there will always be unexpected moments, last-minute details that crop up, or just delays. 
On the morning, the last thing you want to be doing is fretting in a traffic jam, rushing your hair and make-up, or running up that last flight of stairs. Always leave enough time…and then leave some more! Chilling out with your bridesmaids for a bit pre-ceremony is no big deal, and much better than skimping on something due to clock-watching.
Stay in touch with your fiancé
It might be traditional to avoid contact with your fiancé, but as the person you are going to spend the rest of your life with, they are likely to be the one you feel most comfortable with. You might spend the night before with them, or even the morning of the wedding, but even if you want to keep it classical, don't be afraid to check in regularly. Speaking to them will remind you what the whole day is about, and remember, they'll most likely be even more nervous than you!
Most of all, remember to try and be present and to embrace each and every moment of your wonderful day. You deserve it!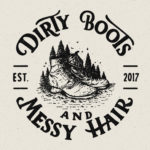 Written by:
Dirty Boots & Messy Hair Team
Connection is what it's all about. Feel free to reach out to us with any comments or questions you might have, even if it's only to say hello. If it wasn't for our beautiful community, this place just wouldn't feel the same.
Wedding Planning
21 Nov 2018