Relationships are a wonderful – but they also takes work. Lasting love is something that grows over time. It's a process of continuous understanding, empathy, compassion and compromise. So, how do you make a great relationship stick?
One way is to be reflective about how things are couple in your coupledom, and to communicate through those reflections. Podcasts are a great way to prompt those moments of joint (or self) reflection. We've compiled a list of the best podcasts that every couple should tune into, for a happy, healthy relationship. 
Online media platform Bustle are the powerhouse behind "I Want It That Way", a podcast covering everything related to women and sexuality. Every week, Bustle editors Kathryn Kattalia, Rachel Krantz and Gabrielle Moss delve into the sex and relationship-related storied you never knew you needed to know about. 
Expect deep discussions, and fresh, funny perspectives. It's like listening in on three really interesting, witty people, talking about the sex and dating topics you didn't dare to bring up, for example "Honestly Though…How Do Antidepressants Affect My Sex Life?"
Emily is a self-proclaimed 'sexpert', who's spent her career giving sex and relationship advice on tv and radio. It's only natural, then, that she brought her magic to the world of podcasts. 
Whether we like to admit it or not, our sex lives in longterm relationships take work. So tune into this podcast for hints, tips and tricks to keep things fiery in the bedroom. Start with "Play Together, Stay Together." 
The Heart is not like any podcast you've listened to before. Part radio show, part art installation, this show takes a documentary style approach to reflections on intimacy and love. Each show is produced by a community of incredibly talented and creative writers, radio makers and artists, who work together to create personal documentaries about love. The season 'make/break' is an incredibly moving series following couples who decide whether to stay together, or go their separate ways, sharing all their hard lessons learnt along the way.
Pitched as "not-so-great relationship advice from completely unqualified Hollywood types", this podcast from actress Anna Faris is a hilarious look at love through the Hollywood lens. Featuring a bunch of equally hilarious celeb guests, this show gives us a rare peek under the covers at the trials and tribulations of some of our favorite TV stars. 
Guests share candid thoughts of their own relationship realizations, whilst giving honest advice to callers about things happening in their love lives. 
Ever been curious about the naughty side of life, but too shy to bring it up? Then you need Sex Nerd Sandra in your life. This is the podcast for people with questions…on the kinky side. It's a tasteful and fascinating look into human sexuality, and how to push your own sexual experiences within a relationship with confidence and respect. No topic is off limits for host Sandra Daugherty. Expect intelligent and soothing responses to genuinely interesting topics about the side of sex that few people want to talk about.
Better Conversations With Derek & Carrie: On Money And Marriage
Money stress can break a couple – and quickly. So it's important that you get your house in order when it comes to your finances. Married couple Derek and Carrie Olsen have produced a great podcast to help you simply have better communications about the less-sexy stuff in your relationship, like budgeting, or how to be a financially dependent on one another. It's down-to-earth, honest and relatable, and gives tons of great advice to apply in your daily lives.
Relationships at any stage throw up all kinds of challenges. The secret to getting through them is to a) realise they're happening, and b) communicate through them. That's why we love this podcast, hosted by newlyweds Chase and Sarah. With the help of relationship experts and therapists, they share their own candid thoughts and experiences about not just being in a relationship, but also marriage, kids, and everything in between.  Covering topics like divorce, dating with kids, financial problems, and infidelity —their advice applied no matter which stage you are in your own relationship.
Hosted by best friends Kathy Tu and Tobin Low, this podcast is a moving, funny and inspiring glimpse at what it's like to be Queer today. It's a podcast about how we define ourselves, and the journey it takes to get there, and often features real life stories about coming out and falling in love. 
Anyone can submit a story to be featured on the show, but they've also had famous LGBTQ+ guests, too. 
We sign off from this podcast roundup with a quote about what it takes to make a relationship last, and why it's so worth putting the work in to make something lovely today even more beautiful tomorrow.
"True love doesn't happen right away; it's an ever-growing process. It develops after you've gone through many ups and downs, when you've suffered together, cried together, laughed together." — Ricardo Montalban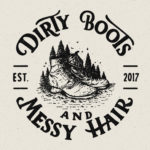 Written by:
Dirty Boots & Messy Hair Team
Connection is what it's all about. Feel free to reach out to us with any comments or questions you might have, even if it's only to say hello. If it wasn't for our beautiful community, this place just wouldn't feel the same.
relationships + dating
08 Nov 2018