Planning a wedding is a daunting prospect at the best of times. Interfering in-laws, unfeasibly expensive flowers, where to seat the cousins who hate each other…and that's before thinking about the perfect location, or how the day will actually run. A couple planning a same sex wedding will face the identical issues an opposite-sex couple will…and a whole host of extra ones.
This shouldn't be a cause for alarm though, as the additional issues just offer the opportunity to put together an even more exciting, adventurous and memorable day, and something that you'll remember for the rest of your lives. Freedom from the ideas of what you 'should' do, and the chance to make your own traditions can make the process so much more special. 
Whether you want to plan something far-out and extraordinary, or merely tweak the 'traditional' concept of a wedding, these hints and tips should give you an idea of some of the main things to think about.
Everyone has their own idea of what makes the perfect setting to pop the question. On top of a mountain, on a beach at dawn, in your favourite restaurant or just at home after a delicious meal.
For same-sex couples there are a few extra things to think about. Engagement rings might not be your thing, in which case many couples merely exchange wedding bands, and go again on the big day. Alternatives could be engagement watches, bracelets, engraved cufflinks – whatever feels most appropriate to mark the special occasion.
The question of who proposes is also up for grabs – this could just be a matter of personal preference, or something you've discussed in the past, but the lack of tradition gives you total freedom!
Have you come out to your parents? Your grandparents? Have your family ever seen you kiss anyone before?
The wedding day is your day, and shouldn't be overshadowed by other people, but it's worth bearing in mind that there may be some awkwardness. Frank conversations beforehand may be tough, but are probably a good idea. If, however, you aren't in a position to have all your family attending, some couples ask old friends or other relatives to take on various roles during the day.
Even if everyone is on board, there are still things to think about. How would you handle two mothers of the bride? Will both dads want to walk up the aisle? Who, if anyone is giving speeches? There's no set formula, but diplomacy beforehand and creating alternative traditions on the day will help everything go smoothly.
Are you both in tuxedos? Both beautiful in white marzipan? Jumpsuits all round? Heteronormative gender roles can go out of the window at this point, and you can be as traditional, glam, or just plain crazy as you like.
With no set 'rules', you can tailor your fashion choices so you look exactly how you want to. It's also worth considering the dress code for guests – you might want everyone looking fabulous, but it's important that you and your partner aren't upstaged!
Same-sex marriage is legal in all 50 states, however sadly prejudice can still raise its head in the buildup to the big day. Obviously most florists, bakeries, musicians etc won't bat an eyelid, but despite legal status, some vendors may not be the most welcoming to LGBT couples. It is worth being clear right from the start that the wedding will be an LGBT one, to avoid unpleasantness further along in the process.
An incredibly important element (think of the photos!), and one where there is the most freedom. Stick with tradition if that's your thing, but feel free to let your creativity go wild as well!
Gothic ruins on a remote hillside, a clearing in a forest lit by torches, a pop-up pagoda on a beach at sunset, or just a beautifully decorated town hall in your hometown – wherever you end up will feel like the most magical place on earth. It is worth making sure that the venue is LGBT-friendly – not just that they can or will accommodate the wedding, but that they will be welcoming and helpful, and make the day as special as it can be.
Once the glitz and glamour of the wedding has settled, the rest of your life can begin…but who are you now? It is worth making decisions about whether you are planning to change surnames or not – if you've got kids, hyphenating can be a good way of keeping the connection, or using 'maiden' names as middle names works too. 
Whatever you do on the day, and however you choose to refer to yourselves afterwards, the most important thing is that from that day on you'll be sharing your life with the most important person in the world, so remember to enjoy yourself!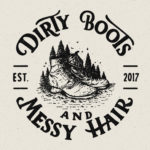 Written by:
Dirty Boots & Messy Hair Team
Connection is what it's all about. Feel free to reach out to us with any comments or questions you might have, even if it's only to say hello. If it wasn't for our beautiful community, this place just wouldn't feel the same.
Wedding Planning
10 Nov 2018