Whichever way you cut it, weddings are expensive. But whilst your wedding day should be one you'll remember for a lifetime, it shouldn't leave you stressing over skyscraper sized credit card bills. 
The good news is, there are tons of little ways that you can cut down costs on your wedding, without having to compromise. In this article we round up some super simple (and sensible) ways, that you can regain control of your budget and focus on the real task at hand: celebrating your special day. Let's dive in…
1. Keep your guest list in check
Wedding lists are like infinite balls of yarn. You add in one person, and suddenly there are 10 more connected people on the list for fear of offending someone. This is, without a doubt, one of the worse offenders for skyrocketing wedding budgets.
Truth is, when it comes to guest lists you have full license to be selective. It's not selfish to not invite your second cousin twice removed. Heck, it's not selfish to not invite a single person, if that's what you want. 
Your wedding day should be spent with only those you truly care about. People whose company you relish, and who you couldn't imagine not being there on the day. If anyone is on your list that doesn't fit that description, scratch them off. It sounds brutal but it will not only make your wedding day a thousand times more intimate, but it could also save you a mini fortune.
2. Ask for wedding contributions as gifts
Your guests are going to want to gift you something for your wedding. Instead of setting up a registry of gifts you're not even sure you want or need, why not ask them instead to contribute towards the costs of the day?
It may feel a little uncomfortable to ask for money instead of something physical, but nowadays it's becoming more and more commonplace. There are lots of cash registry sites out there for you to pick from, which really helps to take the emphasis off there being a monetary exchange, and focus instead on the gifting aspect. 
Your guests will just want to gift you something you love, and if that happens to be a financial contribution, well, happy days!
3. Get married at home or outdoors
One of the biggest wedding day expenses is the cost of the venue. Fancy locations like castles, hotels and big outdoor spaces will easily set you back tens of thousands of dollars before you've even factored in food or alcohol. So why not instead opt to get married in a space owned by a friend or family? 
Do your parents have a big garden? Or does your friend have an amazing veranda? Ask around and see if anyone in your closest circle would be happy to open their home or outdoor space to your wedding. 
You'd be surprised at how generous people are, and just how much more special weddings can be when they're at locations you have a relationship with.
If you don't know anyone with a suitable outdoor space, then why not consider hiring a cool Airbnb? Most hosts will be happy to let you use their space for your ceremony (just be sure to let them know when you're making the booking), and it will be a fraction of the cost of hiring a traditional wedding venue!
4. Upcycle from other couples
So many couples are desperate to shift the things they bought for their own wedding. From decorations, to dresses, to accessories, sites like craigslist are full of second hand goods that are perfect for kitting out your day. 
Most couples who get hitched are happy to recoup some of the cash from their wedding by selling them on, so you'll not only be doing a wonderful thing for your own wedding budget, but someone else's too! 
5. DIY your decorations and details
Wedding details like flowers and cakes can cost a fortune when you have them produced by a third-party vendor. You can save a ton of money by simply crowd-sourcing the collective talents of your friends and family to DIY them instead.
Instead of hiring a florist to create your bouquets, why not instead purchase all your stems from a flower market and enlist the help of one or two guests to create your flower arrangements the day before the wedding?
Similarly, instead of buying a fancy cake, you can instead get a couple of your finest baker friends to make simple muffins and cakes, at a fraction of the cost. You can jazz them up with cute cake toppers, and your guests will enjoy them just as much (if not more!) than a big, expensive layer cake.
6. Rent your wedding attire
Unless you're planning to hand your wedding dress and suit down to future generations, they're probably only going to be worn once …ever. So rather than spending money on clothes that will sit in storage for years to come, opt instead to rent your wedding attire. 
This is usually a bit of a harder sell for women than men. And we get it, there's definitely a special connection between women and their wedding dresses. So if you're not comfortable with the idea of renting, then worry not. There are tons of really affordable (and gorgeous) wedding dress companies that will have you looking and feeling like a queen on your day. Dreamers and Lovers and BHLDN are a great place to start your budget wedding dress hunt.
We hope these ideas have got your budget savvy juices flowing! There are infinite ways for you to cut down costs on your day, you just have to think critically and creatively about where to cut back. Above all, remember: all the frill in the world won't make your day any more special than it inherently is. So don't feel obliged to spend a fortune, focus instead on the important task of making a lifelong commitment to your special someone. That's, after all, what it's all about.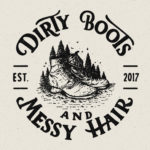 Written by:
Dirty Boots & Messy Hair Team
Connection is what it's all about. Feel free to reach out to us with any comments or questions you might have, even if it's only to say hello. If it wasn't for our beautiful community, this place just wouldn't feel the same.
Wedding Planning
18 Aug 2018