If you're engaged and planning a wedding, then Instagram is an amazing source of inspiration for your big day. But with literally hundreds of thousands of accounts aimed at bringing you #weddinginspo, where should you begin?
We've scoured the Instasphere to curate the 10 best wedding Instagram accounts that you should follow for all your inspiration needs. From venues through to stationary, we've got you covered. 
Top tip: Now you can 'save' or bookmark photos in folders  directly in the app, so you can catalogue all your inspo on the go. 
We've been crushing on the Rock My Wedding Insta account for longer than we can remember. With its penchant for high fashion British style, this account is any wedding planners dream. We particularly love their curation of outdoor wedding styling. From hanging lights, to huge floral canopies and colorful smoke bombs, this insta account has given us so much food for thought to create truly spellbinding outdoor wedding experiences.
The gals running the Bride and Tonic blog have been bringing intimate, homespun wedding realness for some time now, and their insta account is no exception. Think high charge romance, unique venues, unusual cakes (errr, is that a cactus cake topper?) and the most gorgeous event designs. This one is sure to get your creative juices flowing.
The Green Wedding Shoes blog has been fuelling our wedding inspo needs for a while now, so we definitely couldn't compile a list that didn't include their Instagram account. This is the go-to account for the cutest DIY hacks and wedding details. If you're looking to create a day that is cheeky, quirky and literally brimming at the seams with creativity, then this definitely needs to be on your follow list.
Still hunting down the perfect ceremony or reception spot? Then you definitely need The Venue Report on your follow list. Showcasing some of the most insanely beautiful spots on earth, from outdoor locations through to stylish restaurants, this account has everything you need to choose the venue of your dreams.
Are you looking for wedding invites that will create a beautiful first impression? Or maybe you want to jazz up your seating plan with a beautiful design? Whatever your needs, Paper has all your wedding stationary inspiration covered.  We love them for their their vibrant color schemes and gold-foil designs – check em out!
This Instagram account is fuelled by the creative outputs of some of the industry's best wedding hair stylists and make up artists. They have a blog featuring their designs in more detail, but for initial inspiration about your bridal look, then definitely get this account on your follow list. Every bride wants to look and feel their absolute best on their wedding day, and this account is sure to give you lots of pointers of how to style yourself for your big day.
If you dream of a bespoke day that's a unique reflection of you as a couple, then look no further. The Etsy Wedding Team account pull together the very best of wedding day attire, detailing, jewelry and gifts. Often it's the small, customized details that make a wedding day really stand out from the crowd, and this Insta account is absolutely jam packed full of one-off, personalize-able goodies.
BHLDN is the ultimate insta account to follow for inspiration on vintage-inspired wedding attire. Featuring the most gorgeous selection of delicate, beautifully crafted wedding dresses, this is our go-to account for styling inspo. BHLDN dresses are for the modern bride who exudes confidence and class, and this shines through in every post on their Insta page.
Fleurpreneur, Julio, is the mastermind behind the stunning event floral account 'The Flower Hat'. His bold but simple wildflower arrangements are out of this world, as are his uni-color contemporary designs. It's often the case that wedding floral arrangements are filled with lots of different colors and flower styles. We love how Julio is brave enough to resist this trend and instead craft beautiful works of understated – but high impact – floristry. 
If you're looking for inspiration to find either a style of wedding photography or a vendor, then head to our very own instagram account @dirtybootsandmessyhair. Featuring the creme de la creme of wedding photographers from around the world, you are sure to get your inspiration fix to help you source the one when it comes to your photographer. The wilder and more adventurous the better in our eyes, so you'll also get inspiration for unusual wedding locations around the world.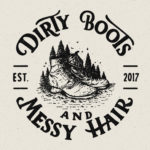 Written by:
Dirty Boots & Messy Hair Team
Connection is what it's all about. Feel free to reach out to us with any comments or questions you might have, even if it's only to say hello. If it wasn't for our beautiful community, this place just wouldn't feel the same.
Wedding Planning
03 Oct 2018