Say hello to our brand new blog section: Our Weekly Crush photographers from all over the globe. Every Tuesday we will introduce you an inspiring photographer whose work we love and admire. So, be sure to check our their Insta and leave some love!
We're starting with Erika from "In Beeld Met Floor". Erika and Gerbert are the husband and wife team behind it, based in the Netherlands. Their artistic, editorial style of wedding photography is nothing short of mesmerizing. Each shot feels cinematic, and paints a thousand words of love, togetherness and intimacy. Though their color photography is exceptional, we think their black & white work is seriously spectacular, so if you're after a B&W shoot for your day, take a look at their amazing portfolio of work.
Hey Erika, where are you sitting as you are writing this right now? How's your day going? How are you feeling?
I'm actually just out of a meeting with a new bridal couple for next year, which was really nice and gave me energy! The sun is shining, it's a lovely indian summer day and after this interview we're heading out to the North Sea Cost for a surf, because the surf is really good today!
To those that might not know you just yet, please introduce yourself – Who are you? Cat or dog person? What's your photography style?
Hi! I'm Erika, mother of 2 sweet and wild boys, married to an awesome man and filmmaker, Gerbert. We're living in a idyllic and medieval town in the middle of the Netherlands, close to the forest and a big lake. We love to spend our free time in the forest with the kids, or at the coast. I did not consider myself as a cat or dog person, until we decided to have a cat, which we are all totally in love with. It's a Britisch longhair named Chewie, named after Chewbakka, because: Stars Wars and boys ; )
We love to travel for weddings, and sometimes we try to combine it with a little trip for ourselves or as a family (with a babysitter for the kids)
My photography style is raw, real, and pure with a soft touch. I love to tell the stories of my couples as they really are, in a comfortable, relaxt and intimate way. 
Can you show us 1 or 2 photographs that are particularly meaningful to you and share the story behind them?
On this photo, on their wedding day, it was raining, or actually, it poured. This couple, Koen & Roos, where so optimistic, full of love and joy, and full of trust in us, that they decided to do the first look and the shoot after that, in the pouring rain in the woods. Most of the time when it's raining like this, we decide to opt for a location somewhere dry. But because of their optimistic minds we'd decided to go for it and let go all of the fears, such as getting the brides hair and dress all wet.. At the end they and we were soaked, but most of all, we had an amazing time and so much fun. The pictures turned out awesome and unique, and since this day we aren't afraid of rain anymore ; ) Koen and Roos showed me to not take everything too seriously, that hair is just hair and can be done again, and that it is most important to fully enjoy each other on your wedding day, and to care less about all the rest and the details. 
I'm proud of this photo, because it is really intimate and I was pretty close to their faces with my camera without disturbing their moment. We worked towards this moment, without setting it in scene, it is a very real and passionate kiss : )
This was something which I wanted for a long time, coming this close and to not loose the moment, or disturb it. It's because I had to overcome my own fears, to come this close without being afraid and take this picture. 
What role does Instagram play for you as a photographer? Is it important for your business? 
Instagram for me is a platform where I get inspiration from photographers worldwide but also from cinematographers and other artists. What I also love about it, is to discover colleagues with great work and connect. IG became important very quickly for our business. A lot of new clients find us on Instagram and connect with us this way.
If you had to pick just one thing, what do you love most about being a wedding photographer?
What I like the most of being a wedding photographer, is the trust that people put into you to make something really beautiful for them to cherish forever. They trust me to come close. I feel honored every time they let me into their lives and to share all the emotions of the day with them.
What's the biggest challenge you've faced that you could have a helpful lesson for other photographers? 
The biggest challenge I faced was a wedding on the top of a mountain in the Austrian Alps with only the wedding couple and six friends. We've had to bring all our gear and sleeping things with us, because we were going to hike down the mountain after their ceremony to a hut somewhere half way where we we're going to spend the night. I decided after this trip to spend way more time at the gym than I did, because a realised that also in less heavy conditions, a good psychical health is really important for wedding days as well : )
Who or what inspires you?
I get inspired by a lot of things, listening to music (to bring me in a certain mood), great cinematography from movies or tv series. But also getting out there in nature, the woods or the sea. That way I find rest and peace, and often it leads to new ideas and inspiration. 
What are your dreams for the future of your career?
We've seen so many beautiful places and met so many kind people true work already! I'd really love to shoot a wedding in Costa Rica someday, so if you've plans to get married over there, give us a call! ; ) We've been here once for holiday, and Costa Rica is one of the most beautiful places on earth. 
I really enjoy weddings a lot. I want to keep pushing myself, and find new and exciting ways to tell the story of two people finding love. I also want to invest more time in documenting personal stories with impact, stories that change lives.
Thank you for taking the time to share your thoughts with us, Erika. We can't wait to see what shoots lie in store for you during your travels in 2019.
Be sure to check out Erikas Instagram and Website and leave some love!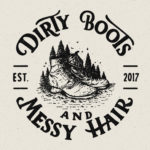 Written by:
Dirty Boots & Messy Hair Team
Connection is what it's all about. Feel free to reach out to us with any comments or questions you might have, even if it's only to say hello. If it wasn't for our beautiful community, this place just wouldn't feel the same.
Photographer Tips
02 Oct 2018