Last week our team headed to Yosemite National Park for our first ever workshop, and wow – what an experience it was.
DBMH Camp was four full days of laughter around the campfire – and most importantly – education, bookended by bonfires and donuts.
We were joined by wedding photographers from all over the US, all eager to experience a week of collaborative learning. Together with four of our favorite speakers, Benj Haisch, Anni Graham, Peyton Byford, and Janelle Elise, we explored how to grow our not just our businesses, but also ourselves as artists.
For us (Merve & Nils) as founders of DBMH, it was a week of feeling all the feels.
We were so grateful that we are able to do and share what we love with so many inspiring people from around the world. Grateful that we were able to experience such once-in-a-lifetime moments with people we respect and admire. And above all, grateful that we were able to share our journey through our own creativity with others.
The week was the affirmation we needed that education for creative businesses and soloentrepreneurs is a process that works best when it's shared.
Our mission is to create learning experiences to share affordable, convenient and compelling learning opportunities for photographers far and wide.
We've got tons more exciting projects and workshops in the pipeline to do this, which we'll share with you soon. Sign up HERE to know the deets and news for the next DBMH Camp before anyone else!
But for now, take a look at our quick recap of the DBMH Camp week!
We welcomed attendees, speakers, models, and our film crew with a giant charcuterie board with bruschetta, pickles, and olives on the side. Everyone got to know each other by the campfire and Merve and Nils kicked off a weeklong celebration!
To jumpstart our week, the lovely Janelle Elise talked to us about the importance of client relationships. She emphasized how crucial it is to treat your brides and grooms in a way that makes them feel special.
After Janelle's amazing talk, campers loaded up into vans and headed to Yosemite National Park for their first of four styled shoots. Led by Benj Haisch and Peyton Byford, campers broke into groups and photographed two elopements, styled by Mae & Co Creative.
To end the night, we all roasted hot dogs by the fire, talking late into the night.
Our second full day at Autocamp started with speaker Anni Graham. Anni's presentation was centered around booking adventure elopements and the importance of capturing the details of the day that so often get overlooked.
Afterwards, campers packed into vans and headed back into Yosemite for an adventure session led by Anni and Benj! They taught on the importance of composition, space, and how to tell the story of the couple from start to finish.
By Tuesday, we had fallen in love with our HMUA Northwest Makeup and Hair led by Whitney Williams and Caitlyn Nelson! To round out the day, Chef Melissa, our amazing farm to table caterer, cooked us a dinner of apricot chicken and pesto pasta with salads and sweet potatoes to fuel our adventure in the Park!
On our third day, we heard from Peyton Byford who challenged us to rethink branding and all things business related. Peyton talked with us about taxes, workflow software, and pricing yourself in a competitive market.
After Peyton's last session, back to Yosemite we went, but this time hiking up a bit past Tunnel View to capture the Park from a different vantage point.
Janelle and Anni led our styled elopement, overcoming weather challenges and showed the attendees how to set an intention for each shoot.
Once we got back to Autocamp, we were excited to eat an amazing dinner sponsored by Honeybook, prepared by Chef Melissa, and styled by Mae & Co Creative.
People actually gasped at how beautiful it looked! Rounding out the night was mental health professional, Jenni, who talked with us on the importance of practicing self-care through mindfulness.
On our very last full day of content, we listened to Benj Haisch speak about legacy. He did an amazing job educating campers on how to capture moments as they happen and see the wedding day through the eyes of friends and family.
Benj even brought the campers some film cameras and extra Kodak film to let them try out. Watching everyone run around Autocamp film cameras in hand, asking fellow photographers to pose for them, was beautiful to see!
For the last day of shooting, Wylder Goods sponsored a lifestyle session in two different Airstreams led by Janelle and Peyton.
In true DBMH fashion, a traveling pizza oven prepared our sponsored dinner by Pic-time as everyone hung out around the campfire and enjoyed their last night under the stars.
Looking a bit disheveled, our last breakfast of Mariposa's finest donuts ended in hugs and even a few tears. We were so sad to say goodbye to everyone and left already talking about when the next Wedding Photography Workshop will be!
We're so thankful for our amazing sponsors Honeybook, Narrative, Pic-time, and Pixellu Smart Albums for sponsoring some amazing stuff. And we cannot say thank you enough to our speakers, attendees, and models who helped us create a magical week in Yosemite!
Sign up HERE to know the deets and news for the next DBMH Camp before anyone else!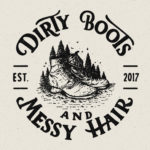 Written by:
Dirty Boots & Messy Hair Team
Connection is what it's all about. Feel free to reach out to us with any comments or questions you might have, even if it's only to say hello. If it wasn't for our beautiful community, this place just wouldn't feel the same.
Photographer Tips
30 May 2019