There is something uniquely magical, and irreplaceably romantic about a date under the sky when love is in the air. On a warm, moonlit autumn night, when the stars are out and the lights of the world around you dim to an almost Instagram-esque filter, everything seems that little bit more exciting, and everyone that little bit more special.
Whether it's a walk in the park, a sunset by the sea, or a moonlight picnic, a date night in the great outdoors is a fantastic plan, and guaranteed to add a little extra something to those beautiful, electrified moments, whether with a new flame or your long-term beau.
We've put together a few of our favourite date ideas for you to try, we hope you enjoy them!
If you are lucky enough to live by the coast, or are vacationing by the sea, a walk by the side of the ocean is guaranteed romance. Whether you are channeling Motown soul with a stroll along the boardwalk, or kicking off your shoes and getting sand in between your toes, there's nothing like the sound of the waves to set the mood. Take a blanket, and a bottle of wine, and sit and watch the sunset over the horizon.
Going to the movies is a classic, if obvious date night – an opportunity to snuggle up close in the dark with that special someone. We say, why not step it up a notch, and tap in to that retro nostalgia, with a drive-in movie? 
Fewer and further between than they once were, but still available if you do a little digging online, there's something genuinely wonderful about cruising up to a dimly-lit field in the comfort of your own chariot, and getting loved-up in the glow of a classic rom-com or horror flick. Stock up on snacks and drinks, leave plenty of time to allow for traffic, and enjoy a genuine slice of 50s Americana.
Boats are decadent and glamorous, an opulent lifestyle of champagne, strawberries and effortless luxury. Sadly, for most of us the superyacht-owning life remains a pipe dream…but this doesn't mean you can't grab a glass of something cold and fizzy on water with your squeeze.
Find a a boat bar on the river, grab a glass of pink wine or fizzy on board, and get a small taste of the highlife, and an impressive first or second date. 
For a slightly more adventurous or active option, why not rent a bike and take to the roads? You'll be able to go further, see more, and be a little inspired by the natural beauty of the countryside. 
Getting a bit breathless with your inamorata can be quite fun, and the sense of a shared adventure will make the experience even more memorable. 
Just don't forget to pack water. If you aren't really the adventurous type, a more sedate cycle round a local park, or along the river, is still a great option, and far less taxing, or sweaty…
The classic outdoor option, and with good reason. Getting out into a nearby park with a blanket and a hamper is an absolutely lovely, and rather adorable way to spend time with someone. With a bit of forward planning, you can turn a picnic into something truly magical – maybe taking a full dining set, tablecloth, candles and all, to add a touch of class, or getting up high on a hill at dusk and watching the lights of the city come on. 
If you are lucky you might find a free concert or recital on, or you may rather just relax and listen to the sound of nature in the background. Either way, romance is definitely on the cards.
Whatever you decide to do, mixing up your dating routine with an alfresco outing can be fun, romantic, and can even save you a bit of money! If you are with someone you care about, or if there's a bit of chemistry going on, the variety of a date night under the sky can add a real touch of magic. You might have to do a little more planning than usual, but it will pay off with an unforgettable experience.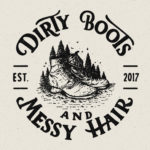 Written by:
Dirty Boots & Messy Hair Team
Connection is what it's all about. Feel free to reach out to us with any comments or questions you might have, even if it's only to say hello. If it wasn't for our beautiful community, this place just wouldn't feel the same.
relationships + dating
15 Nov 2018