Love isn't always a wild adventure. In amongst the happiness and the magic lie moments of ordinariness. Sometimes even moments of pain. The truth about love that lasts a lifetime is: you have to fight for it. 
That's why we are so moved by this first home photoshoot of Jessy and Perry by the amazing wedding photographer Nirav Patel from San Francisco. The shoot was in honour of the couple's first home. But rather than focus on their new space, Nirav crafted an honest story about love.
"A true relationship is two imperfect people refusing to give up on each other" – Unknown
Inspired by his own marriage, Nirav's storyline throughout this shoot dances around the ups and downs of relationships.
"My wife and I have been together now for almost 14 years. Through our years together, our personalities diverged and in doing so, a wall grew between us. We even got to the point of exchanging words that hurt each other deeply."
But this isn't a sad story. Quite the contrary. Nirav's personal experience of love is a source of inspiration that he wanted to pass on to Jessy and Perry at this defining moment in their lives.
"As difficult as my relationship with my wife became, this time of change actually brought us closer than ever before. I know now that no matter what happens, I will always love and fight for her as she will for me."
That message plays out throughout the shoot; sometimes there's distance between Jessy and Perry. Sometimes intimacy. Sometimes there's hints of loneliness. But throughout it all, they are together.
"Several images were inspired by this idea of fighting for one another in the most difficult times in a relationship."
The resulting photos are an emotionally-charged feast for the eyes. By creating an honest conversation about love, Nirav sparked something that is both gritty and wonderful.
If you ask us, the best bits of a relationship are the simple moments. The quiet nights in on the sofa. The walks with nowhere to go. The shared jokes that no-one else would appreciate. Those are the moments of magic that often photographers often gloss over, in search of something more glamorous. We love how Nirav put these simple moments in full focus throughout this first home photoshoot.
As always, Nirav has completely blown us away with this first home photoshoot. It's rich in story-telling, and steeped in his unique aesthetic that inspires us to push our own creative process even further.
Congratulations Jerry and Perry on your first home – the next step on your journey through life together.
P.S. Perry & Jessy are incredibly talented artists who create the most beautiful wedding bands, which you can see here.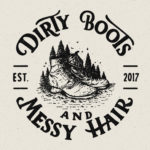 Written by:
Dirty Boots & Messy Hair Team
Connection is what it's all about. Feel free to reach out to us with any comments or questions you might have, even if it's only to say hello. If it wasn't for our beautiful community, this place just wouldn't feel the same.
Weddings & Elopements
28 Feb 2018