If you're reading this, chances are you're in the throes of planning what to do for one of the most wonderful days of your life: your wedding day. Chances are, you probably also have a niggling feeling that you don't want to do something textbook – for that, we salute you! But, perhaps you unsure – or unconvinced – of the reasons to elope.
Your wedding day should be a personal, intimate expression of the wonderfulness that you and your partner have built together. And sometimes, traditional weddings can drown all that magic out. It's no wonder then, that so many couples are choosing to rip up the rule book and elope.
If you're considering whether an elopement could be right for you, then you've come to the right place. We've created a round up of the main reasons you should consider eloping rather than have a traditional day. Let's get started…
1. Planning's not your jam, and you hate being stressed
Head online and you'll see swathes of couples who are just so on it. From the gorgeous table decorations, right through to the delicate flower girl headdresses, they've thought of every little detail. We all know those couples. We're happy for them. But by Jove…we ain't them…
And you know what? That's totally ok. If you're not a natural planner, and if even the thought of arranging seating plans and canapés makes your palms a little sweaty, then maybe a more intimate affair – such as an elopement – could be for you.
It's easy to get caught up in the pressure and stress of planning a monumental day – one that you hope people will talk about for years to come. But before you go down that path, make sure you're doing it because you want to, not because it's simply what everyone else does.
Of all days your wedding day should be a calm, peaceful event. A time to reflect and focus on the incredible, moving, wonderful commitment that you're making to another human being. If planning little details is going to distract from that – then don't plan them at all. Remember, you do have a choice.
2. You don't have lots of money to spend
If you don't have a significant amount of money set aside, funding the wedding you want can feel like an impossible task. And it's no wonder why: according to a recent report, the average cost of a wedding in the US is $35,329. That's crazzzzzy big sums of money, for what is essentially a big party!
If you're thinking of taking a loan out to finance your day – stop. Ask yourself, is this really worth getting into debt for?
An elopement is your opportunity to have a day to remember, without breaking the bank. Take some of the money you do have saved, and elope somewhere beautiful, just the two of you. With the money you have left over, you can save towards buying a place together – or going on an amazing extended honeymoon. We know what we'd prefer 😉.
3. You want to get married somewhere epic
We'll let you into a secret…but don't tell too many people, ok? When you elope, you can choose almost anywhere on Earth to get married. Take your vows at the top of a mountain? No problem. Declare your love under a thousand stars in the desert? Why not. Say "I do" on a deserted island? If you can find one, do it.
If you and your partner are wild, adventurous souls, then your wedding should reflect that. By eloping, you can transform this important day into a reflection of your travelling souls. Go where the wind takes you, and declare your love there.
4. Big weddings just aren't your thing
Some people dream of their big white wedding from childhood. But for others, the thought of being the centre of attention for a whole day is enough to make you run and hide. If you're an introverted person (or couple), then having a big wedding is probably going to make you more uncomfortable than at ease…which is definitely not how you should feel on your wedding day. If that's the case, then just don't do it.
Honestly, the only people who matter on your wedding day are you and your partner. Forget everybody else. Do what feels right to you, and if that means eloping to have a private, intimate day, then go for it. Originally, eloping meant running away to get married. But there is absolutely nothing to say that you can't bring a handful of your closest friends and family to share the day with you. We even recently featured an elopement where the groom's brother was the celebrant!
Your wedding day, your rules.
We're not knocking it, but the sheer amount of protocol that comes with a wedding can be too much to handle for some. Instead of focusing on the real reason behind the day, many couples instead get distracted with thoughts of centrepieces, and food trucks, and wedding favors… the list goes on.
If you find the thought of a traditional day uninspiring, then go ahead and create a day as wild and adventurous as you both are. Eloping can be a great way of completely doing things your way. You have a blank canvas, ready for you to paint and create however you please.
Want to eat fried chicken in your pyjamas before your ceremony? Why the heck not. Or change the location of your ceremony last minute? If you can find a new spot, then sure thing. Instead of simply doing what everyone else does, an elopement is your chance to really do you.
6. Because your wedding should be as unique as you are
If we could give you one reason above all others why you should elope rather than have a traditional wedding, it would be this. Your wedding should, quite simply, be as utterly unique as you are.
There are no rules about how you should get married, so make it fit your personalities. This day of all days should be a celebration of everything you are as a couple! An elopement can give you the space and freedom to a design a day that only has to cater to your tastes.
Every couple is unique, so make a decision for your big day that fits what you truly want to experience. Elopements certainly aren't for everyone, but if you are looking for a private, intimate affair, know that it's ok not to do the big, white day. Whatever you decide…have an amazing time, and congratulations.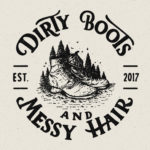 Written by:
Dirty Boots & Messy Hair Team
Connection is what it's all about. Feel free to reach out to us with any comments or questions you might have, even if it's only to say hello. If it wasn't for our beautiful community, this place just wouldn't feel the same.
Wedding Planning
04 Mar 2018