Our weekly photographer crush is Michaela Palicki of Michaela Maureen Photography! Michaela is an amazing couples photographer who has a knack for capturing love in its best form. Take a look at what Michaela has to say!
Where are you sitting as you are writing this right now?
Right now I'm currently at my desk in my home office with a fresh cup of coffee in a New Girl mug.
How's your day going? How are you feeling?
My day has been great. I just bought a ticket to NYC and I'm editing some of my newest sessions of 2019.
To those that might not know you just yet, please introduce yourself – Who are you? Cat or dog person? What's your photography style?
Hi there! I'm Michaela Maureen! I'm an unconventional wedding photographer from a small town in Indiana. I am always craving that undeniable connection between people; when it almost seems cinematic. I capture this by becoming bff's with my clients. We have coffee, go on adventures, and have late night talks over wine. This helps capture their true dynamic because a friend is photographing them rather than a stranger. I'm a hopeless romantic. Coffee enthusiast. Pug mom, which makes me a dog person all day. Professional shower singer. LOVER of all traveling. Game of Thrones obsessed.
Can you show us 1 or 2 photographs that are particularly meaningful to you and share the story behind them?
This first photograph is so meaningful to me because it was my first trip out of the country with my two best friends. I have known Kyle my whole life and we reconnected through photography. Now, a couple of years later, we have traveled all over together through the Hawaiian Islands, Australia, and New Zealand.
This second image was taken in Akaroa, New Zealand. This is meaningful to me because this couple (Tyler and Sidney) have been supportive of my work from the start. They are the perfect example of two clients turning into great friends. I've photographed them dozens of times from when we first met. I have been so fortunate to document some amazing moments between them. I photographed their engagement and soon I will be photographing their wedding!
What role does Instagram play for you as a photographer? Is it important for your business?
Instagram is a wonderful outlet for any photographer and business owner. I don't just use Instagram to gain exposure for my company. I love finding other talented artists and creators. It is so easy. With one click of a button, we have the ability to make a new friend and learn about them.  Some of my best friendships have developed though Instagram. I messaged a girl I found locally and now, two years later, we're close friends and I'm photographing her wedding.  Instagram is also a useful way to pour positivity and support back into our community. I believe the more good we put into our universe the more we will receive. I make it a point to send a kind message to someone different everyday via Instagram. The difference it makes for someone is unbelievable.
As for my business, Instagram is where it is at.  It is my main source of marketing to potential clients. I share my work, personal details about life, mentorship opportunities, etc. Using your location through Instagram is also such a helpful tool to bring in business. Because it is my main source for marketing, it is crucial that I keep a strong presence on Instagram.
If you had to pick just one thing, what would you say you love the most about being a wedding photographer?
There are these small nonverbal moments between a bride and groom that I love capturing. The internal joy showcased on their faces. No words just simple looks and touches that speak for themselves. Capturing these moments is what sets me apart. They're the little things a couple is going to look at and remember what emotions they were feeling at the time.
What's the biggest challenge you've faced that could be a helpful lesson for other photographers?
The biggest challenge I face is comparing my work to other photographers. There have been so many moments where I felt so discouraged. I would compare my work to someone on the west coast with a more beautiful landscape at their disposal. While I was stuck in the Midwest with lake effect snow and what seemed to be a depressing canvas.  I just figured I am not good at what I do. In reality, I just needed to get a little more creative with what I had. There is nothing wrong with being inspired from another photographer. However don't try to recreate someone else's work. You're setting yourself up for failure. You're giving yourself this idea that your photo has to look exactly the same. When it doesn't, you will be disappointed. Go out and be inspired by music or sappy romantic comedies. Draw out pictures of what you want your shoot to look like. Plan it out. Make an itinerary.  Set yourself up for success and creativity.
Who or what inspires you?
SWEET LOVE.  Love inspires me everywhere. Not just between a couple, but within a family, a mother and daughter, a girl and her pup, anything you can imagine. Relationships and connections are where we shine. So this is where I put my focus for photography.
What are your dreams for the future of your career?
My dream would be doing Destination wedding photography all year long. Once I've seen the places I want to see, I would love to expand my company and create a business where I have the ability to supply other photographers a source of business full time. I know how nerve racking it is to try and be successful in this industry. Especially being a photographer full time and trying to live life and pay bills. I would love to take stress off others and give them the opportunity to work for my business where they would be contracted out for weddings and sessions all year long.
Major thanks to Michaela for sharing with us! To see more of her amazing work, check her out on Instagram!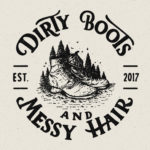 Written by:
Dirty Boots & Messy Hair Team
Connection is what it's all about. Feel free to reach out to us with any comments or questions you might have, even if it's only to say hello. If it wasn't for our beautiful community, this place just wouldn't feel the same.
Photographer Tips
13 Feb 2019