You've set a date, booked the venue and spent hours on Pinterest planning the décor but haven't yet pulled the trigger on all the details.
It can be daunting to figure out how you'll achieve the look you want on a limited budget. Fear not, January is the perfect time to buy all the things you're still missing. Those dark, new-year evenings couldn't be more ideal for snuggling down on your sofa and searching out those wedding bargains. There's nothing better than the feeling of getting a good deal, so here are some awesome tips for shopping the January sales!
If you are going down the traditional route of buying your gown from a bridal salon, it's rare they offer a discount. However, January is the time that they need to make space for next season's designs so get in touch with your local store and ask if they will be having a sample sale.
Since January is often slower for dress sales, boutiques sometimes host shopping evenings that include a glass of bubbly and discount on their current stock. Our top tip is to book an appointment for the week before the shopping evening, find a handful of dresses you like, then ask if any of them will be discounted. You often only have a limited time to shop sale stock so if you do all the leg work beforehand, it'll be much easier to score that bargain and avoid any elbowing!
If you have your eye set on a specific designer, keep your eyes peeled for trunk shows where you'll usually be able to get 10% off your dream dress!
DIY wedding elements are a great way to add a personal touch, and save money at the same time. If you're planning to craft lots of your wedding décor, now is the perfect time to buy all the things you need.
Large craft stores will be offering heavy discounts on old stock, and you can find deals online so you don't even have to leave the house. Our advice on DIY-ing is to get started early. Too often we see brides stressing out over last minute projects which could have been completed months in advance. Creating hundreds of paper lanterns by hand is no quick task, give yourself more time than you think you need in order to channel "bridechilla" vibes in the run up to the big day.
The magic of Christmas is quickly forgotten in department stores, so January is the best time to pick up all manner of decorations such as twinkly fairy lights, candles, faux foliage garlands, table runners, glass lanterns and bunting.
They can all be stored safe and sound until you need them months later and you'll be grateful you staggered the cost rather than paying out at the last minute and potentially paying more than you needed to. Finally, if you're planning a sparkler send off when you leave your wedding; don't forget to pick up sparklers in bulk after New Year's Eve at a heavy discount.
Another item you can buy at rock bottom prices in January is gift sets – particularly beauty products. You can take each item out of the festive box and re-package them in wrapping paper to match your colour theme. These are the perfect gift for your bridal parties to give to them on the morning or night before the wedding. If you're planning to make edible favors, you may not be able to make the actual treats yet but you can buy all the packaging you will need including cellophane, tissue, tags and ribbon on sale to save you money and time later down the line.
The final thing to look out for in the January sales is alcohol. Alcohol and soft drinks keep happily in a cool, dark place for months so now really is the time to go out and buy everything you will need. There are plenty of quantity guides online so use one of these to work out how much you'll need for each guest before you hit the shops. Allow for a bit extra just in case – you can always use anything left over for future parties.
Planning a wedding on a tight budget can be tricky, but it's entirely doable to create a beautiful day whilst penny pinching. With a few tips, careful planning and consideration, a designer-look wedding can be achieved on any budget. Make the most of sales and coupons and spend valuable time seeking out bargains. If you're buying in bulk, you are well within your rights to ask for a discount. The worst thing they can say is no, but you'll be surprised by how many times the answer will be yes. Happy shopping!
Still not sure on the vibe of your wedding? Here are our top 10 Instagram accounts to follow for your wedding inspo.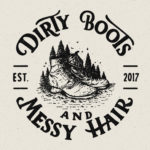 Written by:
Dirty Boots & Messy Hair Team
Connection is what it's all about. Feel free to reach out to us with any comments or questions you might have, even if it's only to say hello. If it wasn't for our beautiful community, this place just wouldn't feel the same.
Wedding Planning
05 Jan 2019