Life as a self-employed photographer brings a whole variety of benefits, including flexible working times and permission to build a business entirely based on your ethics and values.
But, as with most things in life, this career path is a double-edged sword: bookings won't come easily. You'll need to be your own biggest cheerleader to ensure you make enough money to not only live off, but to reinvest in your business as well.
No need to get down-hearted, though. There are lots of easy ways you can drum up more business as a wedding photographer in the coming year. Here are 5 things photographers can do in 2019 to get more bookings!
Make a plan for your photography business
First things first, without a plan you're unlikely to get much done. In a traditional set up, marketing teams report a staggering 538% increase in prosperity once they've committed their vision to a written plan. That same potential applies to you as a solo creative too. Sounds pretty worth your while, doesn't it?
You needn't draft up a day-by-day plan for months to come, nor etch it into stone and rigidly stay in one lane, but you will find that having a vision of where you want to head will push you forward. Plus, who doesn't love an excuse to buy a new notebook, for scribbling down your hopes and dreams for your trajectory to success?
Reassess your digital presence
As a photographer, you know that design can be hugely influential in communicating a mood and message: what does your website say about you?
Everything down to the color, graphics and animation will add to your overall marketing message, so make sure you're resolute in what your digital presence says about the kind of photographer you are. If you're too close, and can't step away to see the bigger picture, ask a friend to give you their opinion.
Of course, these days your social media platforms can be make or break for business success. An Instagram or Pinterest account that's left to gather dust is no help at all; make sure you're updating regularly, to stay relevant to your desired audience.
Partner up with other photographers
Creativity thrives with collaboration; what's to stop you joining forces with another photographer in your local area? You might find exciting synergy with someone who's got a slightly different skillset or artistic interest to you; learning from each other and broadening both your audience bases.
You can meet likeminded creatives in photography forums online, at local markets (where they might be selling their prints) or even by following them on social media too. No (wo)man is an island, so why not see what you can build together?
Especially if you're just getting started as a freelance photographer, going under the wing of a more established name in the game will help you earn your stripes, as well as train your eye and develop a portfolio of work to win future projects.
When it comes to photography gigs for special days, such as weddings, birthdays and anniversary celebrations, you'll be capturing some truly intimate encounters between friends and family. As such, it's a big ask for practical strangers to let you in, without really knowing who you are.
That's why so many people like to book photographers through personal recommendations or referrals; if their friend can vouch for your ability and personability, then new clients are way more likely to trust in you themselves.
Reviews are a fantastic promotional tool, and should certainly feature prominently on your website. You can also build social media campaigns around recent events, incorporating quotes and stories from your shoot subjects, to help sing your praises. Don't forget to always ask for permission before you use any image or verbatim from people you've worked with.
Network, network, network
They say that self-employment can be a lonely world, but in reality you should see your "quiet" times as your busiest.
Any day that you don't have a booking could be spent chasing up potential business, either by contacting people you've met in the past, attending a networking event or conference, engaging with followers on social media or liaising with party planners and venue owners to see how you can be of service to each other.
Simply put: the more you hustle, the more work you'll win. Try to get over the image of networking as being for suits and ties and high profile trading deals; networking can also be nothing more than a quiet — but inspirational — chat between two people who share the same passions in life.
Don't be afraid to put yourself out there, look for opportunities to learn from other photographers, and own your self-promo on and offline. Make a plan, and then make it happen.
Here's to 2019 being your most hectic year yet!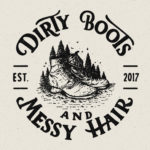 Written by:
Dirty Boots & Messy Hair Team
Connection is what it's all about. Feel free to reach out to us with any comments or questions you might have, even if it's only to say hello. If it wasn't for our beautiful community, this place just wouldn't feel the same.
Photographer Tips
07 Jan 2019