Think back to when you dreamed of becoming a successful wedding photographer, travelling the world and meeting cool people. Chances are filing loads of paperwork and keeping on top of admin wasn't part of it.
But sadly, having a solid organization system is essential if you want to successful business and happy clients. But important as it is…It's also boring as heck.
That's where HoneyBook comes in.
Loads of creative photographers have been using HoneyBook for YEARS to get their shiz together and here's why you should too…
HoneyBook is an online platform that helps you manage your business, from CRM (a fancy acronym for client management) to invoicing, expense tracking and even calendar planning. Basically, it's like a personal assistant, only cheaper and available 24/7!
HoneyBook is a game changer for small business owners everywhere.
Within one single platform, you can track and manage all of your leads, send and sign contracts digitally and even process payments. You can also create separate folders for each project or client, allowing you to easily access all their details in one place.
Once set up you'll be able to see what projects are in the pipeline, what contracts or emails need to be sent, as well as any leads you have to chase up.
Think of it a bit like putting your brain power on autopilot, so that you can just focus on your sweet spot: creating killer images.
HoneyBook saves you time, energy, and makes your clients feel cared for in the process. You can even customize your HoneyBook account with your business branding, and then let the software guide you and your clients through the admin side of working together.
And their customer service is excellent. If you have a question their dedicated team are on hand to help you out as quickly and easily as possible.
HoneyBook Is Super User-Friendly
What makes HoneyBook stand out from the other CRM software packages is that it's SO simple to use. It's simplifies the process of creating workflows and you can get all your business details, including emails, templates, client info and contracts uploaded in less than an hour.
HoneyBook Saves You Time
It's easy to get sidetracked with business admin and small tasks can end up taking triple the amount of time simply because you've misplaced a file or can't find that super important email. With HoneyBook , everything is in one place, making it easier to retrieve emails, files and folders. Just think about all the free time you can spend honing in on your creative work. Or watching Netflix. Whatever floats your boat.
HoneyBook Allows You to Automate Your Biz
They said robots and computers would soon start taking over our jobs and they weren't wrong (sort of).
With HoneyBook you can automate your workflows to have them run on autopilot. For example, you can set up an automated sequence of actions for each and every new lead that takes them from enquiry to signed contract without you having to manually get involved – amazeballs!
You Can Tun Your Business On Your Phone
As a creative entrepreneur you're probably heavily reliant on your phone to help run your business. Once you sign up to use HoneyBook you'll also be able to access the mobile app which lets you track projects, expenses, your calendar, and invoices all from your phone.
SEE ALSO: Five digital wedding planning tools that every wedding couple needs.
Honeybook is Cost-Effective
HoneyBook is a great investment and it's not expensive compared to a lot of other software packages on the marketplace. You can even opt for a free, no-strings trial to see if it's a good fit for you and your business before you commit to a monthly subscription.
Our Gift To You: Honeybook Promo Code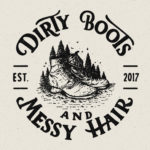 Written by:
Dirty Boots & Messy Hair Team
Connection is what it's all about. Feel free to reach out to us with any comments or questions you might have, even if it's only to say hello. If it wasn't for our beautiful community, this place just wouldn't feel the same.
Photographer Tips
05 Mar 2020