Sure, it's cool to take a snap and immediately upload it to Instagram – online photo sharing has made it so much easier for photographers to get their work seen by thousands of potential clients.
But there's still a lot to be said for film photography.
What exactly, you are wondering? Well, how much time have you got?!
For one: if you also incorporate traditional photography techniques into your practice, you'll have a much better idea about how photographs are actually captured, and what you need to tweak and control — like light, color and advanced settings — to get the best possible outcome.
As a result, film forces you to be more considered when you're shooting — you don't want to waste precious film, so you can't be as snap-happy as when you're messing around with digital.
There's only very limited photo editing when it comes to film; you really gotta know what you're doing!
But that means there's something so satisfying about developing film from your old camera — what will it come out like? You never really know, until you're holding the final print in your hand.
This teaches you to have patience in your practice; a lesson we could all do with learning, with our ever-speedier lifestyles!
What's more: film photography looks epic! Doesn't it?
You get that grainy, authentic, realness that not even the best online filters can quite reproduce!
It can be pretty tricky to find film for your old camera these days.
But don't worry, we've pulled together a list of brands to help!
Kodak is probably the most famous of camera film producers, so it's highly probable there are plenty of retailers near you — either bricks and mortar or online — who still stock every type of Kodak camera film you could need.
If you aren't familiar with Kodak's incredible rise to success, and then shocking — and somewhat ironic — demise, you should definitely check it out; it makes for an interesting read!
As another popular name in camera film, Fujifilm should also be readily available to you in your hometown.
If you're a fan of Polaroid, though, you won't be getting that from Fujifilm anymore (they discontinued their Polaroid film product line a few years back).
You can still get your hands on 35mm, 120 and Instax Film from these guys; so there's still plenty of choice to suit your developing needs.
Fujifilm's Instax Film is definitely available for purchase through the Fujifilm website, as well as Amazon — give it a quick Google, to see where it's easiest for you to get hold of.
Impossible Project – Polaroid Film
If it is Polaroid film that you're after, you should definitely search for your nearest Impossible Project stock.
Impossible Project bought Polaroid's machines from them, when Polaroid made the decision to exit the camera film business.
And Impossible Project sprinkled more than a little magic over the tired organization, completely turning it around and bringing Polaroid back into mainstream photography – thank you IP!
A word of warning though: if you haven't used Impossible Project Polaroid film before, it's not the same process you may remember from your childhood. You don't just take a snap and then shake the photo out; you need to put your print-out in a dark place for 20-30 minutes, or risk bleaching or other film damage.
Definitely read the instructions on your Impossible Project film purchase, just so you know what you're working with.
There's been somewhat of a film renaissance of late, and one of the new brands to pop up in the midst of Urban Outfitters-style trends is Lomography.
They're cameras are super cute and colorful and will give you various fun end results – so it's totally fair that Lomography has developed a real name for itself as a creative camera brand.
Lomography is the right place to go if you're using a newer model film camera, as it's one of the newest producers in the market.
If you're looking to have some fun with out-of-this-world style shots, then you should seek out some Lomo Chrome Purple Film — perfect for summery, festival days!
But Lomography also have a very thorough product range, to suit every photographer's visual style, including wooden pinholes and sprocket 35mm, to the more traditional 120 and 35mm color and black and white film options.
Don't have access to your own dark room? No worries — Lomography offer a film drop-off service. Nice!
Make Room For Film Photography In Your Life: You Won't Regret It!
Film development may be less popular than it was before digital photography came along, but that's not to say there isn't a time and place for perfecting your film technique.
Yes, it can be a challenge — but as a photographer you should be pushing yourself outside of your creative comfort zones and seeing what new skills you can pick up!
If you're toying with the idea of buying a film camera, have a read of our guide detailing the differences between film and digital photography, and then jump onto eBay to buy yourself a second-hand film camera.
And if you've got any other questions about film — or anything else photography related! — you know where to find us!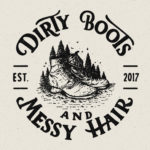 Written by:
Dirty Boots & Messy Hair Team
Connection is what it's all about. Feel free to reach out to us with any comments or questions you might have, even if it's only to say hello. If it wasn't for our beautiful community, this place just wouldn't feel the same.
Photographer Tips
27 Feb 2020