Starting out as an aspiring photographer is awesome, but it can be a tricky business.
There are a few things that every new photographer needs to get sorted, and it can be easy to forget something or just get a bit overwhelmed.
Luckily there's loads of help and support out there for newbies, and with a little advice and some patience, the road to photography stardom doesn't have to be difficult.
That said, there are a few things that are absolute deal breakers when it comes to getting started in the photography business, and one of those is putting together the perfect website for your online portfolio.
We know – picking themes and setting up websites might not seem the most exciting part of becoming a photographer, particularly if you just want to get out there and get shooting.
But and we can't stress this enough, it is pretty much the most important step in getting your business off the ground.
An online portfolio lets you show off your best work and helps land new clients. Essentially it gets you and your projects out there and ensuring that you do this well is obviously key when it comes to making a success of your business.
Ok, so we're all on board with the importance of sorting out a great portfolio website…now what?
The great news is that there are a bunch of great website platforms, and some amazing website themes to choose from.
So, how do you pick the best one?
Keep reading, and we'll take you through everything you need to know to pick the perfect theme for your first online portfolio website.
What are the best website platforms for a wedding photography portfolio?
As a photographer, visuals are everything. You want to show off your work of course, but you also need to stand out from the crowd, and a great website with great photos can help you do this.
The great thing about building a website these days is that thanks to drag-and-drop website builders, anyone can do it. Say 'adios' to needing HTML and CSS expertise to make a great-looking website – platforms like Squarespace, Wix and WordPress make creating a professional-looking site a breeze.
There are a number of brilliant website platforms, each with their own pros and cons, so let's take a look at some of the best.
What do you need to look for when choosing a photography portfolio template?
There are a few key elements to a photography portfolio template that you won't want to do without!
Is it easily editable?
Building and maintaining your online portfolio is important, but time spent doing minor fixes is time you could be out there taking great photos. Choosing a template that makes the editing process a breeze should be one of your number one concerns, so this particular element of business admin doesn't cause you unnecessary stress.
Is it image focused?
A bit of an obvious one perhaps, but just make sure you pick a template that is laser-focused on showcasing images. Plenty of themes have loads of exciting bells and whistles, but if it doesn't show your photos in their best light, then it's not doing its job correctly!
Does it have a built-in blog?
Blogging is an often-underappreciated aspect of a photography business, but having your own, regularly updated blog is a great way to improve SEO and attract new clients. Making sure that your chosen theme has a built-in blog means one less thing to worry about when getting your business up and running.
Squarespace has put on a great show in the last few years, successfully disrupting the duopoly of Wix and WordPress. Squarespace templates connect directly with Printful, which makes printing out your images super easy, and it is incredibly simple to set up and use.
But the main attraction of using Squarespace for your photography portfolio is that its templates just look So. Darn. Good!
Seriously, Squarespace templates and layouts are just great looking with clean designs and are totally mobile friendly. They have a number of themes designed specifically for photographers, and you can be assured that you'll end up with something beautiful if you choose to go in this direction.
The downside to Squarespace sites is that they tend to have slow load times when compared to their competitors. There is also a slight lack in functionality compared to some of the other options, particularly as the builder isn't 100% drag-and-drop, making it a little harder to grasp for beginners.
Avenue has a crisp, clean, uncomplicated design that still manages to stand out. It uses a uniform thumbnail layout to present your images and clicking through each one gives you a space to write a little something about your image. As with all Squarespace templates, it comes free with your subscription.
Flatiron is bold and eye-catching, with an asymmetric mosaic layout that is both unusual and attractive. One particular feature of Flatiron is that you can group images into 'chapters', giving the whole page a narrative flow through a series of images. The menus are clear and easy to find, and the template is easy to navigate.
Wexley uses a mosaic presentation too but focuses the attention on individual images more effectively with clear white borders. The landing page works a little like a slideshow, allowing you to move from one group of photos to the next. There's also a built-in blog section, which can come in handy, although it doesn't have an online store function.
One of the best things about Wix is how simple it is to use. The builder is 100% drag-and-drop, so putting together your whole site is as simple as it gets. There are some brilliant themes and template websites designed specifically for photography portfolios, and there's a Photo Editor function that even lets you do basic edits, if that's something that interests you.
The possibilities for displaying your images are basically endless, and the designs are super flexible and adaptable, making it easy to put your own personal stamp on your site.
Plus, it has turbo-charged load times, and is about as fast as a website builder site is going to get, which when it comes to large images can be a big deal.
There are a few drawbacks – you can't change your template once your site has gone live, for example, and there isn't a price option for an unlimited plan, meaning as your business grows and you need more space on your site, you'll end up spending more. The sheer level of customization options can be a little overwhelming at first too.
If you are planning to specialize in wedding photography, you want your photos to really make a splash. The Wedding Photography template from Wix is perfect for this, with a stunning gallery, a sharp design and delightful parallax scrolling perfect for showcasing a couple's big day. As with all Wix templates, it comes free with your subscription.
Aerial photography needs to be dramatic and sensational. The Aerial Photography template combines parallax scrolling, an incorporated video gallery and clear guiding lines that draw your visitor's attention right where you want it.
The clean white background of this theme is designed to make your food images jump right off the page and look good enough to eat. An anchored menu makes it incredibly simple to navigate, and the blog section gives you space for writing about the dishes you photograph.
WordPress has literally thousands of themes for photographers. Making a great looking portfolio site is therefore brilliantly simple, and you can put something together in the blink of an eye. WordPress sites also support thousands of plugins, meaning you can always find a way of doing what you need to do with your site.
It is also probably the most customizable of all the platform options, as not only does it have endless choice when it comes to themes, but if you fancy changing something you can always dive into the code behind the site to tweak it (if you've got the technical knowhow or can hire someone who does!).
The downside to WordPress is that it can be a bit weighty, a bit too much for what you really need, particularly for photographers just starting out. Plenty of its functionality just isn't that useful for a portfolio website, and you might be better off with something a little simpler.
Divi is perfect for launching a ready-to-use photography website, with over 100 layouts included, and an import function that allows you to upload content with just one click. It has a visual customizer, a load of different design options, and is extremely easy to use. Divi comes as part of the Elegant Themes pack, which starts at $89/year with a 30-day free trial.
Elegance Pro is smart, sophisticated and chic, rocking a minimalist design, large clear images, and elegant typography which lives up to its name. It is easy to customize and comes with a load of add-ons and widgets to give your site more features. Elegance Pro costs $129.95.
Coastline has an unusual, almost unique design that offers something a little different, while still being specifically designed as a portfolio template. Portfolio items make up the entire home page, and it is feature rich, offering slideshows, column listing and an infinite scrolling homepage. Coastline starts at $34.30 for the basic template.
Now, it's time to start building your site!
Now that you've seen some of our favorite themes on each of the main platforms, it's time for you to choose which one works best for your needs and get it going! Having a website not only lets you look super professional, but it can also be a one-stop-shop for any and all questions your clients might have! So, what're you waiting for? Get out there and get your website underway!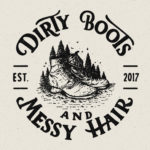 Written by:
Dirty Boots & Messy Hair Team
Connection is what it's all about. Feel free to reach out to us with any comments or questions you might have, even if it's only to say hello. If it wasn't for our beautiful community, this place just wouldn't feel the same.
Photographer Tips
21 Dec 2020