It's fair to say that 2020 has been a… tricky… year for all of us.
And that's putting it mildly!
But as we look towards 2021 (yes, already!) — how can we kick off the New Year stronger than ever, and prepare ourselves for the year ahead?
Well, if there's anything 2020 has taught us, it's the importance of flexibility and adaptability in business… especially for those of us in the events space.
So, with that in mind, today we want to share with you our top tips for keeping business booming in 2021, no matter what it might throw at us.
Specifically, we want to talk about how you can get ahead of the curve by being laser-focused, planning early and thinking outside of the box.
Then let's get started! Here's how us wedding photographers can kick off 2021 stronger and better than ever! 💪🏼
Ok, so, we don't want to panic you here — but early preparation is absolutely key to hitting the ground running in 2021.
Most of us tend to slow down towards the end of the year, and refocus our minds with a long list of resolutions after the Christmas break.
This is fine, of course, but it's not going to help you kick off 2021 with a bang. In fact, you'll probably end up losing most of January to planning what those resolutions need to be… instead of actually acting on them!
So, to avoid that, why not think about your New Year's resolutions now?
Sure, you don't necessarily need to tackle them yet — but at least knowing what they are, in advance, will help to give you the focus you'll need to make 2021 a brilliant year for business right from the start.
Think about what you want to achieve next year, what you think needs improving, and how your business can be better fit for the times. These are the kinds of questions that should be guiding your early decision-making for the year ahead.
The truth is, and as much as we all want to move on from it — you can't plan for the year ahead, without thinking about what's going on in the world right now.
This doesn't mean that success is off the cards for 2021, but it does mean that you need to respond to the times and position your brand a little differently in preparation for what could well be another disrupted wedding season.
But please, don't panic!
Although it might be easier said than done, with the right mindset and strategies in place, there's no reason why 2021 can't be great for businesses.
You just need to kick off the year with clear messaging, flexibility, and an attractive (and workable) offer that keeps business booming, no matter the circumstance.
But what does that look like, exactly?
Well, first things first, you need to think about your potential clients, and consider the questions that'll matter to them most right now and in the immediate future. These will include:
Can we afford a wedding photographer right now? 💸
What if we have to cancel or change our plans? ❌
How will a photographer handle group shots? 📸
What if our photographer is unwell on the day? 😷
Does this photographer have experience with micro weddings? ⁉️
These are the kinds of questions you'll need to answer in 2021 to protect yourself from missing out on business in the year ahead.
To do that, and to give the assurances your clients will be looking for, you should try to build a 'COVID-proof photography package' that'll help to bring in business all throughout the year — so long as it's safe to do so!
Your package should include things like flexible payment options, guaranteed fee-free rescheduling, and clear policies that confirm your commitment to PPE and social distancing.
Combined, this package should be perfect for the 'micro weddings' on the rise right now, where international travel and busy crowds are off the cards.
Of course, you should still offer your 'full' service whenever you can but having an 'insurance' option will certainly help to keep things flexible when they need to be.
Beyond your traditional business, you should also consider teaching others your photography skills online to make up for any lost business in the year ahead. This, alongside a flexible approach, will keep you busy no matter what the future might hold.
3. Nail your marketing game
Despite how unpredictable 2021 might be, having a good marketing strategy in place will be really key to having a successful year.
In fact, effective marketing could really be your savior.
In times of economic downturn and lockdown, many businesses (particularly those in the events industry) might think to put a pause on advertising altogether.
But that right there is exactly why you shouldn't do the same.
As others let themselves slip under the radar, you should do all you can to get your name out there and bring in new clients on the hunt for flexible photographers fit for the times.
So, whether you're advertising your overall brand, a specific wedding photography package, or even online classes — it can seriously pay to get your marketing right, especially when others might not be making it a priority.
To 'get it right', you should:
Focus on social media
It goes without saying, but, as wedding photographers, social media is absolutely key to our marketing strategies.
Instagram and Pinterest especially offer great opportunities to show off our portfolios and instantly attract new clients without having to spend a single cent.
To achieve that level of success though, you'll need to:
Share consistent shots that express your brand 🎨
Target your ideal client 👰
Understand social SEO (including descriptions and tags, particularly) 📝
Schedule daily posts 🗓
Double down on SEO
Search engine optimization is about telling search engines (like Google) what your website is, how good it is, and who might want to visit it.
Make those things clear, and you'll be put right to the top of the search results when potential clients search for a photographer like you in 2021 and beyond.
But how can you 'tell' a search engine who you are, exactly?
Well, the best technique is to, first, include targeted keywords on your website — like 'Texas wedding photographer' or 'LGBTQ+ wedding photographer' — to highlight what you do, and who is likely to be interested in it.
You should also optimize your site more broadly, by making sure that:
Your loading speed is fast 🏎
You use alt-tags on your images 📸
Your site is mobile-friendly 📱
You've secured some backlinks 🔗
Search engines prioritize these things, and if you get them right, they'll bring business straight to your door — and all for free, too!
Want to learn more?
Check out our SEO guide for wedding photographers for more top tricks!
Invest in email marketing
If you haven't already, 2021 is the year to invest in email marketing, and build a list of ready-to-go clients that you can fall back on when times are tough.
Find an email marketing provider, attract sign-ups, and send out emails to promote exclusive offers, launch new products, and bring in new business on the back of sharing wedding tips, snapshots of your portfolio and so, so much more.
To build your email marketing list, you should:
Provide an incentive (like a one-time discount) 💸
Promote it on social media, and your website 🖥
Attract sign-ups with a free wedding guide for couples 📝
Launch a contest exclusive to your email list 🏆
4. Make sure your portfolio is up to scratch
The best marketing strategy in the world isn't going to deliver results if your portfolio doesn't sell itself.
The fact is, once you remove all the bells and whistles, our portfolios are really all that matter — they're our product, our advertising platform and our client testimonials all in one. They're the bread and butter of our business.
But what makes a 'good' portfolio, exactly?
Well, first things first, your portfolio needs to tell a story — about you, your brand, your niche, and the kinds of weddings you've shot.
To do that, it also needs to be big enough to cover the basics, but small enough to succinctly express your style.
Diversity is key, too.
A portfolio that lacks inclusivity will fail to bring in the kind of results you'll be hoping for in 2021 and beyond. That's why working with LGBTQ+ and BIPOC couples is so important — so long as you're doing it for the right reasons.
5. Streamline your approach to work
As wedding photographers, we can often find ourselves taking on every role imaginable, even if it's not really working out.
Emailing, calls, meetings, marketing, planning, travelling, editing — you name it, and we've got to do it… and that's even before pulling out a camera.
If your days are forever filled with tasks like these, though, you'll never be able to access a top-level overview of your business. Instead, each day will blend into the next, and any big, but perhaps less obvious, problems will go unnoticed.
That's why it's so important to optimize your workflows so that you can find the time to be the CEO your business needs, once and for all.
Ultimately, this comes down to putting systems in place that make your day-to-day tasks faster and more efficient.
Your post-processing workflows, for example, where you'll have to back-up your images, rate them, edit them and finalize them can take up a whole lot of time if you don't have a structured and defined system in place — like we do!
Streamlining your approach to work is also about outsourcing tasks wherever you can.
Post-production, album designing, accounting and marketing could all be handed over to someone else when you're ready to scale your business.
Finding more time in the day will be key to keeping on top of things in 2021. So, instead of juggling a million tasks at once, why not start optimizing and outsourcing your work? It could seriously pay off!
But don't wait until then to put your master plan in action.
Get prepared for 2021 now, and you'll be sure to hit the ground running in January, no matter what it might bring.
And on that note: good luck, and don't forget to head over to our blog for more top tips on how to smash it as a wedding photographer.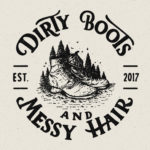 Written by:
Dirty Boots & Messy Hair Team
Connection is what it's all about. Feel free to reach out to us with any comments or questions you might have, even if it's only to say hello. If it wasn't for our beautiful community, this place just wouldn't feel the same.
Photographer Tips
14 Dec 2020