Pinterest and photography are a match made in heaven. Image-led, creative, and without other platforms' pesky and unpredictable algorithms, Pinterest gives photographers and clients the perfect platform to express themselves, show off their style or their interests, and design the look and feel of a wedding in a way that is really personal and unique.
As such, it is incredibly important for wedding photographers to be marketing themselves on Pinterest. We've put together a few (hopefully persuasive) thoughts on why and how your wedding photography business will benefit from being on the best resource for image-led ideas. So, here is why we feel you should marketing your wedding photography business on Pinterest.
There are 175 million people on Pinterest, with 75 million in the US alone. Whilst this obviously doesn't hold a candle to Facebook's 2 billion, it does come with some serious advantages over the larger platform.
For starters, it doesn't suffer from Facebook's (and to a lesser extent Instagram's) unknowable and erratic algorithm. Secondly, and more importantly, the audience is all there just for you. Well, not YOU you, maybe, but they are all interested in photography and looking for beautiful images. The audience also tends to be rather more geared towards brides-to-be, wives and moms… i.e. the usual decision makers when it comes to photography!
It is also really easy to get lost on Facebook. When every photographer, wedding vendor and event planner is there, competing for attention, your actual cut-through can be minimal. Pinterest's smaller but more relevant, targeted audience is a far more appealing market.
Your Images Become Inspiration
The way Pinterest works also plays right into the hands of a wedding photography business.
For couples or brides or grooms-to be just dipping their toes into planning a wedding, setting up a Pinterest board is one of the most useful and easiest things to do. Right from the get go, ideas, thoughts, and general inspiration are being pinned…and if you are doing Pinterest right, you are going to be in the mix from the very start. This can be a great advantage when it comes down to couples making an actual decision.
The way Pinterest boards work also means that you can create look-books and inspiration guides quickly and simply, which showcase your work. This gives couples an idea of your particular style, and allows your work to be shared far and wide with just a click. Potential clients will really appreciate this as a way to make some of the difficult wedding decisions that little bit easier.
It's easy to be SEO-friendly
Although it is super visual, Pinterest is a search tool that works a lot like a search engine. However, unlike Google, Pinterest gives you great, simple options to make your business really easy to find, and the ability to be really targeted in who you are attracting. Making your descriptions rich in keywords can have a big impact on who, and how many people you attract.
Pinterest keywords also mean you can be really specific about certain things like style or geography. Tagging "outdoor wedding style" or "Vermont weddings" will bring in exactly the people you want to be talking to, and getting your stuff to the right people is half the battle in marketing.
One of the best things about Pinterest is you can combine a marketing push for your business with making connections and being friendly with everyone else in the wedding business! Getting involved in group boards is great for networking, drives traffic to your page, boosts your profile credibility, and could even help give you a bit of inspiration at the same time!
You can collaborate with local vendors and florists who share your style, creating an informal wedding package and helping potential clients, as well as sharing your work with a wider audience. What's not to love?
It makes sharing your work a breeze
Pinterest integrates well with most website platforms, and makes it really easy for previous or potential clients to share things they love from your portfolio. Adding a Pinterest Save button means that it just takes a single click for people to share images they love from your website to Pinterest, and creates a direct link back. This helps share your work, and drives traffic to your site…win/win!
Hopefully we've given you some food for thought, and made a case for kick-starting your marketing efforts on Pinterest if you aren't already all over it.
If you are looking for a few more thoughts on growing your wedding photography business, why not check out this post on how to supercharge your business during the low season to help you keep it ticking over?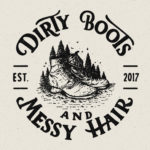 Written by:
Dirty Boots & Messy Hair Team
Connection is what it's all about. Feel free to reach out to us with any comments or questions you might have, even if it's only to say hello. If it wasn't for our beautiful community, this place just wouldn't feel the same.
Photographer Tips
17 Feb 2019