You've probably put a ton of thought into what you'll wear to be married, where you'll host your ceremony, whether it'll be large or small and who you'll invite to share the special day with you. But how much thought have you put into the final moments of your wedding?
If you want to deliver a party that's memorable as well as moving, you'll want to think about the lasting vision you give your guests as you and your partner exit the venue.
To end your wedding day with a bang, why not consider ending it with one of the following unconventional – and fabulous – exits…
It's something you don't tend to see anymore, but why not kick it old school with a quick change into your 'traveling clothes', to mark the transition between wedding party and honeymoon? This tradition started when couples would literally board a boat or plane as soon as the event was over. These days, there tends to be a few days gap between saying "I do" and leaving on honeymoon, but you don't actually have to be leaving right that moment to jet off to pull this exit off. Think about it, those comfy clothes may be more suitable for heading to your home or hotel at the end of the night — with the added bonus of not having to struggle with difficult dress or corset ties and fixings!
If the rest of your wedding is following a retro or vintage theme, this may be the perfect way to end your day with a nod to times gone by.
Probably the wedding exit that comes first to people's minds, is of the car emblazoned with "Just Married" and dragging tin cans as the couple drive off into their new lives together. This image has been perpetuated in films and TV for decades, and for good reason; it's a wonderful and emotional way to say farewell to your wedding guests.
To make your personal mark on this fairytale ending, why not hire a getaway car that says something about your personality as newlyweds? Maybe you're a VW Camper-van couple, or Lamborghini lovers. Perhaps you want your vehicle dressed in flowers, or ribbons, or flags with your favorite sports team logo all over them. It's your day: your rules!
If we're talking about going out with a bang, we can't fail to mention celebratory pyrotechnics! These days, you're certainly not short of options to light up your night, to mark the end of your special day.
There are, of course, a wide range of fireworks you could choose from including rockets and sparklers, to suit any sort of budget. You might want to illuminate the skies with a huge display of colors, or create a more simplistic, low key light show with a select number of fairy-light walkaways or Chinese lanterns. Another trend sweeping wedding season at the moment is the use of colored smoke bombs, which can add a dramatic flair to wedding exits and photoshoots alike.
Wedding days are about getting your nearest and dearest together, to celebrate in the love you share with your partner, and as an extended family. So, it could be fitting to exit the wedding as a collective.
What better way to create matrimonial memories which last forever, than enjoying one last song all together on the dance floor? If you're a bunch who's always up for a laugh, why not try to learn a group routine? You're sure to create an unforgettable final act with such a show! The idea of young and old, from all walks of life, boogying down alongside each other… that's what wedding parties are for!
Sometimes, with all the pressure of hosting a wedding party that caters to everyone's needs, you can forget the most important people in the room: you two newlyweds.
That's why our the last memorable exit in our line up isn't showy or inclusive… it's just about the two of you stealing the final moment to just be with each other. Once you've done your rounds thanking everyone for coming, and you've had your fill of champagne, there's no shame in doing a Houdini and disappearing off together, to enjoy the rest of your night in privacy before you get too tired! It may not be a memorable exit for anyone else, but it'll likely be a night the two of you remember forever, if you know what we mean!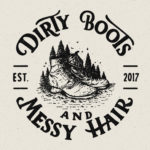 Written by:
Dirty Boots & Messy Hair Team
Connection is what it's all about. Feel free to reach out to us with any comments or questions you might have, even if it's only to say hello. If it wasn't for our beautiful community, this place just wouldn't feel the same.
Wedding Planning
28 Nov 2018