Ok we'll start off by stating the obvious: You can't have an elopement photography business without clients. But when you're just starting out, how do you even find them?
Or maybe you're already a wedding photographer, but you want to make the move to smaller weddings and elopements. But how do you market yourself for clients who are wanting the more intimate feel?
The key to building a strong business and attracting your ideal client is all in your marketing.
But we know that figuring out how to crack marketing as an elopement photographer can be tough. That's why we've pulled together this easy-to-follow plan that'll help you ensure you're marketing yourself in the most efficient and cost- effective way possible.
There's no secret formula on how to market yourself as an elopement photographer, but if you follow these tips, you should be well on your way!
Ok, but what even is marketing?
Let's start at the very beginning.
Marketing is basically how you find clients and sell your business. It's all about presenting yourself as the number one choice for potential clients. While that's a pretty straightforward definition, in reality it does feel like a huge task to take on.
When you're just starting out as an elopement photographer, even if you have business experience, it's daunting to try and figure out how to begin.
How to figure out where to start with marketing as an elopement photographer
Ok, so you know you want to build a name as an elopement photographer. While that's already a specific area of wedding photography, you need to narrow it down even more.
We can't overstate just how important it is to have a really clear vision of your brand and the kind of work you want to create. Basically, you need to identify the overall vibe and aesthetic of your business — and to figure out what makes that unique.
Let's break this down a bit. So, you know you want your brand niche to center around elopements. But do you like to shoot in urban settings, or out in the woods? Do you produce fun, vibrant images or is your style moodier and more beautiful? Couples who choose to elope tend to have a preference for either more simple, down-to-earth, and natural style or for something more Vegas-style. Figure out who you want to cater to.
You want to be super familiar with your identity before you even begin marketing yourself. This will help you identify your audience and ensure you're targeting the right people!
To help you with this process, you might find it helpful to read through our guide to finding your niche and unique selling point as a wedding photographer. This is especially important if you've already been working as a wedding photographer, as your style and brand may need to evolve.
Building your elopement photography website
Obviously, you're going to need a website. This is going to be the first place that prospective clients learn about you and your services, so it needs to be good –– no pressure!
Everyone has a different style when it comes to crafting a website. You just want to make sure it fits with your brand identity and niche and follows the same theme on every page. While the layout is all up to you, there are some things that every elopement photographer should include on their website.
Your portfolio – This one's a given. You need to show off your work, let clients know what kind of photos you can deliver for them. Again, stick to your niche and show off your unique selling points. Why should they choose you over someone else? You can have a separate page for photos, but it's probably a good idea to have one main image (or a few) on your homepage –– it's the first thing people are going to see. Check out our guide on how to choose the perfect portfolio website to kickstart this process.
If you've already been working as a wedding photographer, make sure that you showcase your most intimate weddings for your portfolio. Showing off your biggest weddings — even if those images are your favorites — may not be the best route if you're wanting to mainly attract elopement photography clients. So, curate wisely!
SEO copy –– In the world of website traffic, SEO is king. SEO (search engine optimization) is about tweaking your website, so it gets the attention of the algorithm that determines which websites pop up in search engines. It can be tough to know exactly what to write and how to write it –– many companies hire dedicated editors just for SEO! Don't stress, we've got some comprehensive guides for crafting perfect SEO that'll shoot you to the top of Google searches.
If you're an established wedding photographer, make sure that your website SEO reflects relevant keywords for elopements and not just general wedding photography.
Pricing –– There's some debate over whether photographers should include pricing on their website. Some people prefer clients to fill out an inquiry form before revealing the price list. But we think price is a good thing to share. That way customers can get an idea of what you're worth, and you won't waste time replying to people who end up ghosting you once they see your prices. If you're having trouble setting your prices for elopements, we've got some tips to help you out.
A blog –– If you have enough time in your schedule, adding a blog to your website is a great way to build traffic. It doesn't have to be extravagant, maybe just one post a fortnight, but it'll do wonders for strengthening your brand. Blog posts can direct traffic to your site through search engines and give you something to share on social media – more on that in a minute! If writing isn't your strong suit, that's totally fine: Check out our guide to simple blogging to get you started.
A newsletter or email list –- Again, this isn't necessary, but can be a great way to stay in contact with your audience. A newsletter doesn't have to be long-winded, maybe just a few lines about what you've done that week in the world of photography, a couple of shots you really love, and links to blog posts you've done. A weekly or fortnightly newsletter keeps you at the top of your client's minds, which is great for referrals!
Using social media to market your elopement photography
We're at a point where having active social media channels is basically an essential part of running a business…especially for photographers.
It's a place to find new clients, keep in touch with old ones, network with other photographers and wedding vendors, share your work, and find inspiration. You can really build up a whole community if you use your social channels right. Let's break them all down.
Instagram
Because it's such a visual medium, Instagram is a great place to market your elopement photography business. People love following accounts that post beautiful content, and you can use hashtags to make sure you're being noticed by the right people.
Make sure that all the images you upload closely align with your brand and they have a cohesive theme –– you want your page to look beautiful as a whole. Your photos represent who you are as an artist, and show potential clients what they'll get if they hire you.
To make sure you crack through Instagram's tough algorithm, you've gotta stay consistent. Post every day if you can, at around the same time. It's a good idea to plan and schedule your content weeks in advance, that way you can also make sure that all the images will look good together.
Building a following on Instagram is all about staying ahead of the curve and creating unique content. Why not use the new Reels function to help market your business? It's a lot easier than it looks – check out our guide and start creating.
If you already have an established wedding photography brand on Instagram, you may want to start using elopement specific imagery rather than your larger and traditional wedding photos. Try to select the photos that can show off your intimate wedding skills. Stick to the mantra you may have heard: Post what you want to shoot!
Pinterest
If you're not already on Pinterest, make an account stat!
Pinterest is truly THE best place to market yourself as a wedding elopement photographer. It's a smaller platform than Facebook and Instagram, so your posts are less likely to slip through the algorithm's cracks. People who use Pinterest are there for a reason –– to find and save beautiful photos.
It's sort of like a virtual look book that many brides use to help determine the aesthetic you want for their wedding. It's particularly popular with couples planning elopements, who are looking to stick to a budget and probably don't have a wedding planner. There's a whole audience out there just waiting to look at your photos!
Again, make sure that everything you post fits in with your unique selling point. You want to stand out from the other elopement photographers on there and find clients who are searching for your exact vibe.
This platform can be a little tricky to suss out if you've never used it before, so have a read through our guide to marketing yourself on Pinterest for an introduction!
Facebook
While more and more people are moving away from Facebook to use other platforms, it's still a valid place to market yourself.
Here you can do targeted ads that are usually pretty effective, as well as share content and blog posts with your followers –– here's some more detailed info for maximizing your Facebook engagement. Some photographers even like to set up Facebook groups for their past and future clients, as well as budding wedding photographers, as a great place to share knowledge and information.
Speaking of which, have you checked out the official Dirty Boots & Messy Hair Facebook group?
Referrals, relationships, and networking
It's time to put your socializing hat on, because running a photography business is allllll about building relationships. Sure, you can find new clients online, but so much of your income is going to come from referrals and recommendations.
Especially when you're just starting out, you're going to want to invest a lot of time into networking. The thought of in touch with other photographers in your area might be daunting – they are technically the competition, after all – but you're much better off working together than against each other. You can share knowledge, promote each other on social media, and maybe even end up working together on a collaboration.
It's also a good idea to build relationships with other people in the wedding industry –– DJs, caterers, bakers, musicians. Doing elopements usually means there are less vendors involved in a wedding, but it's good to make friends and build a "I'll scratch your back, you'll scratch mine" kind of relationship.
If you have been working as a wedding photographer and already have an established network of vendors, why not reach out to them and see if anyone would be interested in collaborating on an elopement-focused styled shoot?
This could be a great way of kick-starting an elopement-specific portfolio with trusted suppliers.
It is absolutely essential to maintain great relationships with your clients. You might have 20 weddings in a season, but you are this couple's only photographer. Make sure they feel heard and understood. Keep in contact with emails or texts, maybe even have a FaceTime chat before the big day. Building and maintaining a great relationship with them is essential for receiving a glowing recommendation once the wedding is over.
Finally, do your research
Even if you've been working as a wedding photographer for some time, definitely do make sure that you're 100% familiar with all the elopement laws in your area (as these may differ from what you are used to).
For example: Does your couple need a witness to be present at the ceremony? Can you sign the marriage certificate as their photographer? Do you need any special permits to be in a more off-grid location or a national park?
Knowing all of this up front will be such a help for both you and your couples, so it's worth putting in the work before launching your elopement services to make sure you get off to a great start!
And breathe, you got this!
When you're first starting out, building an audience and making a marketing plan can seem daunting and overwhelming. Don't let it get you down! Unfortunately, it's going to take a lot of hard work and patience, but within six months, if you stick to your plan, you should be thriving. Good luck!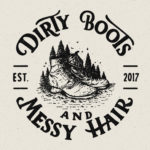 Written by:
Dirty Boots & Messy Hair Team
Connection is what it's all about. Feel free to reach out to us with any comments or questions you might have, even if it's only to say hello. If it wasn't for our beautiful community, this place just wouldn't feel the same.
Photographer Tips
12 Oct 2020