Back in August, we explored how to support the BIPOC community as a white photographer.
But supporting the BIPOC community isn't something we can do once and then forget about. This isn't a passing fad.
We all need to do more — every single day.
Here at Dirty Boots and Messy Hair, we think one of the greatest ways you can support other photographers is by engaging with — and celebrating — them on social media — and sharing their work with your own followers!
Today, we're going to shine a spotlight on some of the most talented black wedding photographers that we think everyone should be following on Instagram.
These photographers are truly on top of their game. And — let's be honest — we all need more beautiful and inspiring photography on our Instagram feeds.
So, what are you waiting for?
Get that follow button ready…
Josephine Elvis describes herself as an alternative wedding photographer.
She loves couples who want to do things their way — and this is what makes her photography so awesome.
Josephine focuses on capturing moments that showcase the story of a couple, rather than the traditions of a wedding ceremony.
Why we love this photographer
Smiles, laughter, fist pumps. Josephine's work has it all.
Just a quick scroll through Josephine's Instagram page shows the lively and energetic nature of her photography.
We particularly like how Josephine focuses on capturing the relationships between people — and the stories behind them — rather than wedding traditions and trends.
Looking for truly unique wedding photography? Josephine is your girl.
Where to find them
You can find Josephine on Instagram @joelvis_photo.
If you want to have a look at some more of her work, her website is www.joelvis.co.uk.
Chip is truly the life and soul of the party — and so is his photography!
Chip started working as a photographer back in 2010 after being asked to document a wedding at his church.
And the rest is history.
He went full time as a photographer in 2015. Then, in 2017, he launched into industry education — mentoring other photographers to produce some really amazing work, too.
Why we love this photographer
Chip's work is bright, energetic and vibrant.
We love it because you can actually feel the energy that was in the room when the photo was taken.
Chip isn't afraid to be in the middle of the celebrations he's capturing. And we think this makes his wedding photography all the more wonderful!
Where to find them
You can find Chip on Instagram @chipdizard.
Kirth Bobb's work is full of emotion — and that's what makes it so amazing.
After all, human emotion sits right at the heart of a wedding ceremony. As photographers, it's our job to capture it.
And Kirth does just that.
On his website, Kirth explains that he is more thrilled by life's subtle gestures than by grand, spectacular things. And this really comes through in his photography.
Why we love this photographer
One of Kirth's recent Instagram captions pretty much sums up why his work is so special:
"…although we all enjoy a great picture, the wedding photographs I make are for the future. They're intended to preserve the memories of the people in them and to tell those who will come after them what times were like and how the people in the photographs lived and loved."
And we think that's a really great inspiration for producing such captivating wedding photography.
Where to find them
You can follow Kirth on Instagram @kirthbobb.
And his portfolio can be viewed here.
Fatima Gulied Photography
Fatima Gulied Photography is run by talented sister duo Fatima and Naima.
Based in the UK, the two sisters describe their business as a 'Female Photography and Videography Service'
While they don't have a website, their Instagram page does a great job at showcasing their stunning wedding photography.
So it's no surprise they currently have 17.2 thousand followers.
But what do Fatima and Naima specialize in?
Well, these two sisters really know how to draw out the natural beauty and confidence of brides — and have a brilliant understanding of the best angles to use in portrait photography.
Why we love this photographer
Brides should really feel and look their best on their wedding day.
And we love when wedding photography reflects this!
Fatima Gulied Photography produces gorgeous bridal portraits — and they do a fantastic job at capturing the love between newlyweds, too.
Where to find them
Fatima Gulied Photography are on Instagram @fatimagulied.
Leesha is based in Wales, UK — but works with couples all over the world!
On her website, Leesha describes her photography as being for 'quirky couples in love'.
And we adore the unique and lively images that this talented photographer has created with that motto in mind!
Here's what Leesha has to say about her work:
"I'll capture your wedding exactly as it happens with all the happy tears, unstoppable laughter, tequila shots and dad dancing in between."
What more could you want from a wedding photographer?
Why we love this photographer
Leesha really captures the party-atmosphere and love-filled moments of her clients' big days.
Her photography is quirky and unique — and beautifully portrays the personality of each couple she works with.
Where to find them
Leesha can be found @leeshawilliamsphoto on Instagram.
She also has a stunning website which can be viewed here.
Mo Davis Photography is run by talented wedding photographer, Moesia Davis.
And if you're looking for photography with family at its heart, you need to give Moesia a follow.
Family has always been really important to this talented photographer, and this shows in her work.
On her website, Moesia explains:
"My career is a product of the one element of life that existed before time…LOVE. I'm a believer, encourager and the ultimate advocate for LOVE."
Why we love this photographer
Moesia uses soft, romantic colors to depict the warm, everlasting nature of love.
A newlywed couple's relationship is wrapped up in how they look at each other, their history, and the people that surround them.
And Moesia portrays this beautifully.
Where to find them
Mo Davis Photography is on Instagram @modavisphotography.
You can also check out their website here.
John Branch IV Photography
John Branch's wedding photography website shows just how personable and friendly he is. He's based in the US, but his website explains that he works in 'North Carolina, New York City, and any place your wedding is!'
Ultimately, if you're looking for a photographer who will go the extra mile for you and your partner on your wedding day, then John is your guy!
Why we love this photographer
John puts you at ease from the very first time you visit his website. He immediately makes you feel like a friend:
"Connection is everything. It is the catalyst for a fantastic experience and without it can lead to totally awkward moments. Making a genuine connection with you is my top priority. This ensures that you're comfortable and I feel like a guest, almost a friend at your wedding. And do you know what feeling comfortable leads to?….AMAZING PHOTOS!"
And the reviews on his website are proof of this. John's customers clearly adore the photographs he takes of their wedding day.
What's more, the genuine smiles and laughs in his wedding photography show that his clients are completely comfortable in his presence.
Where to find them
John's Instagram page is @jbivphotography.
If you'd like to check out his website, just click here.
Adonye Jaja's wedding photography is full of movement. Forget formal portraits — this wonderful photographer focuses on capturing the love and energy of a wedding day.
Adonye's website describes him as a 'fine art wedding photographer servicing Denver and the World.'. So wherever you're based, Adonye can get to you!
Why we love this photographer
Adonye does an awesome job of creating traditional wedding photography with a modern twist.
He often produces black and white images, which gives his photography a wonderfully classy feeling. But rather than sticking to traditional portraits, Adonye manages to also capture the liveliness of a wedding day.
Where to find them
You can check out Adonye's Instagram page @adonyejaja.
Or visit his website here!
Anne Atelier is run by two native New Yorkers: Gina Esposito and Sheena Meekins.
The two women describe themselves as 'two best friends who believe in the power of soulful images.'
On their website, these two talented creatives say that they 'gravitate towards authenticity and relish in opportunities to abandon our comfort zones'. And, in our opinion, that results in some pretty awesome wedding photography.
Why we love this photographer
We love Gina and Sheena's photography because nothing is too unusual for them.
They're not afraid to try things they haven't before and will work incredibly hard to make their clients happy.
Have a quick browse through the Anne Atelier Instagram page and you'll find images of horses, camels, hot tubs, and airplane wings.
Ultimately, this creative pair will capture every last detail of your wedding day — and won't miss a thing.
Where to find them
Gina and Sheena are on Instagram @aneeatelier.
Or you can have a look at their website here!
This list is by no means definitive — there are so many more amazing black wedding photographers with awesome Instagram pages out there.
Remember, as wedding photographers, it's so important to build each other up — especially with the world as it is right now.
So, grab that phone and get following!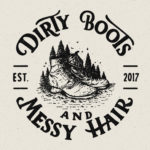 Written by:
Dirty Boots & Messy Hair Team
Connection is what it's all about. Feel free to reach out to us with any comments or questions you might have, even if it's only to say hello. If it wasn't for our beautiful community, this place just wouldn't feel the same.
Photographer Tips
19 Oct 2020