Planning a non-traditional wedding opens countless opportunities to create spell-binding experiences. One such wedding that achieved just that is this beautiful Ontario backyard wedding, as shot by talented wedding photographer, Jess Craven of Daring Wanderer.
Couple Tomo and Chris crafted the DIY wedding themselves. Above all, their aim was to create a day that was relaxed and fun, and boy did they succeed. They ripped up the rule book, did things their way, and the result was a backyard wedding infused with culture, family, friendship and togetherness.
We absolutely love that the couple found space to honour Tomo's Japanese heritage. Sometimes looking forwards about where you're headed as a couple means first looking back to pay homage to where you have come from. By blending a relaxed, Canadian backyard wedding with a beautiful celebration of Tomo's culture, the couple created something that was utter magic.
From the simple outdoor ceremony at a friend's farmhouse, to colorful smokebombs, late night fireworks and the fairy light covered barn for dancing – the whole day is mesmerizing. Every photo captures just how peaceful and happy not only the couple, but also their guests, were throughout the day. There are no airs, no pretences. Just amazing friends celebrating the marriage of people they love… and having an amazing party in the process!
"Our families come from England and Japan, but our shared home is Ontario. So the initial thought was to do something that felt very Canadian. This somehow translated into roaming around a farm, setting off fireworks and eating BBQ. The farm is so glorious and beautiful, we didn't feel the need to impose anything on it. With the added spirits of our nearest and dearest friends, we ended up with pure magic. Super intimate, chill and classy."
"Working with our photographer was a perfect experience from start to finish. Even though we didn't meet at all before the wedding, we just trusted in Jess. She is a great communicator and was very transparent about her process. It was apparent from her very first email that she is extremely thoughtful and organized."
"The overwhelming sense of happiness we felt throughout the day is something we will never forget. It's still so hard to believe that the most perfect day was our perfect day."- Tomo
Thank you so much for sharing this wedding shoot with us Tomo, Chris and Jess. Follow Jess at The Daring Wanderer to see more of her gorgeous work.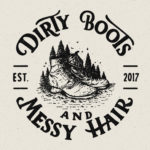 Written by:
Dirty Boots & Messy Hair Team
Connection is what it's all about. Feel free to reach out to us with any comments or questions you might have, even if it's only to say hello. If it wasn't for our beautiful community, this place just wouldn't feel the same.
Weddings & Elopements
23 May 2018