No matter how romantic you are, planning a marriage proposal can be overwhelming. You're about to ask the person you love most in the world to stick with you for life and, rightly so, you want to get it right. So how should you plan a unique engagement proposal that you'll be telling your grandkids about in years to come?
To help you on your way, we've compiled some top tips. Follow this advice and you'll be well on your way that's as touching and special as your relationship is. Let's get started.
Choose somewhere meaningful
Before you think about what you'll do, you might find it helpful to first think about where you'll do it and design around that.
Think about everywhere that means something to you as a couple – maybe the place you plucked up the courage to ask them out, or the spot where had your first kiss. The location doesn't have to be big or grand, it just needs to have some significance to the journey you've been on together as a couple.
Make a list of all your potential spots and see if you can get creative using the location as your starting point. Did you fall in love with her as she had taco juice dribbling down her chin outside a food truck? Then create a Mexican themed proposal to take her back down memory lane.
Remember, there is no rule book when it comes to proposals. Those random places that only you share a memory of are perfect locations for a proposal. Explore your memories and see if this holds the key to popping the question as only you could.
Our sense of sound, smell and taste have an incredible way of unlocking you most treasured memories. Think about all the times you tasted something and it transported you back to your childhood, or you heard a song and suddenly you were back in your senior year. So, why not make the most of your shared 'sense memory' for your proposal?
Is there a song that you both love? Maybe the first-song you danced to, or the song you played on repeat when you started hooking up. Or maybe there's a taste that will transport them back to your first vacation together. Whatever it might be, finding a way to awaken their senses is sure to help you create a unique, memorable proposal that they'll be talking about for a lifetime.
Hire a secret photographer
Trust us, the look on your face when you ask your partner to marry you is something you're going to want to remember forever. So why not hire a photographer to secretly capture the whole thing. That dorky face they pull when they are shocked? Yep, you're going to want to frame that.Â
These images are guaranteed to be some of the most important you'll ever share as a couple. You could even surprise your fiancé after you pop the question with a full blown engagement shoot to have a beautiful lasting memento of this special day. Take a look at the DBMH Insta feed for some engagement shoot inspiration.
Don't just go big for the sake of it
If you're planning a big public proposal, first make sure that the person you're asking is comfortable being the centre of attention.
Before you go all out with that flash mob, first just check in with yourself about whether that's something they would want. You don't want to detract from the intimacy of the moment by involving a big crowd, unless of course that's their jam.
Big is awesome, but above all, intimacy is key.
Involve your loved ones into the proposal
For so many of us, asking "The One" to marry us is not the start of something new, but rather a celebration of what already is. So perhaps for your proposal you could bring in some of the people or family members that you love most in the world to share in the moment.
What about making your pet dog your ring bearer? Or dressing your baby up in a "Will you marry me?" onesie? Or alternatively, you could arrange for your families to secretly be at your engagement spot with you as a surprise after you pop the question.
Whatever you chose, inviting your loved ones into the proposal is an amazing way of celebrating everything you have built and everything you share as a couple, and they are certain to love it!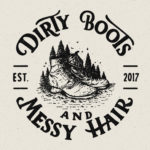 Written by:
Dirty Boots & Messy Hair Team
Connection is what it's all about. Feel free to reach out to us with any comments or questions you might have, even if it's only to say hello. If it wasn't for our beautiful community, this place just wouldn't feel the same.
relationships + dating
21 May 2018