Do you ever look at the amazingly polished and creative Instagram stories from other accounts and wonder how they do it? Yeah, us too. But we'll let you in on a little secret. You can start making hyper polished animated stories for your photography brand quickly, easily and totally free. 
Say whaaaaaaa? 
Yep, that's right. With the help of a few free apps you could be on your way to creating Instagram stories like the pros in no time. We've rounded up our pick of the best to help you start building your brand and increasing your followers. 
Unfold labels itself a tool for storytellers. And we can see why. With up to 30 templates for you to choose from, you can be up and running with hyper slick animated stories in just a few clicks. The templates are all modern and stylish, and create beautiful multipage results with no effort at all. Simply select a template for your content, add your videos, images and any overlayed text you need, and that's it – you're good to go! You don't even need to create an account, the stories will save straight to your camera roll for you to upload directly in Insta. …Did we mention that we really love this app? 
Are you as much a verbal storyteller as you are a visual one? If so, then you need to download Legend app today. You simply write the text, and legend animates. In just a few quick clicks you can put your words into motion, inspire people and take your visual expression to new heights. Shout out loud about your work, promos and news with this amazing app! 
Anyone else find it annoying that instagram only supports 15 second videos? Us too. It's such a pain to have to slice and dice your longer vidoes so that they fit this format. Well, we have great news. Cut Story is about to save you a ton of time by automatically splicing your work into 15 second tidbits, ready for you to upload. You can overlay text and music direct in the app, so just with one app you're good to go.
Combine your beautiful images with super swish animated text with Hype Type. We are hard pushed to think of an app that does a better job of helping you share your work in style. You can film or snap directly within the app and then overlay modern animated typography, a cool color scheme, and anything else that jels with your unique vibe. Hype type is definitely a cut above the rest in this field.
If you want to make cool collages or are aiming for a graphic design vibe, then Canva is for you. It has literally hundreds of templates and graphic elements for you to choose from, so you can go wild creating a story style that's uniquely yours. What's even cooler is that you can use canva on any device, including your computer. So if you're more at ease creating works of art sat at your desk, then you can easily do that with this lovely app. 
How annoying is it when you have an amazing image or video, but it's in the wrong resolution to use as a story? With Inshot you can work around this by creating canvases in the 16:9 story resolution, with either a plan color block background, or something more funky like another picture. There are tons of pre-made templates for you to choose from and you can even adjust the speed of your videos direct in the app if you want to create a particular mood or vibe.
Your Instagram feed and stories should fit seamlessly into your overall social brand. When people land on your insta account, they should immediately get a feel for what kind of creative you are and what your aesthetic you have, Preview is an amazing tool to help you do this. Simply upload your feed images into the app, arrange their order and then set a publication time. Not only will you get a visual overview of everything you have lined up on Instagram (err, hello to being able to preview predict what your feed will look like before you post anything!) but you'll also receive a notification when it's time to post. With Preview you can track your performance, see best times to post & the best hashtags to use. This is an amazing tool to help you optimize your account to get the most out of your social brand, and make sure that all the hard work you're putting into your stories is also reflected in the quality of your feed.
And there you have it guys – our top picks for creating amazing Instagram stories, starting now. Enjoy, and don't forget to share your creations with us by tagging @dirtybootsandmessyhair in your posts for a chance to be featured!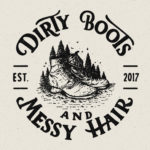 Written by:
Dirty Boots & Messy Hair Team
Connection is what it's all about. Feel free to reach out to us with any comments or questions you might have, even if it's only to say hello. If it wasn't for our beautiful community, this place just wouldn't feel the same.
Photographer Tips
17 Sep 2018