It's Monthly Challenge Series time, and this month, we're celebrating Elopements.
For the month of March, we wanted to challenge our Facebook community members to post their best elopement photos using the hashtag #LetsElope. We are so stoked to show you our monthly challenge winners! Chem em out below!
"Matt and Liberty live in Chattanooga, Tennessee and are National Park lovers. When they initially reached out to us, they had already been to 21 parks in the past 12 months. They got engaged in Haleakala National Park, so of course they wanted to get married in one! They flew to California and met us in Sequoia National Park. It was their first time to this grand location. They exchanged vows among the giant redwoods. After we explored the enormous trees, we headed to Sunset Rock, which (you guessed correctly!) is a beautiful spot in the park to watch the sunset. It is where we took this photo and ended our amazing time together."
"This image was captured at Murlough Bay, one of the lesser known Game of Thrones locations on the North Coast of Ireland. Ireland has it all when it comes to elopements: epic backdrops, amazing vendors and the best fun ever. And no celebration is complete without a pint of the black stuff."
"We were all so dedicated when it came to this shoot. We drove out three hours to the sand dunes, and my clients brought out a special vehicle that could drive into the sand. In full glam they were driving deep into the dunes at sunset, and the view was surreal. It was all worth it. This shoot has to be one of my favorites to date. I love everything about the beauty of the desert and this experience really tested my love for photography. If you love it, you'll do everything it takes!"
"What wasn't amazing about this elopement?! It was all about them and their love. I've never seen two people so in love and so ready for this adventure. Their vows were beautiful and they both couldn't finish them without tears in their eyes. It was like I wasn't even there and that they were the only two people in the world."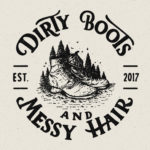 Written by:
Dirty Boots & Messy Hair Team
Connection is what it's all about. Feel free to reach out to us with any comments or questions you might have, even if it's only to say hello. If it wasn't for our beautiful community, this place just wouldn't feel the same.
Photographer Tips
20 Apr 2019