Take one gorgeous couple, a picture-perfect Hawaiian paradise, and a photographer with an eye for bohemian chic, et voilá… you've got the ingredients for a spell-bindingly romantic beach shoot.
That's why we let out a little squeal of delight when these photos landed in our inbox. Shot by the California-based
'
Photog for the boho
',
Tessa Tadlock,
this couple session of Amber and David oozes fun, flirtation and adventure.
Tessa's relaxed style of photography really shines through in this shoot. We love how Amber and David have the freedom to goof around and be completely themselves. No forced shots. No stiff poses. Just a hella lotta love, cheekiness and laughter.
Beautiful Amber is no stranger to being behind the camera. Her stunning blog
Barefoot Blonde
is filled with pictures of her boho hair braid designs. Photographer, Tessa, had been following Amber's online style guides for some time, and knew that they would be a perfect match when the opportunity came to do a shoot together. 
"Amber and I connected about both being business owners who worked side by side with our guys. Something she said that I loved was that she'd rather make each other crazy by being together all the time than miss each other like crazy by not working together! I love that and totally feel the same."
Well, we couldn't be more inspired after seeing this dreamy beach shoot. Thank you for sharing this with the DBMH community, Tessa – we look forward to seeing more of your bohemian magic soon!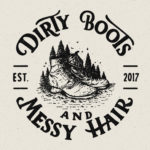 Written by:
Dirty Boots & Messy Hair Team
Connection is what it's all about. Feel free to reach out to us with any comments or questions you might have, even if it's only to say hello. If it wasn't for our beautiful community, this place just wouldn't feel the same.
Weddings & Elopements
22 Feb 2018