It doesn't get more dreamy that an evening photography shoot on the Californian hills. And few come more gorgeous than this Californian couples photography shoot of Anthony and Trista, by California-based wedding photography duo, The Arroyos.
This session was to celebrate the couple's anniversary, but rather than create something artificial or forced, The Arroyos shot the couple at their most relaxed and care-free. You could almost be tricked into thinking that Anthony and Trista were simply spending the day on the hills and Josh and Sam from "The Arroyos" just happened to be there to capture it.
We love the emotion that flows through the pictures in this shoot. It feels so pure and so unaffected, as though we are getting a glimpse of Anthony and Tristas' relationship, as only good friends would.
The shoot is joyful. Which is no surprise when we heard how much fun it was on the day,
"These two were down for anything, including driving to some random spot off the side of a busy highway and running off into the hills with us. So many cars were honking as they passed and we watched as the sun dip down in the sky and the cars headlights come on. It was one of those easy nights that you wish would last forever." – The Arroyos
These feel like photos that Anthony and Trista will look back on in years to come and remember exactly how they felt. Snapshots of a precise moment in time. This mantra of taking pictures to document the stages of life runs through the Arroyos veins. They got us all fired up when they told us,
"Don't wait for a reason to take photos. Take photos because you've been married for three months, or 12 years. Take photos because you want to remember a time and place in your life. Take photos because you want to be reminded of the love you had at first. Take photos because you want to feel. And take photos because you're in love and that is the greatest thing ever, no matter how new or old the love is."
Thank you so much for sharing this Californian couples photography shoot with us, Arroyos – we can't wait to see more of your gorgeous work soon.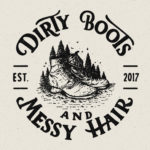 Written by:
Dirty Boots & Messy Hair Team
Connection is what it's all about. Feel free to reach out to us with any comments or questions you might have, even if it's only to say hello. If it wasn't for our beautiful community, this place just wouldn't feel the same.
Weddings & Elopements
20 Feb 2018