It's hard to find the words to do the magical Isle of Skye justice. With its wild beauty, rolling peninsulas and mystical lochs, few places offer a more spectacular setting to take your vows.
It's no surprise, then, that couples from across the globe have decided to take the pilgrimage for an elopement.
We were totally blown away by this shoot from Ella and Matan's Isle of Skye elopement, as documented by the brilliant, The Kitcheners.
We love how this shoot really captures the the whimsical togetherness of an elopement.
There's something so striking about the expanse of the mountains, offset by the peacefulness of Ella and Matan. We see two people, alone, in love, about to embark on an incredible journey together.
And embark on an incredible journey they did. Ella and Matan's ceremony took place at The Quiraing, which they hiked across rock faces and pinnacles to reach.
What greater way to experience an elopement than to hike to your wedding, not knowing what the elements might bring? This attitude of embracing the day is what we love most about elopements. It allows couples to be totally present and to let go of the things they can't control, simply giving in to the unplannable magic of the day.
Luckily for Ella and Matan, though, they needn't have worried about the weather.
"When you plan to elope on the Isle of Skye you usually expect rainfall and moody skies but this relaxed elopement in May was the exact opposite!  They must have brought the sunny weather from Israel with them as the weather couldn't have been more perfect."
Matan's brother performed the ceremony at the Quiraing, making the whole day particularly moving.
The Kitcheners captured that intimacy and emotion perfectly. The grainy, cinematic style coupled with the incredible evening light created something magical: a perfect momento of a spellbinding day.
For many couples, the decision to elope is about ripping up the rule book and doing things differently. We think Ella and Matan's beautiful day embodies that attitude completely. We love every inch of the Kitchener's shoot that captures the freedom and peacefulness of an Isle of Skype elopement.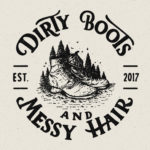 Written by:
Dirty Boots & Messy Hair Team
Connection is what it's all about. Feel free to reach out to us with any comments or questions you might have, even if it's only to say hello. If it wasn't for our beautiful community, this place just wouldn't feel the same.
Weddings & Elopements
19 Feb 2018