For many, their wedding day is the happiest day of their lives. And as a wedding photographer your couples invite you into that sacred space, letting you witness those intimate moments and preserve those memories for the children and grandchildren. There's little more sacred than that!
So, if you love people — and have a creative eye — you may very well be toying with the idea of launching a career as a professional wedding photographer.
We're not gonna sugarcoat it: making a living as a wedding photographer can be hard. You need to be great at your craft, constantly win over potential clients, build a relationship with them, turn up and be 100% on the day (every. single. time.) and exceed your clients' expectations the moment you deliver the gallery.
And hey, a lot of the time you'll be doing it on your own, at least until your business has the capacity to grow.
It's tough. But that shouldn't deter or dishearten you.
We want to help you build up a successful wedding photography career! So, here's what you need to know…
First Things First, Can You Make It Work Financially?
In short: yes, you can!
Luckily, setting up as a wedding photographer doesn't take too much financial capital (though be warned, it's not entirely budget either). All you need is a professional-grade camera, some funds for a website and a way to travel around for bookings (but that can be public transport, until you get off the ground!).
Where the complications start to develop, though, is in winning enough business to pay the bills.
There is quite a lot of competition out there, depending on where you live in the world.
If you're in a reasonably big city, chances are the wedding photographer market is already pretty saturated. If you live in a small town, you may have hit on a white space.
Nevertheless, there's always space for a new or distinctive offer, if you can find a unique selling point that brides and grooms-to-be will find appealing.
And a unique offer will draw in bookings, and bookings equal income!
It's a smart idea to work out how much money you need to earn every month, to cover your outgoings, and then work up a financial plan for your wedding photography business.
Trust us: it pays to be prepared!
And there's some other administrative tasks you need to get sorted early on…
The necessary admin: registering your business name
In order to turn your photography passion into a profit-driving business, you'll need to register as self-employed and give your wedding photography service a business name.
There are several approaches you can take to naming your wedding business, but the more distinctive the better.
However, don't stress right now about landing on a brand name that feels exactly right. When you're registering your business, you can use what's called a trading name, and then adopt a different brand name further down the line.
Generally speaking, your trading name is trickier (and expensive) to change down the line, whereas you can change your brand name — the one you use on social media and in promotional activity — as often as you want.
So, to get started, just choose a simple trading name and get registering!
Do some research online as to the specific requirements for registering a business in the country you're living or ask fellow photographers how they went about getting started.
Next, to develop your brand — this is where it gets exciting!
Before you can head out and connect with potential clients, you need to decide what your message will be as a wedding photographer.
And a brand is about so much more than a logo. Your wedding photography brand will encompass the promise you offer to clients, the values with which you work, and what experience clients should expect to have if they choose to work with you.
So, this is where it gets exciting: you've got scope to do so much with your brand, the hardest part is deciding what message to focus on.
As we mentioned before, think about niches which are under-catered in your local area. This could be same-sex weddings, or elopements, or out-of-season ceremonies.
Selecting a niche need to target doesn't mean these are the only clients you'll ever work with, but you'll soon see how identifying your target audience will help you develop leads and turn those leads into bookings.
Grab a pen and paper and dream up your ideal consumer — what do they want from their wedding day, why is their wedding day special compared to other people's, what can you offer them that's unique to what other wedding photographers' have in their repertoire?
These seeds of thought will eventually blossom into your unique selling point, and then your brand.
Now you're ready to get out there and win some clients
You may be feeling nervous about putting yourself out there for the first time. But don't worry, all photographers felt exactly the same way when they first started out!
Thing is the only way you win work, is by promoting yourself.
So, it's time to buckle up and get selling!
These days, you'll need a strong social media presence — as well as trust-inspiring website — for clients to learn about the sort of work you do.
Remember your unique selling point and use this as the basis of all your promotional messaging.
The secret with social media is to keep at it; you may not feel like you're getting anywhere at first but keep on plugging. Your followers list will grow, and with it… bring potential leads.
The insider tips every new photographer should know…
In your early days as a wedding photographer, it can be overwhelming to stay on top of all your new business demands.
Sure, you'll make mistakes. But hopefully only the ones that every new wedding photographer makes when they're still working it out.
To help you feel confident and ready, here's some insider knowledge to get you on your way.
Be active on social media
Upload photos, comment on other people's posts, ask your followers for engagement via polls and captions which ask questions
Consider partnering with other, more established photographers or wedding vendors
The photography community is a warm and welcoming one, so if you ask for help or mentorship in your early days, there's a good chance you'll get it.
Look for opportunities to assist, or be a second shooter, on other photographer's wedding gigs. Or ask adjacent wedding vendors, such as caterers or event venues, to recommend your work.
A lot of the time, thriving in a client-driven business is about who you know, more than what you know.
Remember to put the client's needs first
Weddings can be high stress environments; everyone involved just wants the day to go as perfectly as possible… which can sometimes lead to difficult requests from time to time.
Be flexible. Be adaptable. Be loving.
Having empathy for your clients with take you a long way in this business.
A client who has a positive experience will pass that on to other people. Always remember that, when the going gets tough, if you can maintain happy, collaborative client relationships, you'll be onto a winner.
Okay: time to get going!
Now you know what it takes to become a professional wedding photographer, are you going to do it?
At DBMH, we're here to support wedding photographers the entire way through their career.
If you found this article helpful, check out our post 'Newbie wedding photographer? How to rock your first wedding'.
And good luck!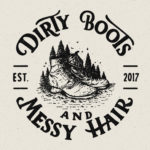 Written by:
Dirty Boots & Messy Hair Team
Connection is what it's all about. Feel free to reach out to us with any comments or questions you might have, even if it's only to say hello. If it wasn't for our beautiful community, this place just wouldn't feel the same.
Photographer Tips
12 Feb 2020