One of the best things about elopements is that you can get married in some pretty spectacular places. Even right by a hidden waterfall, if you wish. Take this shoot by Midwest-based wedding photographer Summer Leigha as an example. Set in Matthiessen State Park, this waterfall elopement showcases just how beautiful elopement locations can be.
Everything about this waterfall elopement shoot screams romance. From the bride's delicate Calle Blanche dress, the dramatic, whimsical floral headdress, right through – of course – to the cascading waterfall – this shoot is a high-drama, fantastical extravaganza.
And, by the sounds of it, the day was nothing short of the adventure it seems to be,
"Considering we had to hike down 2 miles into this canyon with wooden chairs, a table, candles + their holders, the flatware, florals, and dresses it was QUITE the production. All of the other hikers kept staring at us because they probably thought we were crazy but honestly it was hilarious. Not easy by any means, but SO worth it!" – Summer
We just adore the playfulness that Summer infused throughout the shoot. The shots of bride model, Grace, dancing in the water are such a joy. It's mesmerising to see her elegance, grace and joy as the waterfall crashes dramatically behind her! This is the elopement photography that wild couples dream of: unique, adventurous and full of life.
Yes it's a styled shoot, but there's no reason that you can't have something just as spectacular. If you are thinking of a waterfall elopement but aren't quite sure where to go, then keep your eyes peeled for inspiration shoots like this on the DB&MH blog.
Thank you so much for sharing your work with us, Summer! We get giddy when we see gorgeousness like this, and we know the wild-at-heart couples in the Dirty Boots universe do too.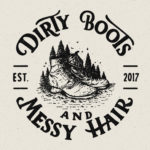 Written by:
Dirty Boots & Messy Hair Team
Connection is what it's all about. Feel free to reach out to us with any comments or questions you might have, even if it's only to say hello. If it wasn't for our beautiful community, this place just wouldn't feel the same.
Weddings & Elopements
12 Feb 2018