There's no doubt about it — these past few months have been extremely tough for our careers, our businesses, and our livelihoods.
But one area of our lives that we haven't been talking about quite as much is our love lives, and how they, too, have been impacted by months of lockdown and social isolation.
Whether you're in a long-term relationship or just started dating before or during the peak of lockdown — the way we interact with those closest to us have been challenged and tested like never before.
After all, many of us aren't used to living with our partners for 24 hours a day, and the idea of 'socially distanced dating' is like stepping into the unknown.
But it doesn't have to be, and today, we want to show you why.
From getting romantic in the outdoors, to shaking up movie night — here's six COVID-friendly date ideas that will keep you from putting anyone at risk.
Okay, now this might be a little obvious and expected, but a picnic is one of the best date ideas for our current climate — it's outside, can be easily socially distanced, and doesn't involve any crowds. Phew!
If you've got a backyard and live with your partner, match up your work-from-home schedules, and head outside for a joint lunch in the sun…or snuggle up in the cold. Bring your favorite snacks, put down some throws, and play some music to really set the tone.
And don't worry too much if the weather isn't on your side, either. Indoor picnics can be just as fun, and you could even stick on a movie if you fancy a bit of escapism.
If you don't live with your partner, or if you're just in the early stages of dating, a picnic is still a perfect option. In fact, it's probably one of the safest date ideas you could choose right now. Just make sure you keep your distance from other people and bring some hand sanitizer!
2. Three, two, one… movie night!
You can't go wrong with a loved-up night on the couch, watching your favorite movie, and pressing pause on reality for a bit. But if you don't live with your partner, COVID-19 has probably made this feel a million miles away… right?
But it doesn't have to be!
First, who says movie nights can't be socially distanced?
Of the movie theaters that are open, staggered seating and face masks should help to keep you safe and put your mind at ease.
And, even then, if you'd rather not venture out just yet, outdoor cinemas — whether in your car, or with outdoor seating — are a super fun and romantic alternative to the traditional set up. And what could be more romantic than a movie date under the stars?
None of this means that 'at home' move nights are off the cards, however, especially if you live with your partner. But why not try something new?
An outdoor projector, a campfire and some s'mores, for example, would be a really fun way of putting a twist on yet another night in… and remember, it's far safer to invite someone over if you're outside, too!
Instead of writing off your movie nights altogether, then, get creative and think outside the box — whether for a first-time date, or to liven up your evenings with a long-term partner, it's bound to make you (and your lover) smile!
If you're anything like us, you're probably bored of looking at a screen all day, constantly responding to emails, and checking your phone every five minutes. All of this has been a staple of working from home, and it's created a real sense of repetitiveness and isolation.
It's also a bit of a romance killer, too!
So, to break up that monotony, and to bring a bit of romance back into the home — why not go old-school, put the screens down, and play a game with your partner?
You'd be surprised by how much fun a simple board game can be after endless hours of screen-time. In fact, it'll be just what you need to feel more connected to your partner again, and not your Wi-Fi, having worked from home for so long.
And to really spice things up, why not pull out a couple's card game to put your partner to the test? The results could be pretty exposing (and funny) — especially if you make the game yourself and add in a few personal memories.
Who said 'I love you' first?
What's my favorite meal?
What do you love most about me?
What do you love least about me?
Questions like these are bound to keep you and your partner on your toes and keep the romance alive.
And what's great about a game-based date is that it doesn't matter if you live with your partner or not. You can always play a game socially distanced, after all, and combining it with an outdoor picnic would be a great idea, too.
4. Take a trip down memory lane!
After months of lock-down, the great outdoors has never been more appealing.
And if you think that being cooped up indoors all day has dampened the romance between you and your partner, an outdoor adventure is exactly what you need.
Create a list of all the things you and your partner have experienced together in the city you live in, and go out and revisit those memories, one-by-one. You could visit the place you first met or shared your first kiss, order a takeout from the restaurant you first dine in together, or rewalk a romantic trek you both enjoy.
Whatever you choose to explore, taking yourselves back to fond memories is a really great way of keeping the romance alive, and enjoying each other's company outside of your home and those same four walls.
And for new couples that either don't live together or might not (yet) have so many memories to relive — go out and make them!
Sure, COVID-19 has made dating and building relationships harder than ever. But when it comes to meeting outside, a lot of those obstacles are removed.
So, have that outdoor picnic, visit that outdoor movie theatre, and go on that romantic walk.
These are memories that will last a lifetime and will almost certainly lift your spirits after months of isolation and monotony.
Just remember to mask up, avoid crowds, and keep socially distanced if you're not part of each other's bubble!
5. Bring the holiday home…
Chances are, you and your partner have had to cancel many plans this summer — holidays, festivals, concerts, weekend getaways… you name it, and it's probably been disrupted or delayed, along with everything else this year.
But instead of dwelling on that, why not bring the holiday home to you and your partner?
Now, granted, this one is probably a little bit more creative and ambitious than the rest, but what's romance without a little effort?
You've probably seen it online, where couples are surprising each other with DIY re-creations of their favorite holiday destinations or attractions.
So, if you were planning, say, a trip to Disneyland, get creative and surprise your partner with a Disney-themed day filled with Disney movies, Disney snacks, and fun activities that bring the holiday home.
You could also pull up some deck chairs, make some cocktails, and turn your backyard into a beach getaway if you had to say goodbye to a vacation in the sun.
Sure, this will require a little bit of creativity to get right, but even if your execution isn't spot on, your partner is bound to appreciate your efforts, and it'll certainly make for a fun talking point, if nothing else!
Nothing quite says romance like a nice meal at your favorite restaurant with a glass of wine… or two. But, with so many businesses still yet to open their doors, it's a great (and very romantic) idea to try and bring the restaurant experience home.
Surprise your partner with a recreation of their favorite restaurant meal, light some candles, play some music, and really go that extra mile to transform your dining room into a romantic spot for a special night in.
You and your partner could even take it in turns each week to host your own 'date night', one-by-one. And don't worry if cooking isn't a strong point — it's the thought that counts, and there's always the local takeout to lean back on if it's a real disaster!
This is probably easiest for couples who live together, but there's no reason why you couldn't try your hand at socially distanced dining if you wanted to. Any restaurant that's open will be doing everything they can to keep their customers safe, and socially distancing at home shouldn't be too hard to implement.
Yes, really!
Although it might not feel like it, now's a better time than ever to reignite the romance and put a little bit of time and effort into your relationship, after a seriously stressful few months.
So, bring to life some of today's ideas, go that extra mile, and don't let lock-down get in the way of your love life.
And on that note — good luck, have some fun, and don't forget to head over to our blog for more couple content and relationship advice, plus top tips on how to ace it as a professional wedding photographer.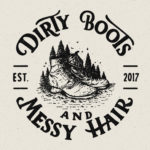 Written by:
Dirty Boots & Messy Hair Team
Connection is what it's all about. Feel free to reach out to us with any comments or questions you might have, even if it's only to say hello. If it wasn't for our beautiful community, this place just wouldn't feel the same.
relationships + dating
14 Sep 2020