Becoming a wedding photographer is one of the most exciting and rewarding decisions you'll ever make, trust us on that — but it's also one that requires a whole lot of hard work, commitment and dedication… and that's before even thinking about our post-covid world 🤯
The fact is, getting started as a wedding photographer right now isn't going to be straightforward.
There're safety measures to think about 🦠
A reduced demand to deal with 📉
Less opportunities for exposure 📣
And other obstacles to overcome 😰
But with the right strategy and the right approach, there's no reason why you can't hit the ground running and launch a business that'll be future-proof and built for the toughest of challenges ahead.
Today, then, we want to help you build that strategy and find that right approach by breaking down our top tips for launching a wedding photography business in our current climate.
Sound good?
Then let's get started! 💪
First things first, stay on top of the facts
We know it can make your head spin but staying up to date with the latest covid news is a must if you want to successfully launch a photography business in our current climate.
You need to know:
What the current situation is in your state or country 🌎
What laws are in place that might affect your business 👩🏼‍💼
What's required of the events industry to keep people safe 🎉
When things might change, and how that will impact you ⏰
To do this, you're going to have to stay on top of the facts, read the news and check in with your local government for any updates. This way, you'll know what to do and when to do it to keep yourself and your future clients safe.
Remember, though, it's super important to look after your mental health, too.
Filling your head with covid news all day everyday isn't going to be healthy — so only read what you have to and try to keep a positive perspective on what's going on in the world.
After all, setting up a new business can be seriously stressful whenever you do it, so looking after your mental health should be a top priority now more than ever.
Then, do everything you can to look after yourself and your future clients
Once you know what's what, it's time to build a business plan that's fit for the times — both for your safety, and your couples'.
This is about putting the right systems in place that will let you run your business in line with new guidelines, without putting anyone at any risk.
For example, you'll need to:
Make sure you have spare face masks whenever you're on a shoot 😷
Bring hand sanitizer to a shoot to be extra safe 🧼
Create guidelines around guest limits and travel restrictions 👭
Be flexible if a shoot date needs to change because of illness 📅
Launch with a pricing strategy that reflects a reduced service 💸
Work with new clients remotely, via Zoom 💻
Be super clear about your new policies (which we'll be touching on next) 📣
To tick all of these boxes, it would be a great idea to launch your business with a 'micro wedding package' for your clients. These are massively on the rise right now and will make safe social distancing a whole lot easier thanks to fewer guests and less travel.
Overtime, you can (and should) start offering more comprehensive packages, but a micro alternative is a great way to get things started — especially if you're completely new to the photography world!
Launch your business with a COVID-aware marketing strategy
Having the right processes in place is great, but you won't be able to benefit from them if you don't give them the visibility they need.
The fact is, most of your first clients will want to know your covid policies, and how you're going to keep everyone safe on the shoot. They also want to know, more generally, that you're taking covid seriously and know your stuff.
To provide that reassurance, you need to launch your business with a strategy that's COVID-aware and puts safety at the center.
To do that, you should:
Launch your website with a COVID guidelines page 🦠
Include covid questions on your Q&A page ⁉️
Be clear on social media about how you're handling things 📣
Share behind the scenes content of your safety measures in action 📸
Ultimately, you need to make sure that whoever discovers your new business is instantly reassured that you're covid-secure and won't be taking any risks.
You could even launch your brand with a few online ads that promote your micro wedding packages, positioning yourself as a great pick for safety right from the start.
Launch with alternative revenue streams
The best policies (and marketing) in the world aren't going to take away from the fact that, for now, your diary probably won't be as full as you'd like it to be — especially if you're a new business, with a small portfolio.
But don't worry, there are still other ways to make money as a photographer, beyond picking up a camera.
This is about building alternative revenue streams that will keep you afloat when things aren't so busy.
Usually, us photographers build up to these overtime, but for new businesses, we think it's worth getting ahead of the curve to prepare yourself for what might be ahead.
We've got a full guide on making extra money as a wedding photographer you should definitely check out, but the key takeaways are:
Monetize your online audience 💻
If you've got an online audience (no matter how big or small) — you've got an opportunity to make more money… even without taking any photos.
Blogs, YouTube channels and online shops, for example, are a great way to earn extra money from sales, advertising and sponsored content.
As a new business, you might not have a huge audience right now, but keep this in mind as you move forwards, because building one could be even more rewarding than bringing in new clients — especially right now.
Monetize your expertise 🎓
Depending on your background, you'll probably have a whole lot of expertise that others would love to learn from. If, for example, you worked as an agency photographer before branching out into your own business, why not use that to your advantage and capitalize on your pre-existing experience? You could:
Launch an online course 🎓
Host a virtual training event 🖥
Offer mentorships 👩‍🏫
Work as a consultant 📈
Promote and sell digital guides 💻
Create how to videos on YouTube 📹
Launch with extra client services 👰
To make up for less demand at the beginning of your new business, earning more money per booking is a great way to balance the books. This isn't about charging more for the same, however — you'll need to provide genuinely valuable and premium options for your clients for this to work. We're talking:
Wedding support packages 👰
Extra photography prints 📸
A fast tracked turnaround 🏎
Video footage, as well as photos 📹
And so much more (all covered right here!) 💪
Although launching a new business will keep you busy, there are bound to be quieter times ahead thanks to the uncertainty and decreased demand.
As well as building alternative revenue streams, then, it's also really important to try and use your downtime as productively as you can.
After all, how many new entrepreneurs wished they had more time to keep on top of things?
For example, you could:
Invest in yourself 🙋‍♀️
If you've got the time, investing in yourself and improving your skills is a great way to launch your business the best you can. You could join an online course, practice your skills for free, or try to master a photography trick you've always wanted to crack.
Review your strategy 🧐
If you've launched your business and things are moving slower than you had first hoped, why not take this extra time to review your strategy and check in with your goals? Launching a new business is a serious learning curve and having the downtime to catch up with that could be seriously great for the future.
Arrange a styled shoot 📸
Booking actual clients right now might be tricky, which is why a styled shoot could be a great opportunity to work with other vendors, practice your skills, and take the perfect shots to launch your brand. To get started, check out our full guide on everything you need to know about styled shoots, and how to pull them off safely… without any stress!
To end on, we want to quickly touch on the power of community.
The truth is, launching a new business isn't easy — particularly in the photography industry, where covid restrictions have made things really tricky.
That's why sticking together is so important.
Surrounding yourself with other photographers is the best way to overcome the obstacles, learn from those who know best, and build a strategy that seriously pays off.
Social distancing makes the kind of get-togethers we'd all love pretty impossible right now — but there's no reason why you can't make connections online to help you through.
Take the DBMH Facebook group, for example.
It's filled with seasoned pros, new photographers and everyone in between, all of whom want to help each other out, lift each other's spirits, and tackle the challenges of covid together with new ideas, top tips, and first-hand advice.
Interested in joining?
Come on in — the more the merrier 🎉
Keep going, stay strong, and remember… you've got this!
Getting started as a wedding photographer in a post-covid world isn't going to be easy, but if you keep a positive outlook, think outside of the box, and build a plan that's fit for the times — we're confident that you'll find great success.
And to make sure that's the case, don't forget to head over to our blog for more advice and support on running a photography business in these tricky times. It's filled with all kinds of ideas and actionable tips that'll hopefully make your launch that little bit smoother 🙏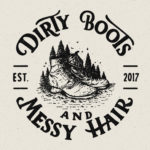 Written by:
Dirty Boots & Messy Hair Team
Connection is what it's all about. Feel free to reach out to us with any comments or questions you might have, even if it's only to say hello. If it wasn't for our beautiful community, this place just wouldn't feel the same.
Photographer Tips
08 Apr 2021